LLAE Celebrates Black History Month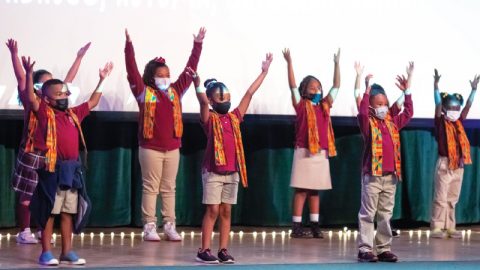 "As you grow up, there may be people who want to tell you who you are, who you can and can't be," Andrea King, communications director for Southeastern California Conference, told the 640 students of Loma Linda Academy Elementary (LLAE). "And my advice today is: Don't believe them. They may not know the wonderful things that God wants to do in and through you. In part, that's what Black History Month is all about."
Each Tuesday in February, LLAE celebrated Black History Month through assemblies crafted by Black parents, pastors, and faculty members in partnership with Loma Linda Academy campus ministries. Together, they selected the theme "I Know Who I Am: A Journey of Identity" to shape the experience for the campus. This theme was expressed through student features, expressive movement, music, poetry, literature, and powerful speakers.
Dilys Brooks, a chaplain at Loma Linda University (LLU), opened the month by exploring the theme "I Know Where I'm From," emphasizing that Black students' origins did not begin with enslavement; rather, they are children of their countries of origin and, most importantly, children of God.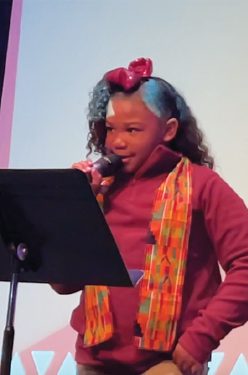 "You are fearfully and wonderfully made," Brooks reminded the students. "You are made in God's image and likeness. Jesus went on the cross and died for YOU."
DP Harris, LLU vice president for information services, spoke on the theme "I Know Where I Am." He reflected on his experience living in a diverse, multicultural world.
"God has promised to take us from a world where everyone is different to heaven, where everyone will still be different!" Harris reminded the students. "Our differences matter. Enjoy your differences and learn from each other's differences."
Along with celebrating through story, song, and expressive movement, Black students also delivered poetry each week written by Jeremiah Green, pastor and Black History Month committee member. Green closed off the month with the theme "I Know Where I'm Going."
"In that city, there are going to be people who are different colors and cultures and races," he said. "There will be people living together as brothers and sisters. That place is heaven!"
"The speakers reminded us how different we are, but also how much we are alike," said fourth-grader Savanah Kalrud. "I feel like it made us more united. I'm excited for next year's Black History Month celebration!"
To families who are navigating the complexities of today's diverse world, Brooks had this advice: "Learn. Read. Become uncomfortable. Make sure all people know that, despite how human beings have treated them, God knows them and loves them."
____________________
By Samantha Angeles Peralta
---
The State of Our Schools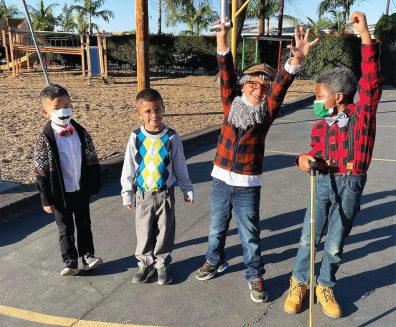 When someone would ask my dad, "How are you?" his reply was usually, "I'm in pretty good shape for the shape I'm in." That answer is a great descriptor of the state of education right now. Though we have faced seemingly unfathomable challenges in the last two years, we are in pretty good shape for the shape we are in! More than ever, educators have had to be flexible and adjust to constantly changing health and safety protocols, more technology integration, mental health concerns, loss of connectedness/social skills, and budget constraints. It has not been easy to say the least. However, our teachers and administrators have served heroically and done an amazing job of educating our students despite the challenges. More than ever, I am seeing how committed we are to providing the transforming power of Adventist education to all our students.
The 2020-2021 school year was probably the most difficult year for K-12 education ever. With fear about the pandemic, we faced a huge drop in enrollment. Schools were faced with trying to educate some students in-person while others were online. We did our best, but it was difficult. Thankfully, we have been able to provide in-person instruction for all students during the 2021-2022 school year, and enrollment dramatically increased as we gained back about half of the students we lost.
While there are still restrictions in place, our schools have been able to provide the life-changing experiences our students crave. We have been able to resume weekly chapels and weeks of prayer as we ensure that our kids know God loves them. Students have been able to resume field trips, both day and overnight, to enhance more engaging learning. Our music groups have been able to perform at local churches and inspire us all at Christmas concerts. Our student athletes have been able to improve their fitness and learn important life lessons through once again participating in games and tournaments. Student activities are increasing, and our schools are slowly getting their sense of connectedness back on campus while adjusting to a new rhythm of normalcy.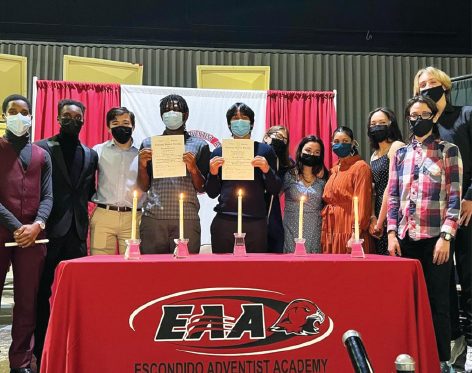 The reality is that this pandemic has changed education forever. We are facing some serious challenges, but we are committed to ensure Adventist education thrives in our conference. The Office of Education team has had several vision and planning sessions and are excited to present some new goals, incentives, and resources with the teachers before next school year. We are blessed to have such a dedicated team of professional educators, and we value their feedback, honesty, and passion for Adventist education. Together we can make some innovative changes, take bold steps, and work collaboratively for the success of the students in our schools.
____________________
By Datha Tickner