In March, over spring vacation, a group of students and faculty from Pacific Union College traveled to Mana Island, Fiji, for a 10-day mission trip.
It's been nearly a decade since the first PUC trip to this remote location. Mana is very small, with a population of about 500 people. Each mission trip has focused on meeting their needs in a variety of areas. A deep connection between PUC and the community has developed with every return trip to the island.
Under the leadership of former Missions Director Fabio Maia and two co-leaders, Biology Professor Floyd Hayes and Nursing Professor Sandra Ringer, this year's mission trip included 12 nursing students and three non-nursing students. Nicolette Piaubert, a nursing professor at PUC, also went on the trip and helped lead healthcare services.
"This year, we focused mostly on providing medical and dental care for the island's residents, working as a team with American and Brazilian healthcare professionals," Hayes said. "We also provided laptop computers, snorkeling gear, solar power systems, Vacation Bible School, and trash removal."
PUC student Jan Jernigan just finished the ASN program and is now working on her Bachelor of Science in nursing. She was excited about the Fiji mission trip and the chance to gain medical experience and help minister to the people. When she learned that she could also earn academic credit for her clinical hours, she said it was a "win-win."
Jernigan said once the group arrived and set up the clinic, she went to work helping with triage. She took patients' vitals and gathered information about why they came to the clinic. Then she directed them to the appropriate or specialized medical professional. Jernigan and other students visited homes and helped survey the village for potential health risks. They also handed out clothing and soap.
On the last day of the trip, the group gathered with the people of the village. As the sun set amid glorious colors in the sky, they joined hands and sang, "We Shall Overcome."
Hayes wants PUC to continue to return annually for medical and dental clinics and to provide more science equipment and supplies for the school.
Maia, PUC's former service and missions coordinator, is the one who pioneered this annual mission trip to Mana Island, Fiji. It was his plan from the start to create connections and trust.
This year marks Hayes' fourth trip to Fiji, including three mission trips. He said PUC and the people of Mana Island "owe a huge debt of gratitude" to Maia. "Our work could not be accomplished without his outstanding organization and leadership skills," he said. 
Jernigan said she would absolutely encourage others to serve on a short-term mission trip. "Going on a mission trip is life-changing," she said. "We can go in there with all these plans thinking we're going to make all these changes in the people we visit, but I think I learned it's really a partnership between them and us. They teach us about life, worship, and health just as much as we teach them."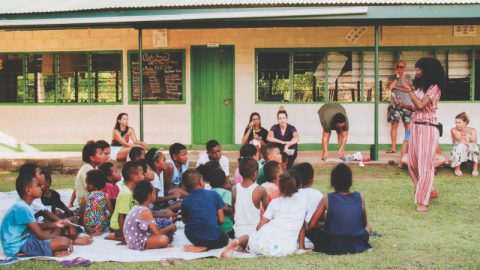 Every year, PUC students have opportunities to serve with love in other countries on mission trips. To learn more, please visit puc.edu/missions.
____________________
By Laura Gang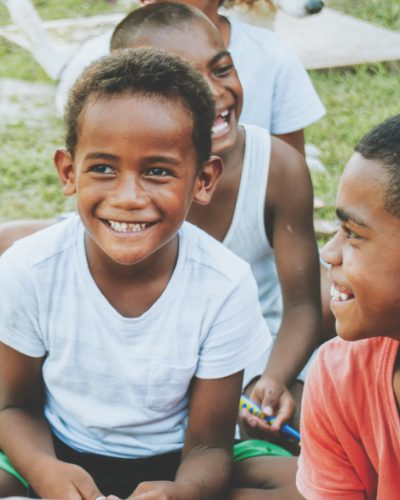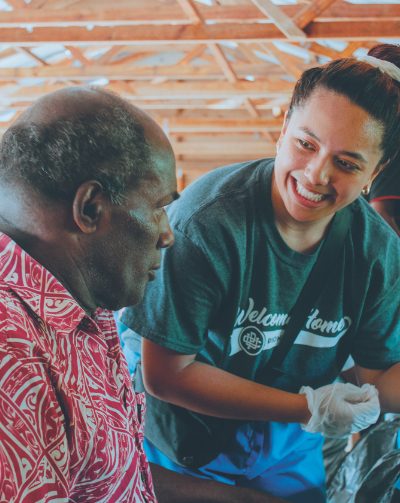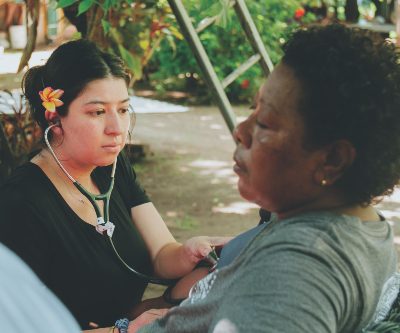 Viaje misionero a Fiji: estableciendo relaciones a través del amor y el servicio
En marzo, durante las vacaciones de primavera, un grupo de estudiantes y profesores de Pacific Union College (PUC) viajaron a Mana Island, Fiji, en un viaje misionero de 10 días.
Ha pasado casi una década desde el primer viaje de PUC a ese remoto lugar. Mana es muy pequeña, con una población de unas 500 personas. Cada viaje misionero se ha centrado en satisfacer sus necesidades en una variedad de áreas. Una profunda conexión entre PUC y la comunidad se ha desarrollado con cada viaje a la isla.
Bajo el liderazgo del exdirector de misiones, Fabio Maia, y dos colíderes, el profesor de biología, Floyd Hayes, y la profesora de enfermería, Sandra Ringer, el viaje de este año incluyó a 12 estudiantes de enfermería y otros tres estudiantes. Nicolette Piaubert, profesora de enfermería, también viajó y ayudó a dirigir los servicios de salud.
«Este año, nos enfocamos principalmente en brindar atención médica y dental a los residentes de la isla, trabajando en equipo con profesionales de la salud estadounidenses y brasileños», dijo Hayes. «También proporcionamos computadoras portátiles, equipo de snorkel, sistemas de energía solar, tuvimos una Escuela Bíblica de Vacaciones y eliminación de basura».
La estudiante de PUC, Jan Jernigan, acaba de terminar el programa ASN y ahora está trabajando en su licenciatura de ciencias en enfermería. Estuvo entusiasmada con el viaje misionero a Fiji y la oportunidad de adquirir experiencia médica y ayudar a ministrar a la gente. Cuando se enteró de que también podría obtener créditos académicos por sus horas clínicas, dijo que era una oportunidad única.
Jernigan dijo que una vez que el grupo llegó y estableció la clínica, se puso a trabajar ayudando con el triaje. Tomó los signos vitales de los pacientes y recopiló información sobre por qué vinieron a la clínica. Los dirigía después al personal médico apropiado o especializado. Jernigan y otros estudiantes visitaron hogares y ayudaron a inspeccionar la aldea en busca de posibles riesgos para la salud. También repartieron ropa y jabón.
El último día del viaje, el grupo se reunió con la gente del pueblo. Cuando el sol se puso en medio de gloriosos colores en el cielo, unieron sus manos y cantaron «We Shall Overcome».
Hayes quiere que PUC continúe regresando anualmente a las clínicas médicas y dentales y proporcionar más equipos y suministros científicos para la escuela.
Maia, excoordinador de servicio y misiones de PUC, es el pionero de ese viaje misionero anual a la isla de Mana, Fiji. Fue su plan desde el principio crear conexiones y confianza.
Este año marca el cuarto viaje de Hayes a Fiji, incluyendo otros tres viajes misioneros. Dijo que PUC y la gente de la isla de Mana «tienen una enorme deuda de gratitud» con Maia. «Nuestro trabajo no podría lograrse sin su destacada organización y habilidades de liderazgo», dijo. 
Jernigan dijo que alentaría absolutamente a otros a servir en un viaje misionero a corto plazo. «Ir a un viaje misionero transforma la vida», dijo. «Podemos ir con todos esos planes pensando que vamos a hacer todos esos cambios en las personas que visitamos, pero creo que aprendí que es realmente una asociación entre ellos y nosotros. Nos enseñan sobre la vida, la adoración y la salud tanto como nosotros les enseñamos a ellos».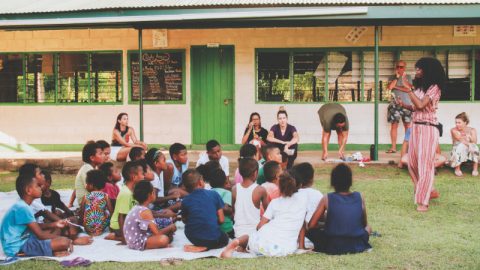 Cada año, los estudiantes de PUC tienen la oportunidad de servir con amor en otros países en viajes misioneros. Para obtener más información, visite puc.edu/missions.
____________________
Por Laura Gang