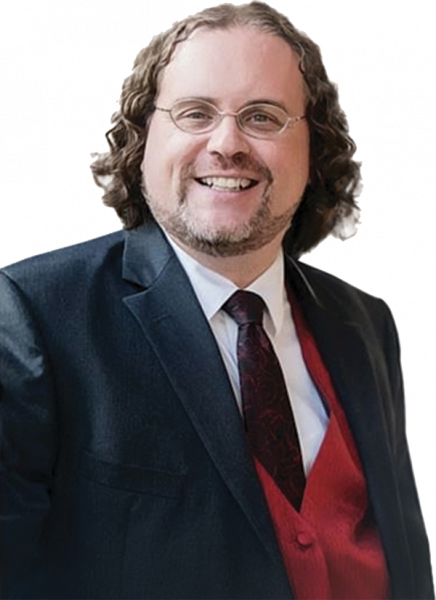 David J.B. Trim is the director of the Office of Archives, Statistics, and Research for the General Conference. As a historian, scholar, and educator, Trim brings a rigorous spirit of inquiry to his work and has been a key figure in the resurgence of interest in the history of the Seventh-day Adventist church. 
Hearts of Faith: How We Became Seventh-day Adventists takes the reader into the decades just after the Great Disappointment of 1844. It focuses on the motivations and impact of the earnest believers whose decisions led to the formation of the Seventh-day Adventist Church in 1863. Trim's inquisitive and insightful perspective brings the stories of pioneer Adventist leadership into sharp focus. 
It is a topic that he clearly loves and a story he is eager to tell. Invited to discuss his reasons for writing the book, Trim readily responded to our questions about his new book via e-mail.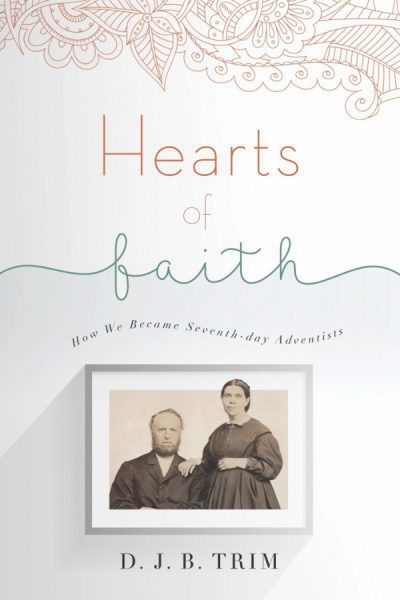 Your new book is called Hearts of Faith: How We Became Seventh-day Adventists. What prompted this specific title?
The title is taken from a quotation from Ellen G. White, in Prophets and Kings, p. 175: "The records of sacred history are written, not merely that we may read and wonder, but that the same faith which wrought in God's servants of old may work in us. In no less marked manner will the Lord work now, wherever there are hearts of faith to be channels of His power."
Why is knowing more about the way the Adventist Church came together theologically and organizationally relevant and important to believers today?
First, I think it is a fascinating story, and I hope readers will find it so. In general terms, as a historian, I believe it's true that one can't know where one is going unless one knows where one has come from. But in a particular way, I think it is important to know more about how our church came together theologically and organizationally because, while I don't believe that history repeats, human social and cultural dynamics can produce similar currents at different points in history. And I believe that some of the barriers to unity and effective mission that were overcome in the 1840s have reemerged in recent years. 
Who do you envision reading and benefiting from your book? What do you hope they will take away from the stories and information the book contains?
I hope that any Seventh-day Adventist could read this book and find it interesting. Although I am a scholar, the book has not been written for scholars. In the endnotes, I provide more information for anyone who wants to go deeper in the history, but the text itself has been written to be accessible to every church member. Often Adventist history is written only as a story of doctrinal development. I do have something on how our beliefs emerged, because that is important, but I am also trying to tell a wider story. So the book is a social history of early Sabbatarian Adventists as well as a theological history, and I give a picture of what it meant to be a seventh-day Sabbath-keeping Adventist in the 1850s—one of a small movement, many of whose followers were isolated, yet who persisted in their faith. They, truly, had hearts of faith.
What is it that has helped sustain and strengthen the Adventist movement and church throughout our history?
It's interesting to reflect on what helped to sustain and strengthen Adventists. One component was a strong sense of brother- and sisterhood. This partly came out of the shared experience of the Great Disappointment, which was a crucible that helped forge a sense of unity. However, one has to recognize (and the book points this out) that members of the wider Adventist movement that experienced October 22, 1844, were not bound together by that experience—they started to fragment very quickly. 
At the same time, once Sabbatarian Adventists had abandoned the idea of a "shut door" (that only people who had been believers on October 22, 1844, could be saved), they were not at all exclusive. As I point out in the book, they advanced to leadership in their movement people who had not been Millerites. There was no kind of informal hierarchy! So while the shared experience of Millerism was important to Sabbatarian Adventists, I think even more important was the shared experience of keeping the Sabbath and other doctrines that emerged as distinctive. 
In terms of building a group identity, the Sabbath was probably the most important doctrine, because keeping the Sabbath set one visibly apart in terms of society and culture. Keeping the Sabbath and working on Sunday made the Sabbatarians stand out in their local communities, most of which were small—Sabbath-keeping would have been obvious. 
Further, it (and other distinctive beliefs) attracted much hostility from other former Millerite Adventists, and indeed other Protestants more widely, and so Sabbatarian Adventists had this unique experience of being set apart from neighbors and other Christians. I think this must have built a strong sense of group identity, and indeed, as I point out in the book, there is evidence of a strong, underlying sense of Christian love, even though Sabbatarians were not afraid to speak to each other, or to write in their journal, very frankly. But they had deep bonds of common experience and affection that bound them together.
The other factor that helped to sustain and strengthen Sabbatarian Adventists and then Seventh-day Adventists was a sense of mission. They felt an urgent need to share the third angel's message with the world. It took them some time to adjust to the idea that they needed to proclaim it beyond the shores of North America in fact (and this is something I'm currently writing another book about), but they very quickly accepted that, tiny as they were, God had entrusted them with the awesome responsibility of proclaiming the third angel's message across North America. One reason they organized a denomination (even as other former Millerites were resisting organization and were fragmenting) was for the sake of mission. By the mid-1870s (this is the subject of the book I'm currently working on), that sense of urgency and of mission encompassed the globe. It is really remarkable when one remembers how small the movement was not just in the 1850s but still in 1863 when the denomination was founded.
Your work has led to interesting insights into Adventism and the denomination itself. Many of them are contained in the book. With that as the context—what do you think is most relevant today about the Adventist message? What did our pioneers love and nurture that is still core to our mission and purpose today?
Your question is asking, or so it seems to me, what was central in our pioneers' thinking. Two things, I think. First was the sense of mission that I just talked about. Second was love of Jesus. We know that by 1888 the message preached by Seventh-day Adventists had become legalistic—"as dry as the hills of Gilboa," in Ellen White's evocative phrase. I think we often tend to assume that this was true from the start, but I don't believe it was. I think that legalism evolved, out of our concern for obeying the Ten Commandments, which was the natural corollary of the focus on keeping the fourth commandment. However, in our early years, our pioneers were focused on Jesus. They wanted to see His return, and—as James White put it in 1852, in a quotation I use in the book—they invited everyone "to find salvation through Jesus Christ."
Who are two or three of your favorite persons in this great story who are included in your book? Why are you drawn to these particular characters?
I find myself drawn, almost against my inclination, to James White. He was a very powerful personality. If that hadn't been the case, our history would have been different—we mightn't have had a history. But that meant he was difficult to get on with. His writing style, evident in some of the passages I quote, could be very sarcastic, even acerbic. He spoke his mind frankly and undoubtedly gave offence. But as I describe, he resisted the attempt to make him president when the church was founded in 1863—undoubtedly because, having struggled for 10 years to persuade Sabbatarians to organize, he didn't want anyone to think his motive had been for personal glory or power; it had been because he knew organization was necessary for mission. So, despite often being difficult, there is just something compelling about James White.
I also find myself drawn to Joseph Frisbie. His name is forgotten now by Seventh-day Adventists, but he was one of the most influential leaders in the 1850s and was evidently a powerful evangelist—he helped build up the movement in Michigan. He argued compellingly that organization was needed. And he also was very inclusive. He baptized African Americans after his evangelistic meetings at a time when free Blacks (much less slaves) still faced widespread prejudice. I value that open-mindedness. After the period covered by the book, he fell out with church leaders and stopped being a pastor, but he retained his faith until his death.
Adventists have developed a distinctive culture and approach to faith and life. Why are some things important to us and other things—which may occupy faith groups similar to ours—less important?
This is an excellent question and one I don't reflect much on in the book. I think Sabbath is even more important to us than to many Protestants who believe they are keeping Sabbath on Sunday because, as I've already alluded, it was such a litmus test and could evoke social prejudice—and, eventually, after the period of the book, keeping the seventh day could lead to fines and imprisonment. But Adventists indeed do not get preoccupied by some things that other Christians get occupied by. An example is the meaning or significance of communion. So utterly have we escaped controversy about the Lord's Supper that most Seventh-day Adventists don't even realize how extraordinary that is because they just assume Communion is non-controversial. 
It has led to schisms within Protestantism and has been the source of fierce controversy. But not for us. I think this was because our pioneers mostly had a similar understanding, and also because—even as people of other backgrounds were converted, which might have led to controversy—we had other things that concerned us: the Sabbath, the Sanctuary, the Second Coming, the State of the Dead, and so on. These took up our energies, and so we avoided the controversies that racked other Protestant denominations.
Is Adventism a chosen movement? How does the story of our history help foster trust and understanding in God's plan and providence?
As a Seventh-day Adventist myself, I believe that Adventism is a chosen movement. But that doesn't mean that I think our history was entirely foreordained and, as it were, prearranged by God. As I say in the book, if our pioneers had made different decisions, our history could have been different. I believe that a seventh-day Sabbath-keeping denomination, with James and Ellen White as key leaders, would have emerged. But it might have taken longer—and we might have taken longer still to reach out beyond the midwestern heartland (that emerged in the 1850s) to share the gospel and prophetic truth more widely. So believing in God's providence and guiding hand means that I accept that the broad contours of our history would probably have been the same, but the more detailed course of our history could have been quite different. And that would affect the church of today. We could be much smaller or more geographically limited than we are. 
And that is because there were leaders—and ordinary believers, too, who had to respond to what the leaders proposed—who took certain decisions: to organize, against the instincts of many Millerites, and to establish a system whereby we took resources from where we were strong to send to mission fields. These were crucial decisions, and I hope readers get a sense of how, despite the promptings of providence, there were conflicting currents and in the end our history could have been different. That means that our history is not just a set of interesting and inspiring stories (though I believe our history is that); it also has lessons to teach us today about the need to work together and to still be passionate about mission.
---
David Trim habla sobre su nuevo libro, Hearts of Faith: How We Became Seventh-day Adventists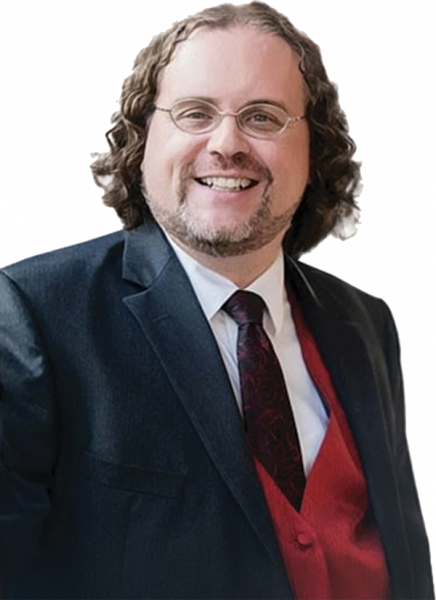 David J. B. Trim es el director de la Office of Archives, Statistics, and Research de la Conferencia General. Como historiador, erudito y educador, Trim aporta un espíritu riguroso de investigación a su trabajo y ha sido una figura clave en el resurgimiento del interés en la historia de la Iglesia Adventista del Séptimo Día. 
Corazones de fe: Cómo nos convertimos en adventistas del séptimo día lleva al lector a las décadas inmediatamente posteriores al Gran Chasco de 1844. Se centra en las motivaciones y el impacto de los fervientes creyentes cuyas decisiones llevaron a la formación de la Iglesia Adventista del Séptimo Día en 1863. La inquisitiva y perspicaz perspectiva de Trim pone de relieve las historias del pionero liderazgo adventista. 
Es un tema que claramente ama y una historia que está ansioso por compartir. Invitado a discutir sus razones para escribir el libro, Trim respondió con gusto por correo electrónico a nuestras preguntas sobre su nuevo libro.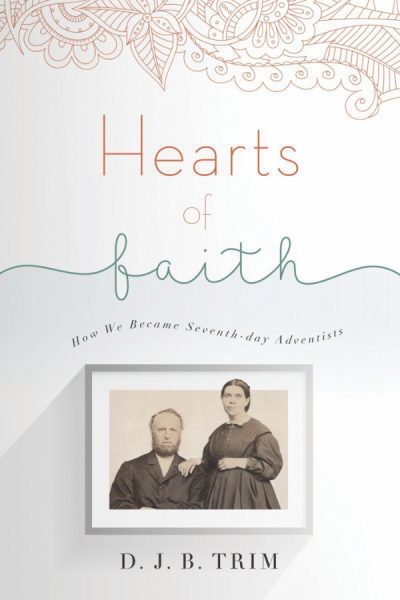 Su nuevo libro se llama Corazones de fe: Cómo nos convertimos en adventistas del séptimo día. ¿Qué motivó este título específico?
El título está tomado de una cita de Ellen G. White, en Profetas y Reyes, p. 113: «Los anales de la historia sagrada fueron escritos, no simplemente para que los leamos y nos maravillemos, sino para que obre en nosotros la misma fe que obró en los antiguos siervos de Dios. El Señor obrará ahora de una manera que no será menos notable doquiera haya corazones llenos de fe para ser instrumentos de su poder».
¿Por qué es relevante e importante saber más acerca de la forma como la Iglesia Adventista se unió teológica y organizacionalmente para los creyentes de hoy?
Primero, creo que es una historia fascinante y espero que los lectores la encuentren así. En términos generales, como historiador, creo que es cierto que uno no puede saber a dónde va a menos que sepa de dónde ha venido. Pero de una manera particular, creo que es importante saber más sobre cómo nuestra iglesia se unió teológica y organizacionalmente porque, aunque no creo que la historia se repita, las dinámicas sociales y culturales humanas pueden producir corrientes similares en diferentes momentos de la historia. Y creo que algunas de las barreras a la unidad y la misión efectiva que se superaron en la década de 1840 han resurgido en los últimos años. 
¿A quién imagina leyendo y beneficiándose del libro? ¿Qué espera que se obtenga de las historias y la información que contiene el libro?
Espero que cualquier adventista del séptimo día pueda leerlo y encontrarlo interesante. Aunque soy un erudito, el libro no ha sido escrito para eruditos. En las notas finales, proporciono más información para cualquiera que quiera profundizar en la historia, pero el texto en sí ha sido escrito para ser accesible a todos los miembros de la iglesia. A menudo, la historia adventista se escribe sólo como una historia de desarrollo doctrinal. Tengo algo sobre cómo surgieron nuestras creencias, porque eso es importante, pero también estoy tratando de contar una historia más amplia. Así que el libro es una historia social de los primeros adventistas sabatarios, así como una historia teológica, y doy una imagen de lo que significaba ser un adventista que guardaba el sábado en la década de 1850, un pequeño movimiento, muchos de cuyos seguidores estaban aislados, pero que persistieron en su fe. Ellos, verdaderamente, tenían corazones de fe.
¿Qué es lo que ha ayudado a sostener y fortalecer el movimiento adventista y la iglesia a lo largo de nuestra historia?
Es interesante reflexionar sobre lo que ayudó a sostener y fortalecer a los adventistas. Un componente era un fuerte sentido de hermandad. Eso surgió en parte de la experiencia compartida del Gran Chasco, que fue un crisol que ayudó a forjar un sentido de unidad. Sin embargo, uno tiene que reconocer (y el libro lo señala) que los miembros del movimiento adventista más amplio que experimentó el 22 de octubre de 1844 no estaban unidos por esa experiencia, sino que comenzaron a fragmentarse muy rápidamente. 
Al mismo tiempo, una vez que los adventistas sabatarios abandonaron la idea de una «puerta cerrada» (que solo las personas que habían sido creyentes el 22 de octubre de 1844 podían ser salvas), no eran en absoluto exclusivos. Como señalo en el libro, avanzaron al liderazgo en su movimiento personas que no habían sido milleritas. ¡No había ningún tipo de jerarquía informal! Así que aunque la experiencia compartida del millerismo fue importante para los adventistas sabatarios, creo que aún más importante fue la experiencia compartida de guardar el sábado y otras doctrinas que surgieron como distintivas. 
En términos de construir una identidad grupal, el sábado era probablemente la doctrina más importante, porque guardar el sábado lo separaba visiblemente en términos de sociedad y cultura. Guardar el sábado y trabajar el domingo hizo que los sabatarios se destacasen en sus comunidades, la mayoría de las cuales eran pequeñas; guardar el sábado hubiese sido obvio. 
Además, el sábado (y otras creencias distintivas) atrajo mucha hostilidad de otros exadventistas milleritas, y de hecho de otros protestantes, de esa manera los adventistas sabatarios tuvieron esa experiencia especial de ser apartados de sus vecinos y otros cristianos. Creo que eso debe haber producido un fuerte sentido de identidad grupal, y de hecho, como señalo en el libro, hay evidencia de un fuerte sentido subyacente de amor cristiano, a pesar de que los sabatarios no tenían miedo de hablar entre ellos, o de escribir en su revista, muy francamente. Pero tenían profundos lazos de experiencia común y afecto que los unía.
El otro factor que ayudó a sostener y fortalecer a los adventistas sabatarios y después a los adventistas del séptimo día fue el sentido de misión. Sintieron una necesidad urgente de compartir el mensaje del tercer ángel con el mundo. Les tomó algún tiempo adaptarse a la idea de que necesitaban proclamarlo más allá de las costas de Norteamérica de hecho (y eso es algo sobre lo cual estoy escribiendo otro libro), pero muy rápidamente aceptaron que, por pocos que fuesen, Dios les había confiado la asombrosa responsabilidad de proclamar el mensaje del tercer ángel en toda Norteamérica. Una de las razones por las que organizaron una denominación (incluso cuando algunos exmilleritas se resistían a la organización y se estaban fragmentando) fue por el bien de la misión. A mediados de la década de 1870 ese sentido de urgencia y de misión abarcaba al mundo. Es realmente notable cuando uno recuerda lo pequeño que era el movimiento no solo en la década de 1850, sino también en 1863, cuando se fundó la denominación.
Su trabajo ha llevado a ideas interesantes sobre el adventismo y la denominación misma. Muchas de ellas están contenidas en el libro. Con eso como contexto, ¿qué cree que es más relevante hoy en día sobre el mensaje adventista? ¿Qué amaron y nutrieron nuestros pioneros que sigue siendo fundamental para nuestra misión y propósito?
Su pregunta es, o eso me parece, qué fue central en el pensamiento de nuestros pioneros. Dos cosas, creo. Primero fue el sentido de misión del que acabo de hablar. El segundo fue el amor a Jesús. Sabemos que para 1888 el mensaje predicado por los adventistas del séptimo día se había tornado legalista, «tan seco como las colinas de Gilboa», en la evocadora frase de Ellen White. Creo que a menudo tendemos a asumir que eso fue cierto desde el principio, pero no creo que lo fuese. Creo que el legalismo evolucionó, a partir de nuestra preocupación por obedecer los Diez Mandamientos, que era el corolario natural del enfoque en guardar el sábado. Sin embargo, en nuestros primeros años, nuestros pioneros se centraron en Jesús. Querían ver su regreso y, como dijo James White en 1852, en una cita que uso en el libro, invitaban a todos «a encontrar la salvación por medio de Jesucristo».
¿Quiénes son dos o tres de sus personajes favoritos en esa gran historia que están incluidos en su libro? ¿Por qué le atraen estos personajes en particular?
Me siento atraído, casi en contra de mi inclinación, por James White. Tenía una personalidad muy poderosa. Si ese no hubiese sido el caso, nuestra historia hubiese sido diferente, pudiésemos no haber tenido una historia. Pero eso significaba que era difícil llevarse bien con él. Su estilo de escritura, evidente en algunos de los pasajes que cito, podría ser muy sarcástico, incluso mordaz. Decía lo que pensaba con franqueza e indudablemente ofendía. Pero como describo, se resistió al intento de hacerlo presidente cuando se fundó la iglesia en 1863, sin duda porque, después de haber luchado durante 10 años para persuadir a los sabatarios a organizarse, no quería que nadie pensase que su motivo había sido para la gloria o el poder personal; había sido porque sabía que la organización era necesaria para la misión. Entonces, a pesar de ser a menudo difícil, hay algo convincente en James White.
También me siento atraído por Joseph Frisbie. Su nombre ha sido olvidado ahora por los adventistas del séptimo día, pero fue uno de los líderes más influyentes en la década de 1850 y evidentemente fue un tremendo evangelista: ayudó a establecer el movimiento en Michigan. Argumentó convincentemente que la organización era necesaria. Y también fue muy inclusivo. Bautizó a afroamericanos después de sus reuniones evangelísticas en un momento en que los negros libres (y mucho menos los esclavos) todavía enfrentaban prejuicios generalizados. Valoro esa mentalidad abierta. Después del período cubierto por el libro, se peleó con los líderes de la iglesia y dejó de ser pastor, pero conservó su fe hasta su muerte.
Los adventistas han desarrollado una cultura y un enfoque distintivo de la fe y la vida. ¿Por qué algunas cosas son importantes para nosotros y otras cosas, que pueden incluir a grupos religiosos similares nuestros, son menos importantes?
Esa es una excelente pregunta y una sobre la que no reflexiono mucho en el libro. Creo que el sábado es aún más importante para nosotros que para muchos protestantes que creen que están guardando el sabbath el domingo porque, como ya he aludido, era una prueba de fuego y podía evocar prejuicios sociales, y, eventualmente, después del período del libro, guardar el séptimo día podría llevar a multas y encarcelamiento. Pero los adventistas ciertamente no se preocupan por algunas cosas por las que otros cristianos se interesan. Un ejemplo es el significado o la importancia de la comunión.
Tan completamente hemos escapado de la controversia sobre la Cena del Señor que la mayoría de los adventistas del séptimo día ni siquiera se dan cuenta de lo extraordinario que es porque simplemente asumen que no es un asunto controvertido. Ha llevado a cismas dentro del protestantismo y ha sido fuente de una feroz controversia. Pero no para nosotros. Creo que eso se debió a que nuestros pioneros en su mayoría tenían una comprensión similar, y también porque, incluso cuando personas de otros orígenes se convirtieron, lo que podría haber llevado a la controversia, teníamos otras cosas que nos preocupaban: el sábado, el santuario, la segunda venida, el estado de los muertos, y así sucesivamente. Esos puntos ocuparon nuestra energía y de esa manera evitamos las controversias que atormentaban a otras denominaciones protestantes.
¿Es el adventismo un movimiento elegido? ¿Cómo ayuda nuestra historia a fomentar la confianza y la comprensión en el plan y la providencia de Dios?
Como adventista del séptimo día, creo que el adventismo es un movimiento elegido. Pero eso no significa que piense que nuestra historia fue completamente preordenada y, por así decirlo, predispuesta por Dios. Como digo en el libro, si nuestros pioneros hubiesen tomado decisiones diferentes, nuestra historia pudiese haber sido diferente. Creo que hubiese surgido una denominación que guardaba el sábado en el séptimo día, con James y Ellen White como líderes clave. Pero pudiese haber tomado más tiempo —y pudiésemos haber tomado más tiempo aún para ir más allá del corazón del medio oeste (que surgió en la década de 1850) para compartir el evangelio y la verdad profética más ampliamente—. Así que creer en la providencia y la dirección de Dios significa que acepto que los amplios contornos de nuestra historia probablemente hubiesen sido los mismos, pero el curso más detallado de nuestra historia pudiese haber sido muy diferente. Eso afectaría a la iglesia actual. Podríamos ser mucho menos de lo que somos o estar más limitados geográficamente de lo que somos. 
Eso se debe a que hubo líderes —y también creyentes comunes, que tuvieron que reaccionar a lo que los líderes proponían— que tomaron ciertas decisiones: organizarse, en contra de los instintos de muchos milleritas, y establecer un sistema mediante el cual tomásemos recursos de donde teníamos para enviarlos a al campo misionero. Esas fueron decisiones cruciales, y espero que los lectores tengan una idea de cómo, a pesar de los impulsos de la providencia, hubo corrientes conflictivas y al final nuestra historia pudiese haber sido diferente. Eso significa que nuestra historia no es solo un conjunto de historias interesantes e inspiradoras (aunque creo que nuestra historia lo es); también tiene lecciones que enseñarnos sobre la necesidad de trabajar juntos y seguir siendo apasionados por la misión.