This past August, more than 200 church members gathered at Corona Main Spanish church to celebrate its 20th anniversary and dedicate the building to Christ. In celebration of paying off the $1.15M mortgage in December 2019, church officials also symbolically burned several mortgage documents.
When an elder suggested that Corona Main host this dedication, Pastor Moises Estrada contacted the Southeastern California Conference, which arranged for conference officials to support and attend the event. Key founding church members were also involved.
The official dedication was a call-and-response ceremonial prayer between officials and the Corona Main congregation.
"It was important to reflect on our church history and founding throughout the program," said Pastor Estrada. "I really enjoyed hearing testimonies and church history from Sister Fuentes. She is one of the founding church members and a true pioneer. Our church started 20 years ago as a small group in her home."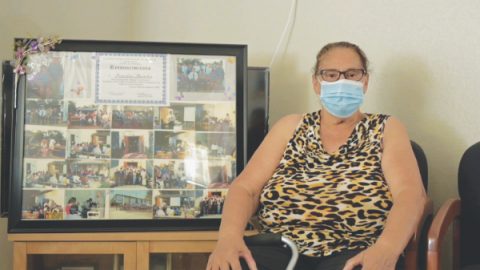 Following stories by Fuentes and others, the church shared a documentary with pictures and footage of the church's origin story and various moments throughout the years. Pastor Alex Soto delivered the sermon, which focused on the gospel and the need to bring good news to the city. Soto emphasized that the life of the church extends beyond the four walls and incorporates the community.
This momentous event in Corona Main's history didn't go unnoticed and drew the attention of city officials. When Paula Mendoza, food pantry leader, and her daughter, Angelica, reached out to Corona Mayor Wes Speake and Councilmember Tom Richins, both attended the event and presented an official document of recognition from the city to Corona Main Spanish church for its community service and involvement with the city.
Councilmember Richins also shared stories about Corona Main's land, explaining its historic roots as part of a former Methodist church and pasture for shepherds feeding sheep.
The city recognition resonated with Corona Main church members. Both the mayor and councilmember highlighted the food pantry and its volunteers who worked fearlessly and tirelessly during the pandemic, putting food on tables in at least 100 homes every week.
"We strived to maintain and develop relationships with our community members through the uncertainty of the pandemic," said Mendoza. "We were one of the few pantries that remained open and continued to meet the needs of our community members. Not only did we help alleviate hunger, but we also provided spiritual and emotional support and connected community members with other local resources."
____________________
By Danni Thaw