In June, Adventist Health welcomed Mid-Columbia Medical Center in The Dalles, Oregon, as the third hospital in the Adventist Health Oregon State Network. Mid-Columbia Medical Center will now be known as Adventist Health Columbia Gorge and joins sister Oregon hospitals Adventist Health Portland and Adventist Health Tillamook.
"We are so glad to celebrate nearly four years of collaborative conversations that brought us to this historic moment," said Joyce Newmyer, president of the Oregon State Network and chief people officer for Adventist Health. "Adventist Health Columbia George's unwavering commitment to their communities will shape the future of healthcare."
In addition to the care Adventist Health provides throughout California and in Hawaii, the health system is growing to meet the healthcare needs of people in the Pacific Northwest, from the Portland area to the many rural communities along the northern Oregon coast and in north central Oregon. More than 50 Adventist Health clinics across Oregon and Washington offer primary care, with specialty clinics providing heart, lung, orthopedic, and cancer care. In the Columbia Gorge alone, 10 Adventist Health clinics provide mission-based healthcare for nearby rural communities.
"Adventist Health is redefining rural healthcare in a post-pandemic world. It gives me great joy to welcome Adventist Health Columbia Gorge to our healthcare system," said Kerry L. Heinrich, president and CEO of Adventist Health.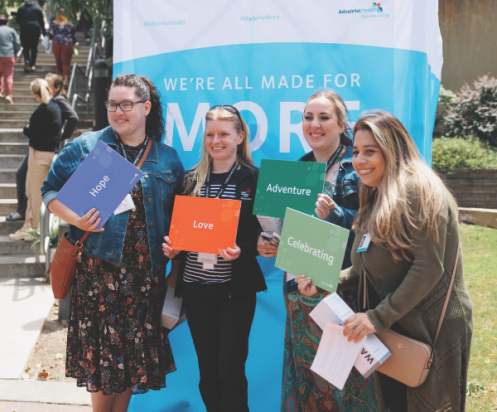 On June 14, Adventist Health Columbia Gorge nurses, physicians, and other employees gathered with leaders at Kelly Commons on the hospital campus to celebrate together. Healthcare is a 24/7 ministry, so leaders started the day at 12:01 a.m., circulating throughout the hospital, handing out cookies, and thanking care providers for their work.
"It was joyful and exciting to be on campus and celebrate with the community," said Katie Wagner, mission and spiritual care leader at Adventist Health Columbia Gorge. "This community is dedicated to providing compassionate mission-driven care, and seeing support for that and everyone celebrating together was moving and powerful."
____________________
By Kim Strobel
Adventist Health celebra nuevo hospital en Columbia Gorge
En junio, Adventist Health dio la bienvenida al Mid-Columbia Medical Center en The Dalles, Oregon, como el tercer hospital de Adventist Health Oregon State Network. Mid-Columbia Medical Center ahora se conocerá como Adventist Health Columbia Gorge y se une a los hospitales hermanos de Oregon Adventist Health Portland y Adventist Health Tillamook.
«Estamos muy contentos de celebrar casi cuatro años de conversaciones colaborativas que nos llevaron a este momento histórico», dijo Joyce Newmyer, presidenta de la Oregon State Network y directora de personal de Adventist Health. «El compromiso inquebrantable de Adventist Health Columbia George con sus comunidades dará forma al futuro de la atención médica».
Además de la atención que Adventist Health brinda en todo California y en Hawaii, el sistema de salud está creciendo para satisfacer las necesidades de atención médica de las personas en el noroeste del Pacífico, desde el área de Portland hasta las muchas comunidades rurales a lo largo de la costa norte de Oregon y en el centro norte de Oregon. Más de 50 clínicas de Adventist Health en Oregon y Washington ofrecen atención primaria, con clínicas especializadas que brindan atención cardíaca, pulmonar, ortopédica y oncológica. Solo en Columbia Gorge, 10 clínicas de Adventist Health brindan atención médica basada en la misión para las comunidades rurales cercanas.
«Adventist Health está redefiniendo la atención médica rural en un mundo post-pandémico. Me da gran alegría dar la bienvenida a Adventist Health Columbia Gorge a nuestro sistema de salud», dijo Kerry L. Heinrich, presidente y director ejecutivo de Adventist Health.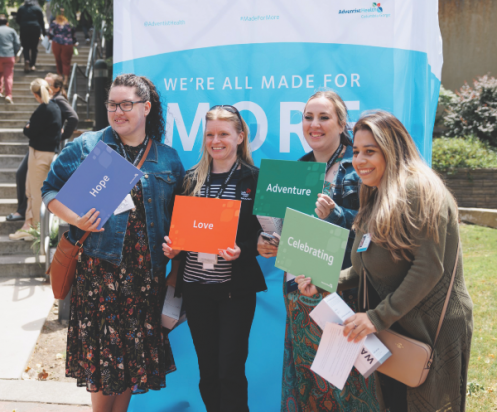 El 14 de junio, enfermeros, médicos y otros empleados de Adventist Health Columbia Gorge se reunieron con líderes en Kelly Commons en el campus del hospital para celebrar. La atención médica es un ministerio las 24 horas del día, los 7 días de la semana, por lo que los líderes comenzaron el día a las 12:01 a.m., circulando por todo el hospital, entregando galletitas y agradeciendo a los proveedores de atención médica por su trabajo.
«Fue alegre y emocionante estar en el campus y celebrar con la comunidad», dijo Katie Wagner, líder de misión y atención espiritual en Adventist Health Columbia Gorge. «Esta comunidad está dedicada a brindar atención compasiva impulsada por la misión y ver el apoyo para eso y todos celebrando juntos fue conmovedor e impactante».
____________________
Por Kim Strobel