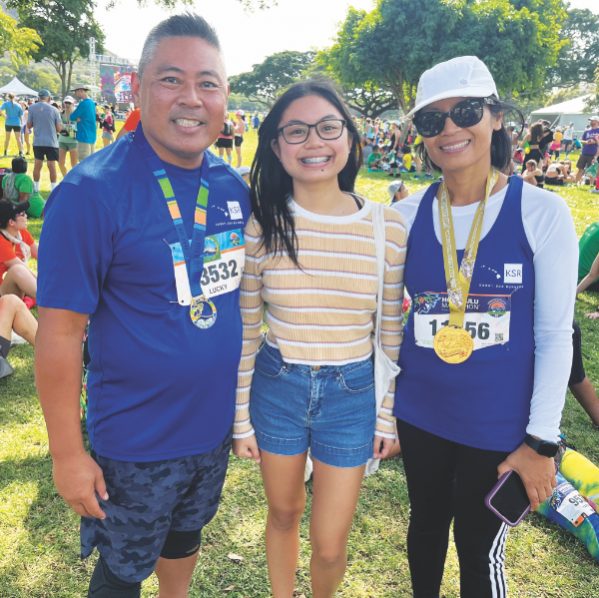 Leila Ventar, a resident of the island of Kauai in Hawai'i and a member of the Kapa'a church, thought Dec. 11, 2022, was going to be the day she carried herself across the finish line of the Honolulu Marathon, her fourth marathon overall. However, on Nov. 22, two days after an 18-mile training run, a medical examination revealed that she had colon cancer. Surgery followed the diagnosis, and in a conversation with a friend after the surgery, Leila seemed to hint that her recent 18-mile run might truly be the last time she'd ever run.
On a Sabbath afternoon, as Leila's church family was visiting with her at the hospital following a surgical procedure, the upcoming marathon—only two weeks away—was on several people's minds: how could Leila miss a race she'd worked so hard to prepare for? Yet the race now seemed to be a distant dream.
The story of Jesus' healing of the paralyzed man in Luke 5 reminds us that sometimes God uses the faith of our friends to carry us through seeming impossibilities—whether that impossibility involves being lowered through a roof in order to be healed or completing a 26.2-mile race before the physical healing has even taken place.
And so, on that Sabbath, in the face of a terrible diagnosis, a terrific plan was born: the Kapa'a church's running group—the Kauai SDA Runners, now dubbed Team Leila—would find a way to get Leila across the finish line. It was two weeks before the marathon. She was still experiencing pain, even when being transported on a wheelchair, and Team Leila didn't know whether they could find a proper wheelchair in which to push Leila through 26 miles.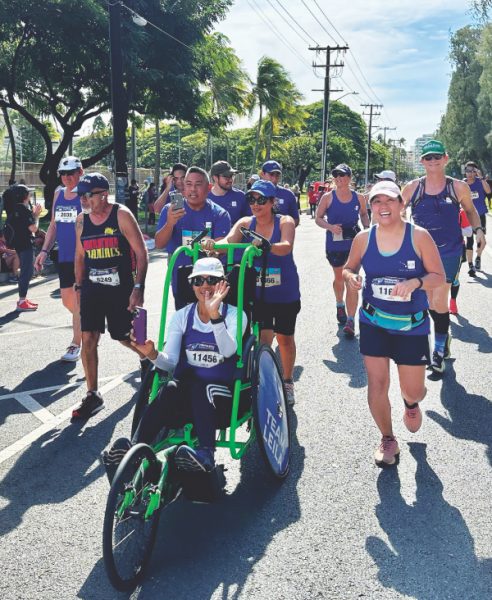 Through prayer and much coordination, however, everything fell into place: Team Leila found the exact racing wheelchair they needed; a local business printed a "Team Leila" banner for the wheelchair to promote the endeavor; training runs were completed beforehand; and, among other miracles, the weather on race day was the best racing weather Leila had ever experienced.
From 5 a.m. until close to 11 a.m., the various members of Team Leila coordinated drop-offs and pick-ups throughout the city of Honolulu, alternating between pushing Leila and running ahead to create a way for their beloved sister to reach the finish line. After more than five hours of running and pushing, Team Leila paused right before the finish line to let Leila stand up and walk across on her own two feet, arm-in-arm with two of her running buddies. And so, at 10:56 a.m. on Dec. 11, 2022, Leila Ventar, in the face of a significant cancer diagnosis, completed a significant race. One could say it was made possible by her church family, but ultimately it was empowered by the love of God—a love that is the start and end of every good endeavor done on behalf of a beloved brother or sister in Christ. 
Reflecting on the race, Leila said she experienced the goodness of God. "Truly the good Lord still wanted me to be in this race, but this time in a wheelchair!" Leila's fourth marathon wasn't what she originally had in mind. She thought she was going to run it herself. And yet, despite the challenges that sometimes confront us in this broken world, God worked through Leila's challenges in a way that reminds us that it is always He who carries us, and not we ourselves. And sometimes His strong arms can be seen in the arms of faithful friends behind the push handles of a wheelchair.
____________________
By Jaime Vargas
---
Una amistad maratónica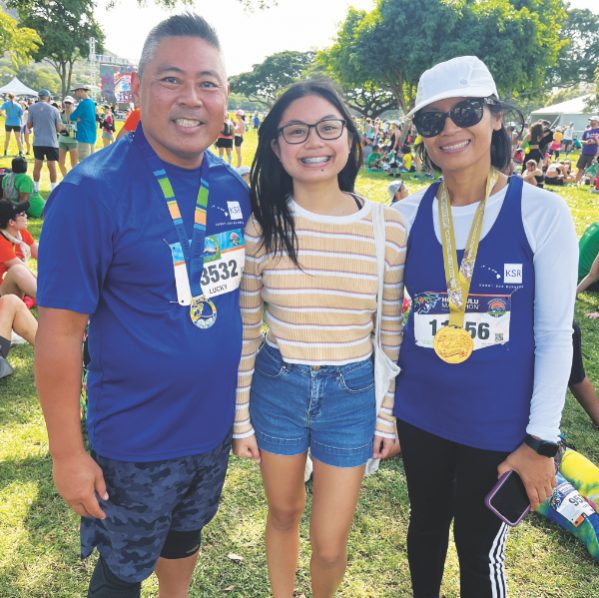 Leila Ventar, residente de la isla de Kauai en Hawai y miembro de la iglesia Kapa'a, pensaba que el 11 de diciembre de 2022 iba a ser el día en que cruzaría la línea de la meta del Maratón de Honolulu, el cuarto maratón en su vida. Sin embargo, el 22 de noviembre, dos días después de una carrera de entrenamiento de 18 millas, un examen médico reveló que tenía cáncer del colon. La cirugía siguió al diagnóstico y, en una conversación con un amigo después de la cirugía, Leila pareció insinuar que su reciente carrera de 18 millas podría ser realmente la última.
Un sábado por la tarde, mientras miembros de su iglesia la visitaban en el hospital después de un procedimiento quirúrgico, el próximo maratón —a solo dos semanas de distancia— estaba en la mente de varios: ¿cómo podría Leila perderse una carrera para la que se había preparado tan esforzadamente? Sin embargo, la carrera ahora parecía ser un sueño lejano.
La historia de la curación de Jesús del hombre paralítico en Lucas 5 nos recuerda que a veces Dios usa la fe de nuestros amigos para llevarnos a través de aparentes imposibilidades, ya sea que esa imposibilidad implique ser bajado a través de un techo para ser sanado o completar una carrera de 26.2 millas antes de que la curación física haya tenido lugar.
Ese sábado, frente a un terrible diagnóstico, nació un plan: el grupo de corredores de la iglesia Kapa'a, los Kauai SDA Runners, ahora llamados Team Leila, encontrarían una manera de llevar a Leila hasta la línea de meta. Eran dos semanas antes del maratón. Leila todavía estaba adolorida, hasta cuando era llevada en silla de ruedas, y el Team Leila no sabía si podrían encontrar una silla de ruedas adecuada para empujar a Leila por 26 millas.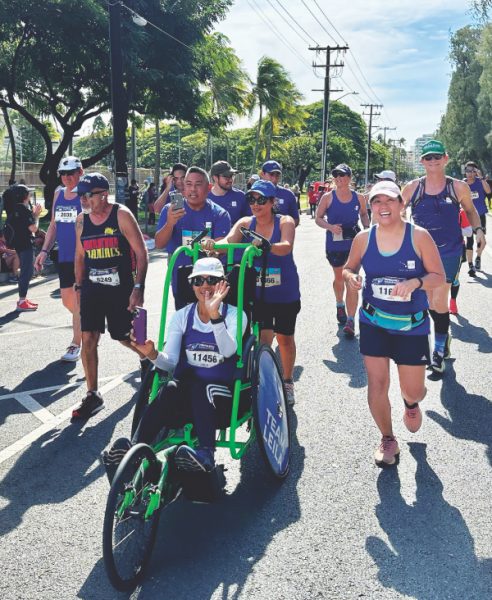 Sin embargo, a través de la oración y mucha coordinación, todo encajó: el Team Leila encontró la silla de ruedas de carreras exacta que necesitaban; un negocio local imprimió una pancarta «Team Leila» para la silla de ruedas y promover el esfuerzo; las carreras de entrenamiento se completaron de antemano; y, entre otros milagros, el clima el día de la carrera fue el mejor clima de carrera que Leila hubiese experimentado.
Desde las 5 a.m. hasta cerca de las 11 a.m., los diversos miembros del Team Leila coordinaron los turnos en toda la ciudad de Honolulu, alternándose entre empujar a Leila y correr hacia adelante para crear un camino para que su querida hermana llegase a la línea de meta. Después de más de cinco horas de correr y empujar, el Team Leila se detuvo justo antes de la línea de meta para dejar que Leila se pusiese de pie y caminase, del brazo con dos de sus compañeros de carrera. De esa manera, a las 10:56 a.m., el 11 de diciembre de 2022, Leila Ventar, frente a un diagnóstico dramático de cáncer, completó una carrera significativa. Se podría decir que fue posible gracias a su familia de iglesia, pero en última instancia fue fortalecida por el amor de Dios, un amor que es el comienzo y el final de todo buen esfuerzo realizado en nombre de un amado hermano o hermana en Cristo.
Reflexionando sobre la carrera, Leila dijo que experimentó la bondad de Dios. «¡Verdaderamente el buen Dios todavía quería que estuviese en esa carrera, pero esta vez en una silla de ruedas!» El cuarto maratón de Leila no era lo que originalmente tenía en mente. Pensaba que lo iba a ejecutar ella misma. Sin embargo, a pesar de los desafíos que a veces enfrentamos en este quebrantado mundo, Dios obró a través de los desafíos de Leila de una manera que nos recuerda que siempre es él quien nos lleva y no nosotros mismos. A veces sus fuertes brazos se pueden ver en los brazos de fieles amigos detrás de los mangos de una silla de ruedas.
____________________
Por Jaime Vargas