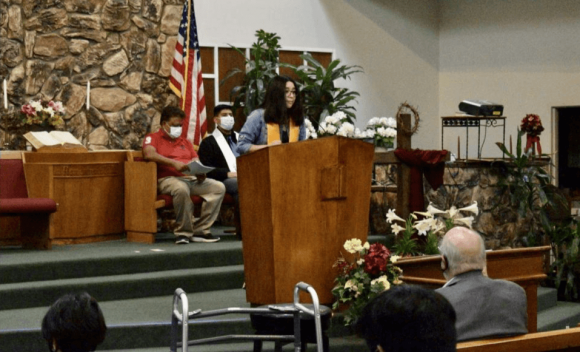 In mid-April, San Fernando Valley Academy (SFVA) held its annual National Honor Society (NHS) and National Junior Honor Society (NJHS) Induction and Affirmation Ceremony. San Fernando Valley Academy proudly introduced eight new members.
The National Honor Society and the National Junior Honor Society is a program for students who have shown determination in their schoolwork and have excelled in their classes. San Fernando Valley Academy first became a part of the NHS and NJHS program in 1998.
"Being in NHS is an honor because I am able to help the community and be an example to other students," said Cristi Sevilla, a member of the National Honor Society.
Ethan Guzman, president of NJHS said, "Even though things for NJHS were done differently this year, as president I was more than happy to welcome new members to NJHS."
The NHS and the NJHS program not only demonstrates students' hard-working skills in school but is also a program that demonstrates the members' sophisticated and courteous manners in helping others and their community.
Learn more about San Fernando Valley Academy.
Written by: Rachel Espinoza | Photo credit: Glenn Braun