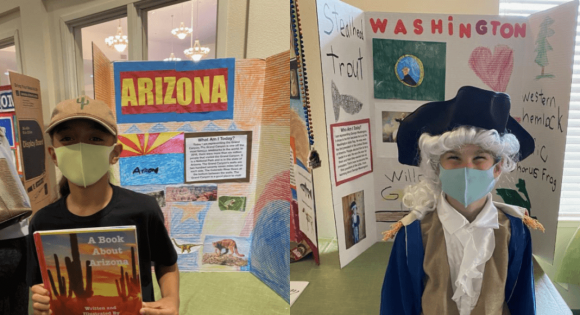 The 2nd- through 4th- grade students at Riverview Christian Academy (RCA) participated in a Learning Fair Night on Thursday evening, April 15th. Preparations for this exceptional evening began many months before. In class, students learned about the United States of America and chose a state to represent and study.
With research projects instigated, students spent time formulating outlines for reports, writing, editing, and finally illustrating and "publishing" their work. On the night of the Learning Fair, students wore costumes representing their chosen state and explained their choice of attire (along with numerous facts about the state chosen) in a paragraph on their display board. Those who attended the event heard the oral presentations of the reports by the students read from the stage.
Although space was limited due to Covid restrictions, those who attended in-person enjoyed it immensely and those unable to join in-person were privileged to watch it through livestream on the Riverview Christian Academy YouTube channel.
To watch the RCA Learning Fair on YouTube, click here. To learn more about Riverview Christian Academy, click here.