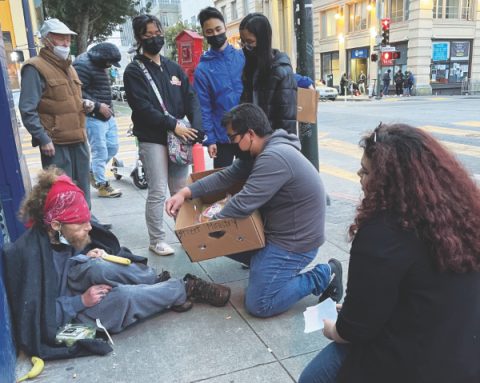 Mission trips can take us to the farthest corners of the world. But sometimes, those farthest corners are in our very own state. Nine students from Armona Union Academy traveled to San Francisco to serve in the corner of Central's world so many try to ignore: the homeless community. 
Armona Union Academy chaplain and religion teacher Kathleen Hernandez and a volunteer drove nine students and one volunteer into San Francisco's heart last March to volunteer with an organization called San Francisco City Impact (SFCI). This organization helps those who sleep on the streets or need assistance through food, housing, education, clothing, and numerous other methods. 
"They have meals every day in their rescue mission where they have Bible studies, they give out groceries every morning—there are lines down the street waiting for groceries—they run a thrift store, they run an elementary school and an after-school program. It's grown into a huge ministry," explained Hernandez.
The SFCI organization is in the Tenderloin District of San Francisco, well-known for its poverty level, substance abuse, homelessness, and crime. This troubled section of the city caused San Francisco Mayor London Breed to announce an "emergency declaration" this last January to try to contain the drug overdoses in the area.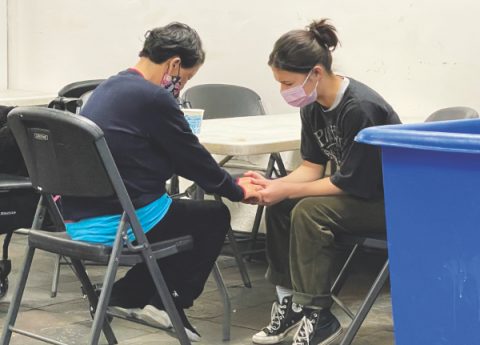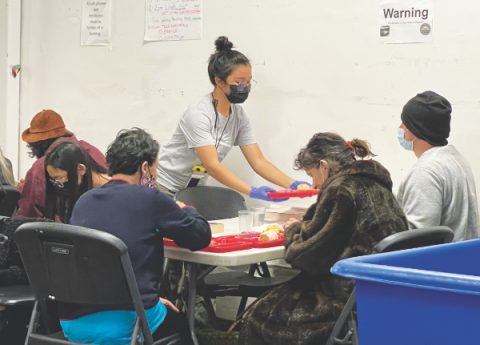 The students helped by sorting food donations, unloading food trucks, and preparing grocery bags to hand out to residents. They also prepared boxes for the Adopt-A-Building program that delivers meals to Single Room Occupancy (SRO) residents, meeting the basic needs of over 11,000 low-income SRO residents each year. In addition, they sorted barrels of clothing and hung items on racks for SFCI's thrift store.
Some AUA students  were especially excited to help with an after-school tutoring and childcare program called City Kids, which provides children a safe space to learn and play. KeAna Tabura, a sophomore on the trip, explained, "The kids of the after-school program were so much fun. I got a small glimpse inside the lives those children live due to the district they live in. It's not safe or nurturing for a child. However, with the after-school program provided by SFCI, the kids of the Tenderloin get their daily dose of love, care, and Jesus from the amazing staff members. What the City Kids program is doing for the Tenderloin district is truly beautiful."
The United States Interagency Council on Homelessness estimates that California has approximately 161,000 homeless individuals on any given day.* This is nearly double the next closest state (New York, approximately 91,000). This overwhelming number has become an underserved culture so close to the homes that we pass by them nearly every day without noticing.
Instead of passing them by, the students spent time interacting directly with the homeless on the streets. The students walked up to them and offered them boxes of food and also offered to talk and pray with them. "The kids were really touched by this because I think most of them had always been taught to rush by for personal safety reasons. On this trip they were able to see the homeless from a different perspective—as people that Jesus loves who have needs like we do," said Hernandez.  "I was proud of the students, how they stepped out of their comfort zones and actually interacted with the Tenderloin residents," she continued.
"This mission trip changed me because it changed my perception of life," said Dovan Martella, another student on the trip. "Growing up in the city, I had my fair share of seeing homeless people. But I grew up ignoring them because it was the 'safer' option. Meeting the residents made me realize that homeless people are still people. They need to be treated the same as we would treat our friends and family."
Mission trips offer many benefits to those who participate in addition to those being served, and one of those is the ability to experience something outside your culture. Hernandez explained that one of the reasons she chose to take the students to San Francisco was that the homeless community in the city offers that experience right here in our state.
"I love traveling and learning languages and experiencing different cultures, and I really wanted to give the kids that opportunity without leaving the country," Hernandez said. "I asked myself, What could be something really different that they've never experienced?" She realized that the inner city provides that experience.
____________________
By Brennan Hallock
*https://www.usich.gov/homelessness-statistics/ca/