Sam Joo
Orange Central Korean Church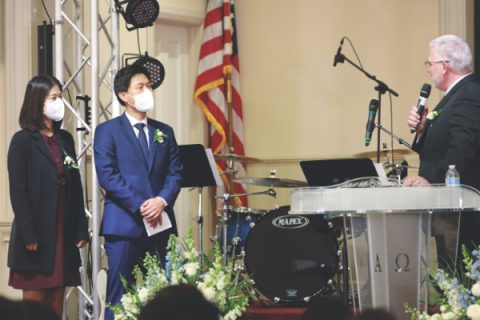 As a pastor's kid, Sam Joo said he "just always knew" pastoral ministry was what he wanted to do. When he was in high school, his youth pastor offered him the opportunity to teach the youth group at church, and it was a turning point in his life.
"I was scared to get up in front of my friends," Joo recalled. "But it gave me an idea of what being a leader looks like."
Today, Joo is assistant pastor at the Orange Central Korean Church in Placentia, where he's been serving for nine years and was ordained in March. And like his youth pastor did for him, Joo makes it a point to find ways to include the youth in church leadership.
"One of the joys I have as a pastor is seeing kids growing up at church and getting them involved in different ministries," he explained. He views communication and relationship as the top factors keeping young people in the church, and he does what he can to mentor and guide them.
"I start by building a relationship with them as a reliable, trustworthy person," he said. "From there, I encourage them to be involved—from leading Pathfinders to being part of a praise team. Then I let them do things with me and explore until they feel comfortable doing it on their own."
Joo feels inreach, such as his work with young people, and outreach go hand in hand. He envisions the church shaping their community and becoming an influential support for the city. Because the purpose of everything they do, Joo added, is "to expand the kingdom of God and invite others to join us."
Melvin Ebora
Inland Empire Filipino Church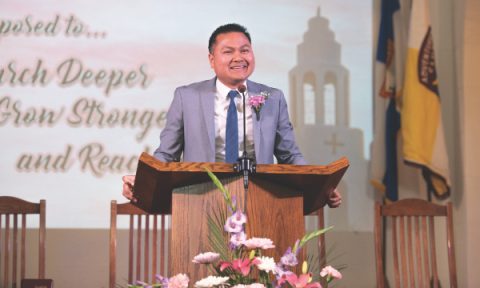 While attending college in the Philippines, Melvin Ebora joined the Young Ministers Club, a group of students who visited different local churches every week to meet and minister to the members. The more churches he visited, the stronger Ebora felt God leading him to full-time ministry.
"That's how it all started," Ebora said.
When he moved to Redlands, he quickly became involved at church, encouraging the young people to do what he did as a student—visit local churches. Because music is highly valued in their church, they started a youth choir and began singing at different churches and nursing homes.
"We only have about 400 members, but we have six or seven singing groups in our church," Ebora said. "I believe music keeps us moving forward—sharing a passion and getting everyone involved."
Because of this passion, music played a large role in Ebora's recent ordination, which he considers more than an affirmation of his calling but also a celebration of his salvation.
"The reason God called me to ministry was not for me to save the souls of others, but to save my own," he shared. "Had I not become a pastor, I probably would not be in the church. I'm not a special person; God simply wanted me to be close to Him, and this was how He made that happen. I just followed His lead."
Ivan Ostrovsky
Fallbrook Church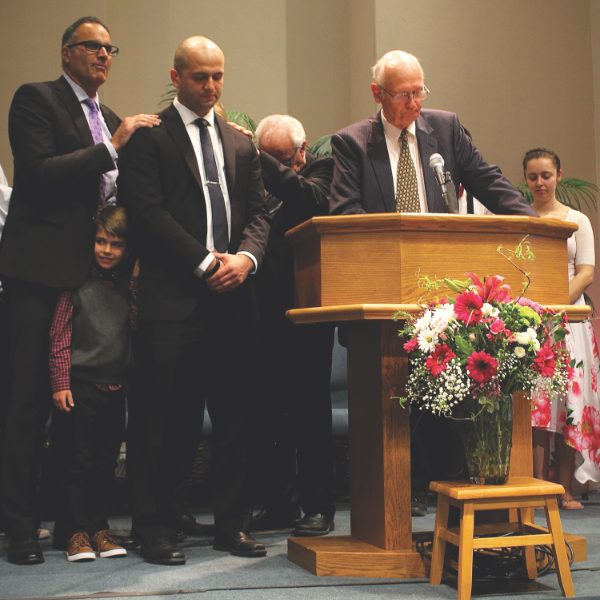 Ivan Ostrovsky comes from a long line of pastors: His great-grandfather, grandfather, father, and oldest brother all entered the ministry. But Ostrovsky didn't think that role was meant for him.
"I thought as a pastor I'd always have to wear a suit and know everything," he said with a laugh. "That didn't sound fun."
So he enrolled in college as a nursing major. God simply followed him.
"I had just presented an impassioned speech in English class on my favorite topic, soccer, when I heard a whisper in my ear," Ostrovsky remembered. The voice asked, "When are you going to talk about me like that?"
Recognizing it as the voice of the Holy Spirit, Ostrovsky was convicted of his true calling and switched to a theology major. Today, he's the youth pastor at Fallbrook church, where he has served for four years and was ordained this spring.
"I love the young people," Ostrovsky said. "When I empower them to lead, they not only have fun and learn more about Jesus, but they also build relationships with each other and the church and see they're not just needed, they're wanted here."
Ostrovsky knows that when young people have something to look forward to, they keep showing up and they stay excited. So he involves them in activities beyond Sabbath, coordinating various events throughout the week. Recently he and three young people hiked Half Dome in Yosemite.
"I just do things I love and take them with me," Ostrovsky said.
After accepting God's call to ministry, Ostrovsky said he felt like he'd finally stopped running and stepped into his true purpose.
"God chose me," he said. "I let Him lead, He brought me here, and I'm willing to keep going."
____________________
By Becky St. Clair