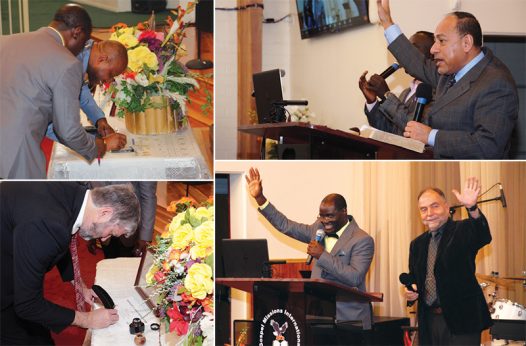 In an atmosphere charged with energy and excitement, officers of the Arizona Conference officially recognized the Ubumwe Seventh-day Adventist Church on February 5, 2022. Equally exciting is that a number of years ago the church was no more than a couple of families meeting in a church Sabbath School room. Now, within the span of a few years, they have grown from a group to a company to a church.
Beginning at the Camelback church in 2009, the group moved to the Glendale church a year later to be more centrally located to where refugee families were living in the Phoenix metro area. Initially, a Sabbath School room fit the group nicely; however, the efforts of Pastor Joel Mpabmaniwana began producing an increasingly larger group.
"Pastor Joel came to us wanting space to meet with two or three families. But every week there was a new family, so we kept stretching our space," Gary Venden, pastor of the Glendale church, said to the congregation gathered for the consecration service.
To incorporate the group into the mainstream church service, the families would assemble in one section of the church, where translation into their native tongue would take place. But it soon became apparent that this was not a long-term solution.
"We needed to change our philosophy." said Pastor Venden. "We realized there were people coming and sitting in our church that had raised up churches in the refugee camps that were bigger than Glendale," he continued. "Instead of trying to integrate you into the Glendale church, we needed to help you have your own space to worship in your own language."
The gym at Glenview Adventist Academy, sitting on the same property as the Glendale church, provided a larger space for the body of believers. This gave the group an opportunity to have a full church service in their own language and style of worship. However, the group kept growing through the years, and the facilities became inadequate to meet the needs of both the Glendale church and the Ubumwe group meeting at the same time.
"It was a bittersweet day when you found a place of your own," exclaimed Pastor Venden. "But it has been such a blessing to see you grow and a privilege to have a little part in this day."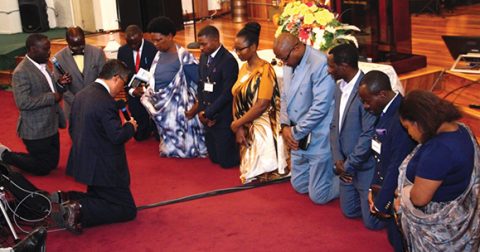 For the first time, the Ubumwe leadership team knelt together as an official church and received a prayer of blessing. A final gift ceremony took place to conclude the consecration service, and in traditional African fashion, a hand-carved African walking cane was given to Pastor Mpabmaniwana as a symbol of leadership and prestige.
With an exuberant smile and a joyful ring in his voice, Pastor Mpabmaniwana celebrated with his church family. What had begun as a small ministry meeting
in a Sabbath School room in a local church is a full- fledged church, brimming with exuberance. When Mrs. Mpabmaniwana embraced her husband at the close of the service, her smile, excitement, and pride in her husband were palpable and illustrated the mission mentality that exudes from this ministry team.
____________________
By Jeff Rogers