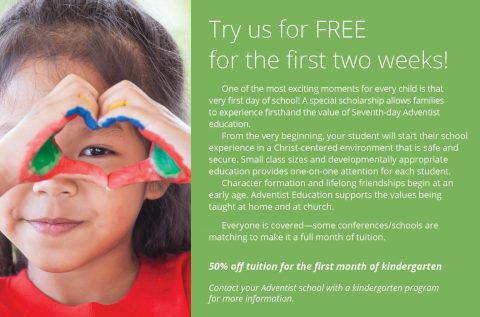 Try us for FREE for the first two weeks!
One of the most exciting moments for every child is that very first day of school! A special scholarship allows families to experience firsthand the value of Seventh-day Adventist education.
From the very beginning, your student will start their school experience in a Christ-centered environment that is safe and secure. Small class sizes and developmentally appropriate education provides one-on-one attention for each student.
Character formation and lifelong friendships begin at an early age. Adventist Education supports the values being taught at home and at church.
Everyone is covered—some conferences/schools are matching to make it a full month of tuition.
50% off tuition for the first month of kindergarten
Contact your Adventist school with a kindergarten program
for more information.