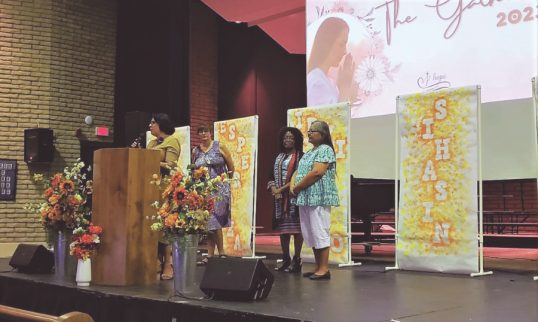 The Arizona Conference Women's Ministries Team held their second annual "The Gathering" on Sabbath, July 29, at Thunderbird Adventist Academy. The team planned this free event to provide hands-on learning from personal experiences rather than theory-based teaching.
The theme for the day was "Hope in our Hectic World." Women from various ethnic groups across Arizona gathered and celebrated Sabbath. It was a time of encouragement, given by women who have faced challenges in their lives and have discovered hope that is relevant and real. The goal was to provide women with tools to help them experience the hope of Jesus in their daily lives.
Keynote speaker Pastor Crystal E. Ward from Spencerville, Maryland, shared how everyone can have hope in Jesus, presenting a message in which she dug deeply into the story of the Samaritan woman at the well from John 4. 
One attendee summarized the message perfectly. "Crystal helped to bring the woman at the well to life and showed how Jesus meets each one of us," she said. "Just like the woman at the well, any woman who is struggling with a past that haunts her, struggling with a distorted sense of worth, struggling with feeling like an outcast, and/or struggling because she feels there is no hope—Pastor Ward wanted us to remember Jesus is calling us today to drink His living water."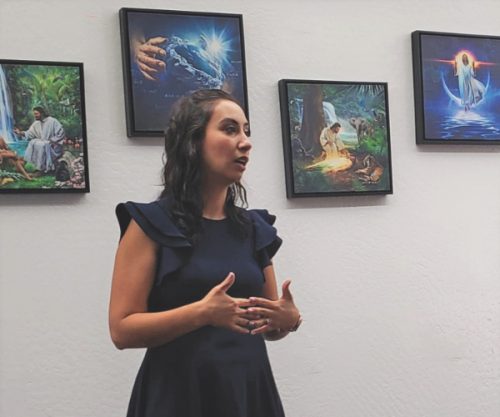 Two different breakout sessions offered nine different presentations. These sessions covered a wide range of topics, allowing the women to select one appropriate for what they needed in their journey.  Some sessions were geared to specific ethnic groups and had facilitators and room hostesses who shared hope during the sessions. "The breakout sessions I attended definitely addressed the theme of 'Hope in a Hectic World,'" said an attendee. "I saw Jesus throughout the entire day."
Attendees enjoyed musical meditations from a variety of ethnic group musicians. "The atmosphere was welcoming and love-filled, full of inspiring praise music," reflected an attendee. "I truly felt God's presence."
Organizers of the event are grateful for the team of facilitators, including Erika Rivero, Carol Davis-Uentillie, Gloria Eldridge, Pam Sulger, Tina Shorey, Vanessa Quintana, Laura Sohn, Lorraine Daniel-Palmer, and Kristian Spielman. These presenters provided interactive, hands-on illustrations in a more intimate setting.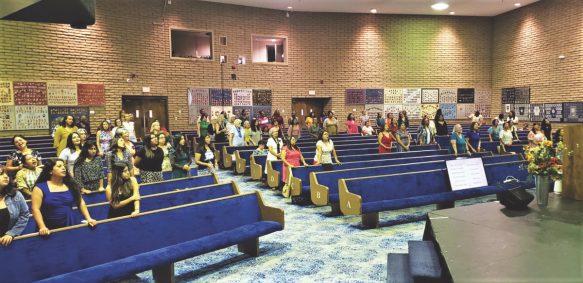 Rosemary Abrahams attended the event and noted the impact it had on everyone, including one lady in particular. "At the end of the sessions, a lady from the audience shared that she had been deeply depressed all week, but the ministry heard throughout the day turned it all around for her and now she has hope in Jesus again."
____________________
By Julie Jewett
El encuentro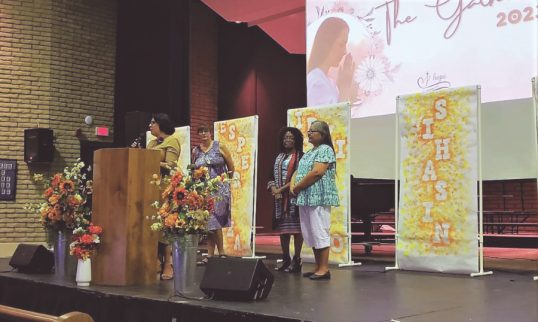 El equipo del Ministerio de la Mujer de la Arizona Conference celebró su segunda «reunión» anual el sábado 29 de julio en la Thunderbird Adventist Academy. El equipo planificó ese evento gratuito para proporcionar aprendizaje práctico de experiencias personales en lugar de enseñanza basada en la teoría.
El tema del día fue «Esperanza en nuestro agitado mundo». Mujeres de varios grupos étnicos de Arizona se reunieron y celebraron el sábado. Fue una ocasión de aliento, dado por mujeres que han enfrentado desafíos en sus vidas y han descubierto una esperanza que es relevante y real. El objetivo fue proporcionar a las mujeres herramientas para ayudarlas a experimentar la esperanza de Jesús en su vida diaria.
La oradora principal, la pastora Crystal E. Ward de Spencerville, Maryland, compartió cómo todas pueden tener esperanza en Jesús, presentando un mensaje en el que profundizó en la historia de la mujer samaritana en el pozo de Juan 4. 
Una asistente resumió el mensaje perfectamente. «Crystal ayudó a dar vida a la mujer en el pozo y mostró cómo Jesús se encuentra con cada una de nosotras», dijo. «Al igual que la mujer en el pozo, cualquier mujer que esté luchando con un pasado que la persigue, luchando con un sentido distorsionado de valor, luchando con sentirse como una marginada y/o luchando porque siente que no hay esperanza, la pastora Ward quería que recordásemos que Jesús nos está llamando a beber su agua viva».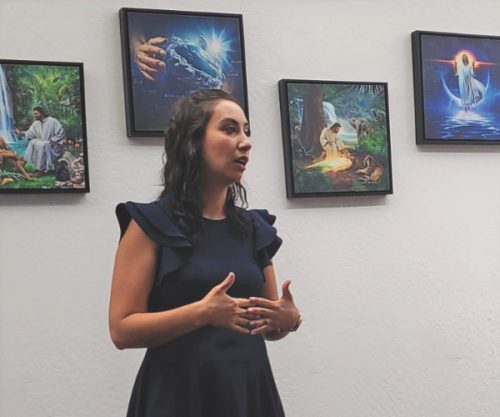 Dos diferentes sesiones de trabajo ofrecieron nueve diferentes presentaciones. Esas sesiones cubrieron una amplia gama de temas, permitiendo a las mujeres seleccionar uno apropiado para lo que necesitaban en su recorrido.  Algunas sesiones estaban dirigidas a grupos étnicos específicos y tenían facilitadores y anfitrionas que compartieron la esperanza durante las sesiones. «Las sesiones paralelas a las que asistí definitivamente abordaron el tema de "Esperanza en un agitado mundo"», dijo una asistente. «Vi a Jesús durante todo el día».
Los asistentes disfrutaron de meditaciones musicales con una variedad de músicos de grupos étnicos. «El ambiente fue acogedor y lleno de amor, lleno de inspiradora música de alabanza», reflexionó una asistente. «Realmente sentí la presencia de Dios».
Los organizadores del evento agradecen al equipo de facilitadoras, incluyendo a Erika Rivero, Carol Davis-Uentillie, Gloria Eldridge, Pam Sulger, Tina Shorey, Vanessa Quintana, Laura Sohn, Lorraine Daniel-Palmer y Kristian Spielman. Esas presentadoras proporcionaron ilustraciones interactivas y prácticas en un entorno íntimo.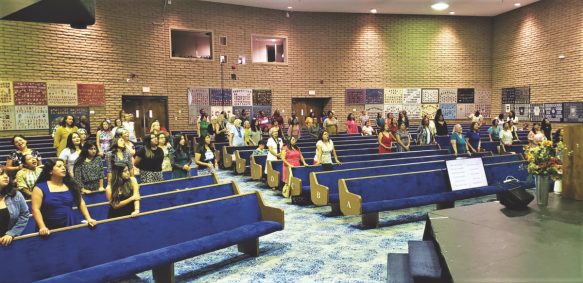 Rosemary Abrahams asistió al evento y notó el impacto que tuvo en todas, incluyendo a una dama en particular. «Al final de las sesiones, una señora de la audiencia compartió que había estado profundamente deprimida toda la semana, pero el testimonio escuchado durante el día cambió todo para ella y ahora nuevamente tiene esperanza en Jesús».
____________________
Por Julie Jewett