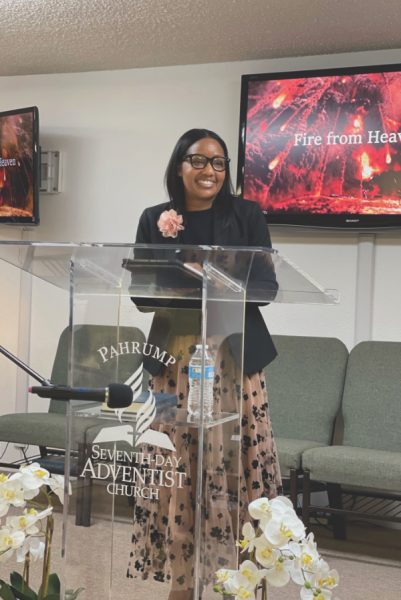 On February 3, 2023, after months of prayerful planning and coordination, the Pahrump church hosted its first weekend Women's Day celebration. The weekend theme was titled "Take Heart Daughter: Jesus Has Something for You."  
It was the first event in a series of planned "Grow Your Church" initiatives for 2023. Creating an environment of inclusion, members of the Centennial Hills sister church attended to share in the celebration and worship.
The exciting weekend started with Friday night vespers. On Sabbath morning those in attendance were first blessed by beautiful musical selections played on the harp by world-renowned harpist Beverly Wesner-Hoehn. She was followed by dynamic guest speaker Lisa Holman-Marsh. There was virtually standing room only. Patty Hobson, Pahrump women's ministries leader, remarked, "As the women's ministries leader, I was impressed by the turn out! Lisa presented a very timely message, and Beverly's musical presentation on the harp was very inspiring."
With the core message taken from John 4, Holman-Marsh provided valuable insights into Jesus' interactions with the women of His day—in particular, the Samaritan woman. Women participants, as well as the men in attendance, voiced their feelings of thankfulness for the blessings. Vickie Smith, head deaconess, shared, "When I first heard Lisa Holman-Marsh speak at the Christian Women's Retreat at Leoni Meadows, I knew the women at my church would love to hear her too. Our Women's Day celebration, Friday night, and Sabbath morning with Lisa and Beverly Wesner-Hoehn on the harp were spiritual high points that we will never forget!" This memorable event served to underscore women's contributions throughout the ages and reinforce our biblically based principles.
____________________
By Keith Alexander
Ministerio de la Mujer de la Iglesia Pahrump inspira al compañerismo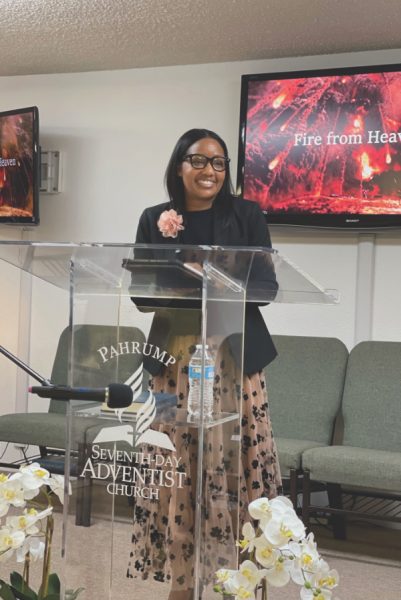 El 3 de febrero de 2023, después de meses de planificación y coordinación en oración, la iglesia de Pahrump organizó su primer fin de semana en celebración del Día de la Mujer. El tema del fin de semana se tituló «Take Heart Daughter: Jesus Has Something for You».  
Fue el primer evento de una serie de iniciativas planificadas «Haz crecer tu iglesia» para 2023. Creando un ambiente de inclusión, los miembros de la iglesia hermana de Centennial Hills se unieron para compartir la celebración y la adoración.
El emocionante fin de semana comenzó con el culto del viernes por la noche. El sábado por la mañana, los asistentes fueron bendecidos con hermosas selecciones musicales en el arpa por la arpista de renombre mundial Beverly Wesner-Hoehn. Fue seguida por la dinámica oradora invitada Lisa Holman-Marsh. Sólo había prácticamente espacio para estar de pie. Patty Hobson, líder del ministerio de la mujer de Pahrump, comentó: «Como líder del ministerio de la mujer, ¡me impresionó la participación! Lisa presentó un mensaje muy oportuno y la presentación musical de Beverly en el arpa fue muy inspiradora». 
Con el mensaje central tomado de Juan 4, Holman-Marsh proporcionó información valiosa sobre las interacciones de Jesús con las mujeres de su época, en particular, la mujer samaritana. Las mujeres participantes, así como los hombres que asistieron, expresaron sus sentimientos de agradecimiento por el mensaje. Vickie Smith, jefa de diaconisas, comentó: «Cuando escuché por primera vez a Lisa Holman-Marsh hablar en el retiro de mujeres cristianas en Leoni Meadows, sabía que a las mujeres de mi iglesia también les encantaría escucharla. ¡Nuestra celebración del Día de la Mujer, el viernes por la noche y la mañana del sábado con Lisa y Beverly Wesner-Hoehn en el arpa fueron eventos espirituales que nunca olvidaremos!» Este memorable evento sirvió para subrayar las contribuciones de las mujeres a lo largo de los siglos y reforzar nuestros principios basados en la Biblia.
____________________
Por Keith Alexander