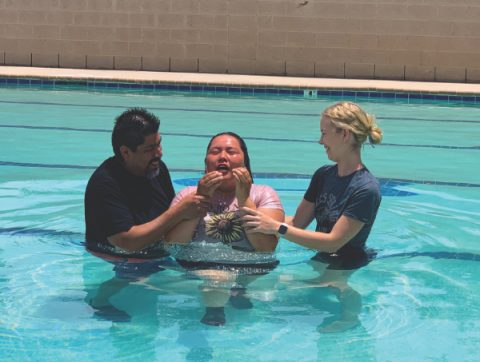 Shonda* was excelling in her classes. She had overcome many obstacles and was looking forward to the coming school year. Unfortunately, over the summer she experienced a life-altering trauma that set her back emotionally—further than when she first arrived at Holbrook Indian School (HIS). The worst part of this story is that this was not an isolated incident.
Many students at HIS need positive guidance and direction over the summer months, which is the reason the school offers a Summer Experience for students.
In 2017, Holbrook Indian School stepped out in faith and began providing year-round services to students through the HIS Summer Experience and Leadership program. Throughout the summer months, this program aims to continue to provide the safe haven that many of our students depend on during the school year.
Starting at the beginning of June through the middle of July, HIS students participated in a six-week summer program that offered a different camp each week. 
The first week of Summer Experience brought students a fresh perspective on horses and relationships. Experienced horse trainer Jaylin spent her summer at HIS instructing and guiding HIS students in connecting with horses. Jaylin used her background in training and rehabilitating horses to help students develop emotional connections. Her approach was to start from the ground up in a very literal sense. "We teach the students a variety of groundwork techniques," said Jaylin. "Groundwork is anything you do with a horse that is not mounted." These techniques included leading, lunging, and join-up. The goal is to build trust with the horses.
After the groundwork, students were prepared to ride. Mastering this connection not only enhances the horse-rider experience for our students but is also a springboard for understanding their relationships with teachers and staff, family, and God. 
The second week, our students camped at Camp Yavapines in Prescott, Arizona, to attend the Arizona camp meeting. Our students had a great time meeting new people and participating in various youth activities. On Friday evening of that week, there was a call for baptism and one of our students chose to be baptized the following day. Dalariyn gave her heart to God.
One of the focuses of Summer Experience this year was community service. During the third week, students spent time participating in community service activities on campus. One of those activities involved dorm upgrades, working alongside the Support Our Scholars group that visited our campus.
During the final three weeks, students participated in three more camp-style programs—a health-focused camp from Wildwood Health Institute, a music camp with the Institute of Young Musicians for Christ, and, during the final week, an outdoor adventure-focused camp with the F5 group.
The support we receive from friends of HIS makes it possible for our students to participate in Summer Experience. 
*Name changed for confidentiality.
____________________
By Chevon Petgrave