It was like a family reunion. To see friends in person and without masks evoked smiles, laughter, hugs, and excitement!  In September of 2022, the educators of the Southeastern California Conference (SECC) were able to have a teacher in-service together in one place for the first time in a couple of years. A positive vibe was in the air.
The start of the 2022-2023 school year felt like coming out of a deep fog and finding that sunshine was finally upon us. Though we still had some protocols in place following the pandemic, this year felt more "normal" than the last two years.
Teachers came to the in-service dressed in their school colors, and the theme of the day was collaboration, which included a pep rally during lunch. They also split into groups by grade or subject area for collaborative sharing and planning.
"It was so much fun to see people in person again, and I really loved getting to know other sixth-grade teachers from other schools. We wanted to keep meeting to share ideas throughout the year," said Penny Richards, Loma Linda Academy sixth-grade teacher.
After surveying educators in our conference in the fall of 2021, our team sat down to "review and reset" our vision for the future with a new mission statement and set of core values. We were able to implement action steps to help our educators be more effective.
We hired a new staff member with expertise in special education to assist teachers by providing tools, resources, and trainings to serve special needs students. We created Professional Learning Community groups for subject areas and grade levels. Experts in mental health and trauma-informed needs of students conducted four trainings for our educators this school year. We also have a full-time person in our office who is assisting schools in marketing and enrollment strategies.
We are excited about the future of Adventist education in the Southeastern California Conference. We have more initiatives we are working on and are blessed to have supportive conference leadership and involvement as we look to "face the future with courage as we adapt to our changing world." To read more about our mission, values, and schools, visit secceducation.org.
____________________
By Datha Tickner
El estado de nuestras escuelas
Fue como una reunión familiar. ¡Ver amigos en persona y sin máscaras evocaba sonrisas, risas, abrazos y emoción!  En septiembre de 2022, los educadores de la Southeastern California Conference (SECC) pudieron tener una capacitación juntos en un solo lugar por primera vez en un par de años. Una vibra positiva estaba en el aire.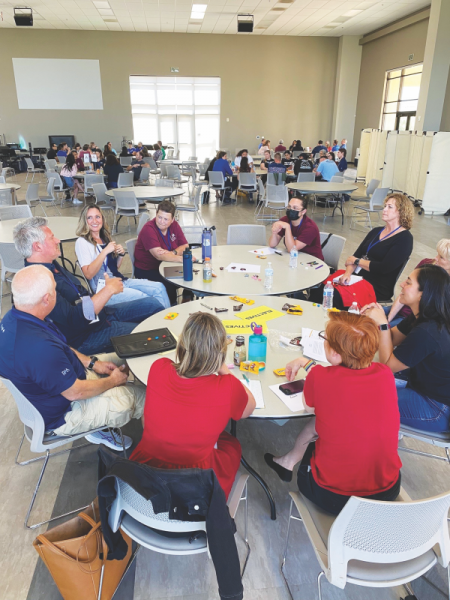 El comienzo del año escolar 2022-2023 se sintió como salir de una niebla profunda y descubrir que la luz del sol finalmente estaba sobre nosotros. Aunque todavía teníamos algunos protocolos establecidos después de la pandemia, este año se sintió más «normal» que los últimos dos años.
Los maestros llegaron a la capacitación vestidos con los colores de su escuela y el tema del día fue la colaboración, que incluyó un mitin de ánimo durante el almuerzo. También se dividieron en grupos por grado o área temática para compartir y planificar en colaboración.
«Fue muy divertido volver a ver a la gente en persona y realmente me encantó conocer a otros maestros de sexto grado de otras escuelas. Queríamos seguir reuniéndonos para compartir ideas durante todo el año», dijo Penny Richards, maestra de sexto grado de Loma Linda Academy.
Después de encuestar a los educadores en nuestra conferencia en el otoño de 2021, nuestro equipo se sentó para «revisar y restablecer» nuestra visión para el futuro con una nueva declaración de misión y un cuerpo de valores fundamentales. Pudimos implementar pasos de acción para ayudar a nuestros educadores a ser más efectivos.
Contratamos a un nuevo miembro del personal con experiencia en educación especial para ayudar a los maestros proporcionando herramientas, recursos y capacitaciones para atender a los estudiantes con necesidades especiales. Creamos grupos de Professional Learning Community para áreas temáticas y niveles de grado. Expertos en salud mental y necesidades informad0s sobre el trauma de los estudiantes realizaron cuatro capacitaciones para nuestros educadores este año escolar. También tenemos una persona de tiempo completo en nuestra oficina que está ayudando a las escuelas en estrategias de mercadotecnia e inscripción.
Estamos entusiasmados por el futuro de la educación adventista en la Southeastern California Conference. Tenemos más iniciativas en las que estamos trabajando y tenemos la bendición de contar con el apoyo y la participación del liderazgo de la conferencia mientras procuramos «enfrentar el futuro con valor a medida que nos adaptamos a nuestro cambiante mundo». Para leer más sobre nuestra misión, valores y escuelas, visite secceducation.org.
____________________
Por Datha Tickner