by Yara Y. Enamorado

What happens when you mix a passionate calling for evangelism with a church that actively works on sowing the seed of Christ's gospel in their community? Miracles! Miracles happen!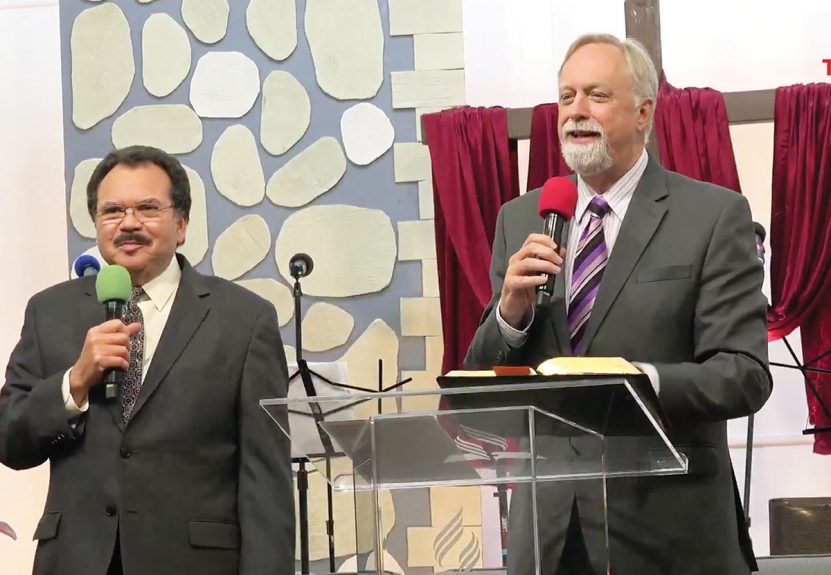 Though actively engaged in the details of administration at the Pacific Union, President Bradford Newton never gave up his true calling, which is our calling as a church, to preach the gospel to all the world. Last year, through the gentle nudge of the Holy Spirit, Newton felt it was time to focus on evangelism. He looked to his friend and colleague, Alberto Ingleton, vice president for Hispanic ministries, to help him find a church where he could be used by God to bless others. 
"I felt impressed that I should preach a series; the Spirit moved my heart. I didn't know the church, but I trusted Alberto," said Newton. 
When deciding on who to approach, Ingleton focused on finding a church that had the willingness and capability to first plant seeds in its community and then reap a bountiful harvest through a week of evangelism. 
"Many churches want evangelists to come to their church, but they don't recognize the need of first sowing the seeds," said Ingleton, "It can be very frustrating when the evangelist comes and it's a surprise for everyone because the soil is not fertile—there has been no work prior to reach out and develop a relationship with the community and the church as a whole." 
Ingleton quickly recognized, through prior collaborations with Pastor Gustavo Mendez, that Iglesia El Camino a Cristo (Steps to Christ church) was the perfect reaping ground for an evangelistic week. He had worked with Mendez during prior meetings and knew this young pastor, a hard worker, understood not only the mission he was called to do but also the mission his church was called for. Ingleton saw that Mendez actively trains his church to lead and gives them tools to reach out to the community and bring them to the family of Christ.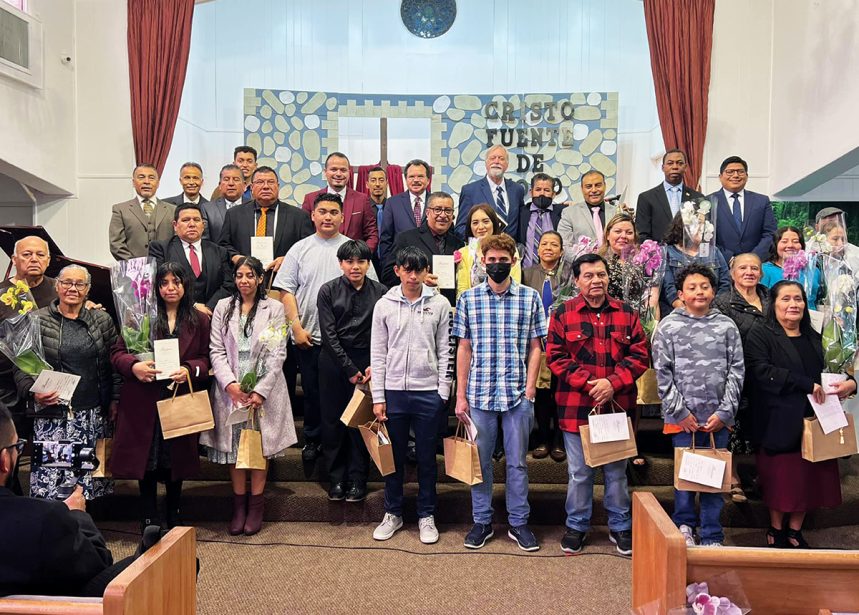 I believe it was God that put all the pieces in place
and made this a success.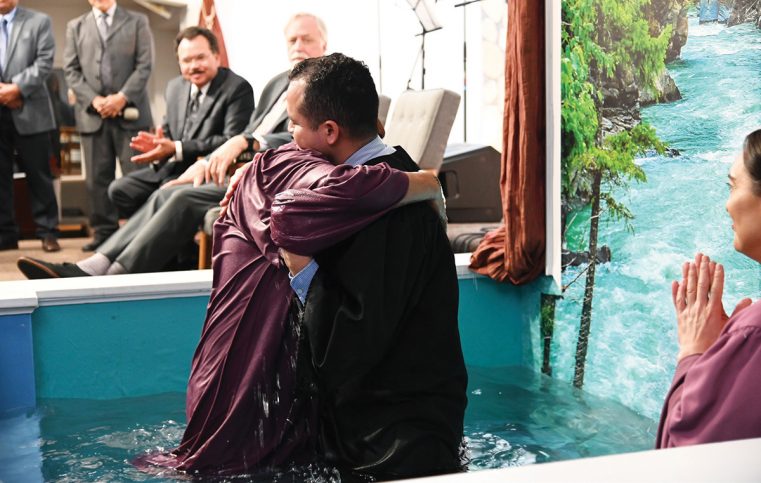 When Ingleton reached out to Mendez, his church was already engaged in building relationships through their food bank ministry. "It was the largest coordinated food bank effort I had ever seen," said Newton. Before mentioning Bible studies or issuing invitations to worship, the church wanted its community to know they cared for them. They served their needs throughout the pandemic, providing much-needed resources. After building trust and relationships and showing their concern for the wellbeing and health of those around them, they then began to invite the community to Bible studies. After receiving the call from Ingleton, with a re-energized focus and vigor, they continued their work of sowing seeds, conducting up to 75 Bible studies. 
"I believe it was God that put all the pieces in place and made this a success," said Mendez. 
The series began Sabbath, March 4. It was a fortuitous coincidence that the church, which actually was a company at the time, had planned that date to celebrate the change of status from company to church. They could think of no better way to kick off becoming an official church than to launch an evangelistic series. 
Each night Newton spoke new messages of hope and Ingleton translated. "Christ our Fountain of Joy" was the theme, and the messages were accompanied by special musical praise through Rondalla, a vocal and string group, and guest singer Herendira Montavlo from the Arizona Conference. 
The diligent work of the church in preparing people's hearts to receive the Word of God was clearly evident. Generally, in any series or week of prayer, attendance, while high on weekends, dwindles throughout the work week. That was not the case in this instance. Attendance, while high on Sabbath, only continued to grow and grow. 
"It was a miracle," said Ingleton. "I've helped lead many evangelistic campaigns, and only very few times have I seen this type of attendance. It's not common." 
Ingleton attributes the success of the series to two factors: first, God's Spirit leading the active involvement of the pastor and members in support of the series; and second, the powerful and enthusiastic Christ-centered messages that the Lord spoke through Pastor Newton. 
Adding to the physical attendance, the church collaborated with TV Tu Mundo, an Adventist media organization, to livestream the entire series. The Lord blessed this partnership, and through it, Newton's messages of hope gained over 95,000 views.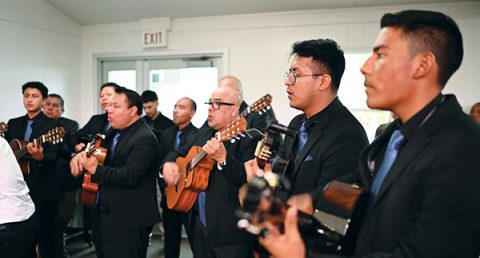 It was a tremendous experience and a week full of blessings. People eagerly and attentively received the Word of God. The week culminated with a high Sabbath of 23 baptisms. Families gathered and music filled the air. Love and warmth were felt throughout the sanctuary. The joyful celebration included the baptism of one individual who frequently arrived drunk to church. By God's grace, he accepted the gift of salvation that comes through Jesus Christ.
God truly blesses and continues to use His people to spread His word. Praise the Lord for His infinite mercy and grace, and may all of us allow the Lord to use us for His great commission! 
____________________
By Yara Enamorado
Sembrando las semillas y segando la cosecha
Qué sucede cuando mezclas un llamado apasionado al evangelismo con una iglesia que trabaja activamente sembrando la semilla del evangelio de Cristo en su comunidad? ¡Milagros! ¡Suceden milagros!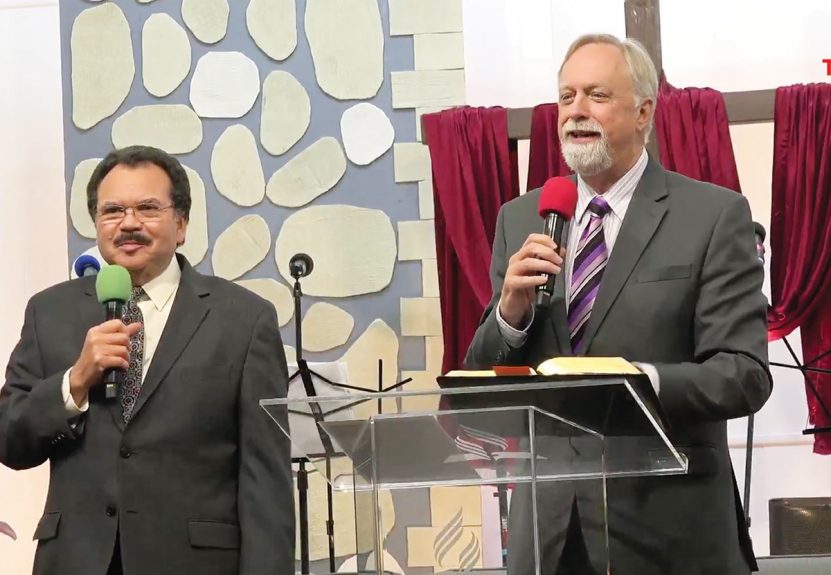 Aunque participa activamente en los detalles administrativos de la Pacific Union Conference Bradford Newton, el presidente, nunca ha renunciado a su verdadero llamado, que es nuestro llamado como iglesia, de predicar el Evangelio a todo el mundo. El año pasado, a través del suave impulso del Espíritu Santo, Newton sintió que era hora de enfocarse en evangelismo. Miró a su amigo y colega, Alberto Ingleton, vicepresidente de ministerio hispano, para que lo ayudase a encontrar una iglesia donde Dios pudiese usarlo para bendecir a otros. 
«Me sentí impresionado de que debía predicar una serie; el Espíritu conmovió mi corazón. No conocía la iglesia, pero confiaba en Alberto», ha dicho Newton. 
Al decidir donde llevar a cabo un esfuerzo evangelístico, Ingleton se dedicó a buscar una iglesia que tuviese la voluntad y la capacidad de plantar primero semillas en su comunidad y después tener una cosecha abundante debido a una semana de evangelismo. 
«Muchas iglesias quieren que los evangelistas vengan a su iglesia, pero no reconocen la necesidad de sembrar primero las semillas», dice Ingleton. |Puede ser muy frustrante cuando viene el evangelista y es una sorpresa para todos porque el suelo no es fértil, no ha habido trabajo previo para llegar y desarrollar una relación con la comunidad y con la iglesia en general». 
Ingleton reconoció rápidamente, a través de su colaboración previa con el pastor Gustavo Méndez, que la Iglesia El Camino a Cristo era el terreno perfecto para una semana evangelística. Había trabajado con Méndez durante reuniones anteriores y sabía que ese joven pastor, un gran obrero, entendía no solo la misión a la que estaba llamado a hacer, sino también la misión para la que se solicitaba su iglesia. Ingleton había visto que Méndez entrenaba activamente a su iglesia para liderar y les daba herramientas para llegar a la comunidad y llevarlos a la familia de Cristo.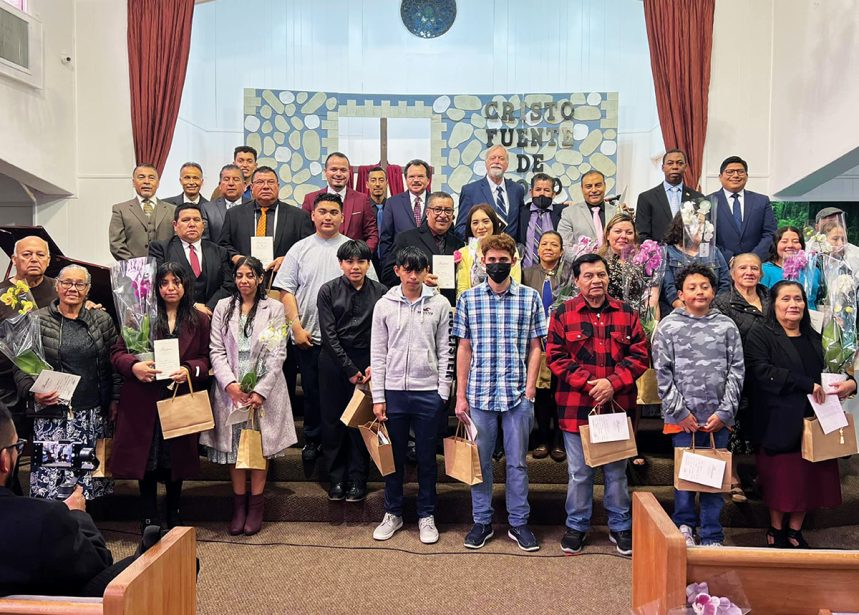 «Creo que fue Dios quien puso todas las piezas en su lugar e hizo de esto un éxito»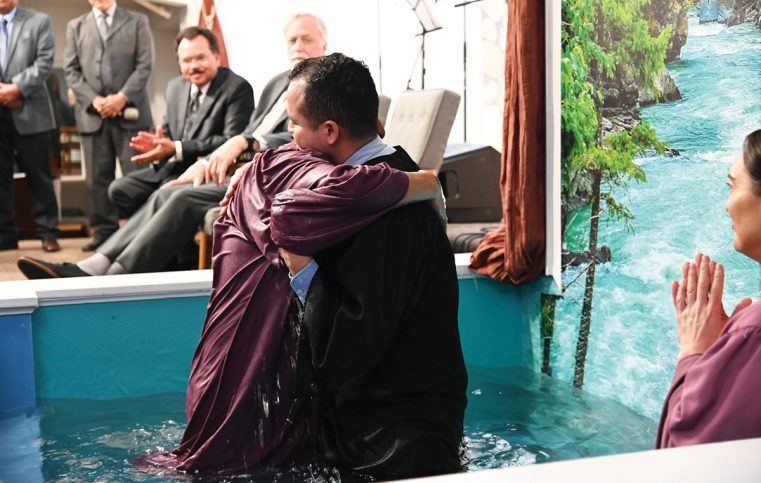 Cuando Ingleton se acercó a Méndez, su iglesia ya estaba comprometida en la construcción de relaciones a través de su ministerio de alimentos. «Fue el mayor esfuerzo coordinado del banco de alimentos que jamás había visto», ha dicho Newton. Antes de mencionar los estudios bíblicos o emitir invitaciones a adorar, la iglesia quería que su comunidad supiese que se preocupaban por ellos. Atendieron a sus necesidades durante toda la pandemia, proporcionando muy necesarios recursos. Después de establecer confianza y mostrar su preocupación por el bienestar y la salud de quienes los rodeaban, comenzaron a invitar a la comunidad a recibir estudios bíblicos. Después del llamado de Ingleton, con un enfoque y vigor revitalizados, continuaron su trabajo de sembrar semillas, teniendo hasta 75 estudios bíblicos. 
«Creo que fue Dios quien puso todas las piezas en su lugar e hizo de eso un éxito», comenta Méndez. 
La serie comenzó el sábado 4 de marzo. Fue una coincidencia fortuita que la iglesia, que en realidad era una compañía en ese momento, había planeado esa fecha para celebrar el cambio de estatus de compañía a iglesia. No podían pensar en una mejor manera de comenzar a convertirse en una iglesia oficial que lanzando una serie evangelística. 
Cada noche Newton presentaba nuevos mensajes de esperanza e Ingleton traducía. «Cristo nuestra fuente de alegría» fue el tema, y los mensajes fueron acompañados por números musicales especiales a través de Rondalla, un grupo vocal y de cuerdas, y la cantante invitada, Herendira Montalvo, de la Arizona Conference. 
El trabajo diligente de la iglesia en la preparación de los corazones de las personas para recibir la Palabra de Dios era claramente evidente. Generalmente, en cualquier serie o semana de oración, la asistencia, aunque alta los fines de semana, disminuye a lo largo de la semana laboral. Ese no fue el caso en esa ocasión. La asistencia, aunque alta en sábado, solo continuó creciendo y creciendo. 
«Fue un milagro», dice Ingleton. «He ayudado a dirigir muchas campañas evangelísticas y solo muy pocas veces he visto ese tipo de asistencia. No es común». 
Ingleton atribuye el éxito de la serie a dos factores: primero, el Espíritu de Dios liderando la participación activa del pastor y los miembros que apoyaron la serie; y segundo, los poderosos y entusiastas mensajes centrados en Cristo que el Señor presentó a través del pastor Newton. 
Además de la asistencia física, la iglesia colaboró con TV Tu Mundo, una organización adventista de medios, para transmitir en vivo toda la serie. El Señor bendijo esa asociación y, a través de ella, los mensajes de esperanza de Newton obtuvieron más de 95,000 visitas.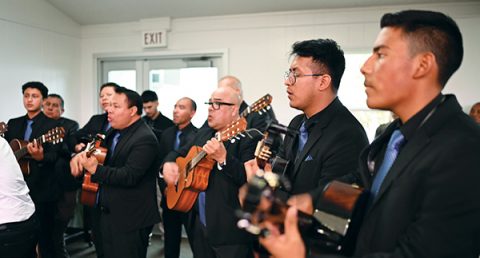 Fue una experiencia tremenda y una semana llena de bendiciones. La gente recibió con entusiasmo y atención la Palabra de Dios. La semana culminó el día de reposo con 23 bautismos. Las familias se reunieron y la música llenó el aire. El amor y la calidez se sintieron en todo el santuario. La alegre celebración incluyó el bautismo de un individuo que frecuentemente llegaba borracho a la iglesia. Por la gracia de Dios, aceptó el don de la salvación que viene a través de Jesucristo. 
Dios realmente bendice y continúa usando a su pueblo para difundir su palabra. ¡Alabado sea el Señor por su infinita misericordia y gracia, y que todos nosotros permitamos que el Señor nos use para su gran comisión!
Yara Enamorado es asistente en el departamento de comunicación de la Pacific Union Conference.