Men throughout the Southeastern California Conference (SECC) gathered for an area-wide men's conference on July 16-17. More than 80 men participated in the activities sponsored by SECC Black Ministries. This event featured the Winning Circle ministry with MyRon Edmonds and Kymone Hinds, who serve as both pastors and coaches.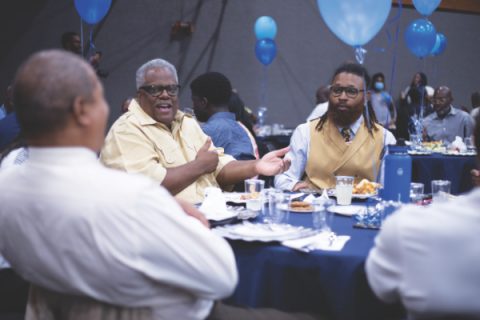 That weekend launched a new chapter of the Winning Circle ministry in SECC. The Winning Circle is an online community of men who want to grow and invest in themselves and win in the things that matter most. This program teaches practical steps to being well-rounded, balanced men of integrity who are building healthy relationships. Participants are learning to SHIFT their perspective on winning and focus on achieving success in the following core areas: Spiritual life, Health, Integrity, Family, and Tribe.
Building this community for men is so important. Even Jesus enlisted the help of others. In the Garden of Gethsemane, He took people with Him. He pleaded with others to pray with Him. God never meant for humanity to be alone.
Among the first words of the Bible are, "It is not good that man should be alone" (Genesis 2:18, NKJV). It is evident that doesn't just mean marriage, but also life. Men need other men. And the Bible makes it clear that as iron sharpens iron (Proverbs 27:17), so tough men sharpen tough men.
Consequently, in addition to the online component, Alfonzo Greene, pastor of the Mt. Rubdioux church, and Delroy Brooks, pastor of the Fontana Juniper Ave. church, have worked together to include an in-person component for the men of Black Ministries.
Greene, who served as the host pastor for the event, was impacted by the gathering. "God really showed up in a powerful way over the weekend. Pastor MyRon Edmonds and Pastor Kymone Hinds really spoke powerfully about men's need to win in the things that matter," said Greene. "We need a community of brothers who are willing to enter into authentic relationships to help us get to where God wants us to be. It was a powerful kickoff to the launching of those communities."
As a result of the inspirational presentation and stalwart challenge, over 40 men registered to join the Winning Circle community. Over the next year, these men will make the SHIFT in their lives as they become "men who win."
____________________
By Robert Edwards