In May, Robin Petgrave, chief pilot and president of Celebrity Helicopters and founder of the Tomorrow's Aeronautical Museum, landed his yellow helicopter on the field to bring school spirit to South Bay Christian School (SBCS).
On board the aircraft with Petgrave were Council member George Chen of the Torrance City Council and SBCS Principal Deborah Dahl, who together flew from his airport to the school, where students and faculty awaited their arrival. 
The students heard encouraging and inspirational advice from both Petgrave and Chen to stay in school, focus on what God has planned, and always find ways to serve others. 
During his message, Petgrave called for a student volunteer and handed him $100 to demonstrate a teachable moment.
"Every day, you're going to meet somebody that has something that you want or need," said Petgrave. "They're prepared to give it to you if you're prepared to accept it. If this young man hadn't showed up to school today, would he have gotten $100? Being prepared to accept it is sometimes as simple as showing up."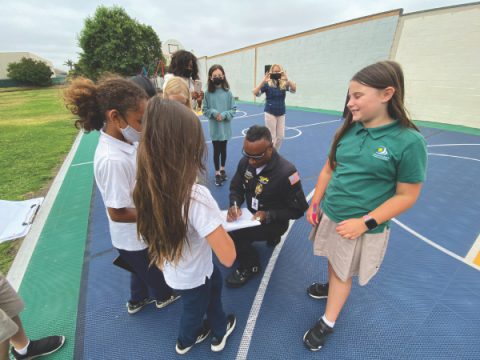 Following the remarks, the students were allowed to board the helicopter, take photos, and get autographs.
To watch the full video, visit https://scc.adventist.org/petgrave-at-sbcs. 
___________________
By Deborah Dahl