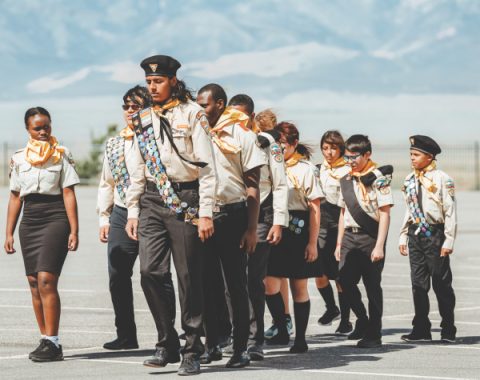 From June 22 to June 25, the Nevada-Utah Conference witnessed an extraordinary event that brought together young Pathfinders and Adventurers from across the region. The Pathfinder and Adventurer Camporee held in Grantsville, Utah, marked a significant milestone in the conference's history, attracting an impressive number of attendees.
Young people from different backgrounds, cultures, and communities converged at the event, creating an atmosphere of unity and camaraderie. It provided an excellent opportunity for participants to learn from one another, forge new friendships, and celebrate their shared commitment to the Pathfinder and Adventurer Club ministries.
The Camporee opened with an energetic display of discipline and teamwork as the participants showcased their drill and marching skills. Before each club displayed their well-rehearsed drill, they were put in a new group with Pathfinders from other churches. 
"We intentionally put them in a position where they will have to learn how to work with young people they are not used to working with, or playing with, in order to foster interpersonal relationship growth and leadership skills," shared Marcos Sanchez, one of the event's staff. 
Apart from the military-inspired drills, the Camporee also offered an array of engaging games that tested participants' agility, strategy, and problem-solving abilities. From the potato sack race to the water bucket challenge, the event had something for everyone.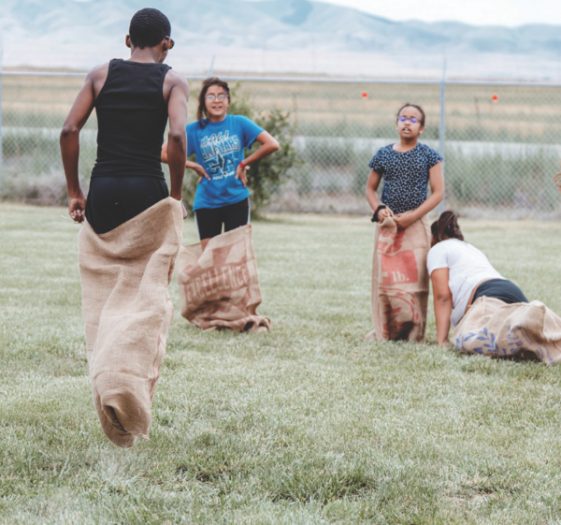 Additionally, as part of their community service initiative, the Pathfinders dedicated their time and effort to assist at Our House Assisted Living in Ogden. They eagerly engaged in various tasks, such as cleaning windows, vacuuming, and dusting, ensuring that the residents had a clean and comfortable environment. Through their service, the Pathfinders demonstrated compassion and a willingness to make a positive impact on the lives of others. Here is how Debbie Blair, the super assistant executive director of Our House, showed her appreciation to the young people: "When you do good, good returns to you. By doing good and giving service, I know that the good will return back to them 10-fold for what they've done today."
At the heart of the Camporee was a series of uplifting worship experiences that allowed Pathfinders and Adventurers to deepen their faith and connection with God. Inspirational sermons, interactive discussions focused on discipleship, and devotional sessions fostered an atmosphere of reflection, spiritual growth, and revival. Pastor Zeek Nichols used the theme of the event, "Worthy," to remind the young people that all of them are valuable in God's eyes. "My grandma used to say: 'Without a penny, a dollar is not complete,'" Nichols told them. "You are that penny; without you, God's family is not complete." 
This remarkable event will be cherished as a significant milestone in the lives of Pathfinders and Adventurers in the Nevada-Utah Conference, who returned home with a renewed sense of purpose and a network of lasting friendships. Pastor Rudy Alvir, the youth department director, expressed his takeaways from the event: "I was impressed! With all the activities we had, we were able to see a spirit of cooperation over a spirit of competition. The young people are ready to lead right now. And it's only the beginning."  
____________________
By Neat Randriamialison 
Camporee de Conquistadores y Aventureros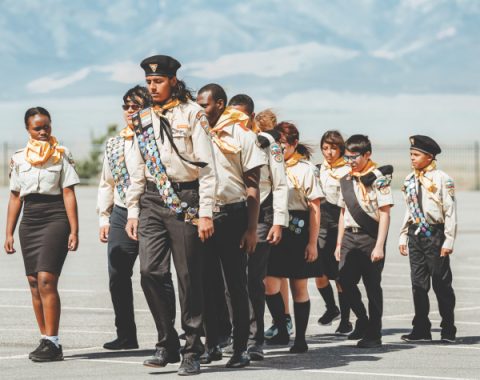 Del 22 al 25 de junio, la Nevada-Utah Conference fue testigo de un evento extraordinario que reunió a jóvenes Conquistadores y Aventureros de toda la región. El Camporee de Conquistadores y Aventureros celebrado en Grantsville, Utah, marcó un hito significativo en la historia de la conferencia, atrayendo a un número impresionante de asistentes.
Jóvenes de diferentes orígenes, culturas y comunidades convergieron en el evento, creando una atmósfera de unidad y camaradería. Brindó una excelente oportunidad para que los participantes aprendiesen unos de otros, forjasen nuevas amistades y celebrasen su compromiso compartido con el ministerio del Club de Conquistadores y Aventureros.
El Camporee se inició con una enérgica muestra de disciplina y trabajo en equipo mientras los participantes mostraban sus habilidades de ejercicio y marcha. Antes de que cada club mostrase su bien ensayado ejercicio, fueron puestos en un nuevo grupo con Conquistadores de otras iglesias. 
«Los pusimos intencionalmente en una posición en la que tendrían que aprender a trabajar con jóvenes con los que no están acostumbrados a trabajar o jugar para fomentar el crecimiento de las relaciones interpersonales y las habilidades de liderazgo», compartió Marcos Sánchez, uno de los miembros del personal del evento. 
Además de los ejercicios de inspiración militar, el Camporee también ofreció una variedad de juegos atractivos que pusieron a prueba la agilidad, la estrategia y las habilidades de resolución de problemas de los participantes. Desde la carrera de sacos hasta el desafío del cubo de agua, el evento tuvo algo para todos.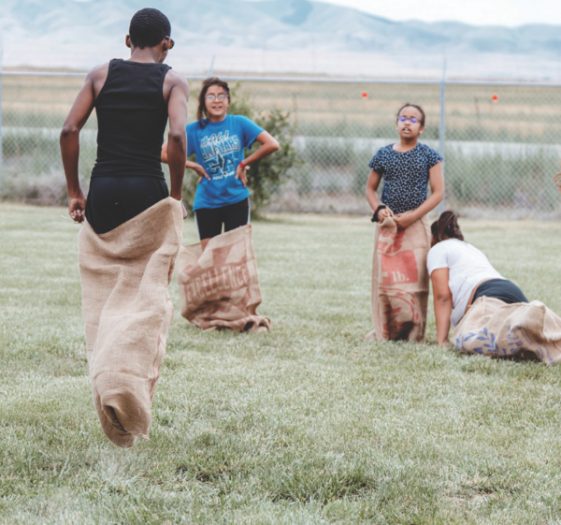 Además, como parte de su iniciativa de servicio comunitario, los Conquistadores dedicaron tiempo y esfuerzo para ayudar en Our House Assisted Living en Ogden. Se dedicaron con entusiasmo a diversas tareas, como limpiar ventanas, pasar la aspiradora y desempolvar, asegurando que los residentes tuviesen un ambiente limpio y cómodo. A través de su servicio, los Conquistadores demostraron compasión y la voluntad de tener un impacto positivo en las vidas de los demás. Así es como Debbie Blair, la subdirectora ejecutiva de Our House, mostró su agradecimiento a los jóvenes: «Cuando haces el bien, el bien regresa a ti. Al hacer el bien y dar servicio, sé que la buena voluntad regresará a ellos 10 veces más por lo que han hecho hoy».
En el corazón del Camporee hubo una serie de experiencias de adoración edificantes que permitieron a los Conquistadores y Aventureros profundizar su fe y conexión con Dios. Los inspiradores sermones, las discusiones interactivas centradas en el discipulado y las sesiones devocionales fomentaron una atmósfera de reflexión, crecimiento espiritual y reavivamiento. El pastor Zeek Nichols usó el tema del evento, «Worthy» [digno], para recordar a los jóvenes que todos ellos son valiosos a los ojos de Dios. «Mi abuela solía decir: "Sin un centavo, un dólar no está completo"», les dijo Nichols. «Tú eres ese centavo; sin ti, la familia de Dios no está completa». 
Ese notable evento será apreciado como un hito significativo en las vidas de los Conquistadores y Aventureros en la Nevada-Utah Conference, que regresaron a casa con un renovado sentido de propósito y una red de amistades duraderas. El pastor Rudy Alvir, director del departamento de jóvenes, expresó sus conclusiones del evento: «¡Me impresionó! Con todas las actividades que tuvimos, pudimos ver un espíritu de cooperación sobre un espíritu de competencia. Los jóvenes están listos para liderar ahora mismo. Y es solo el comienzo».
____________________
Por Neat Randriamialison