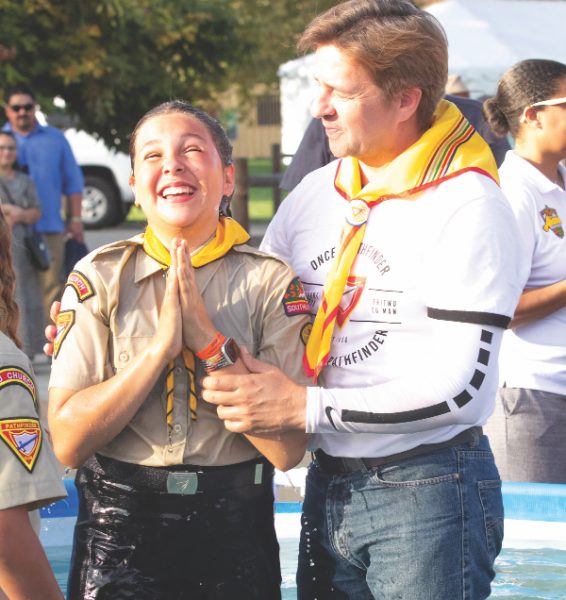 Approximately 3,700 Pathfinders descended on Lake Skinner near Temecula, Calif., for the Pacific Union Conference Pathfinder Camporee the first weekend of October 2022. Since Camporee happens every five years, the last one being held in 2017, the event was not directly impacted by the pandemic—other than perhaps the added excitement of enjoying a large in-person gathering once again after a long while.
This was the second time that the Pacific Union Camporee was held at Lake Skinner. "We love that the Lake Skinner site is so close to that which is familiar and well known, but it feels remote," said Eddie Heinrich, youth director for the Pacific Union. "It is safe, easy to use, and the rangers are very helpful." 
The event, which officially began on Thursday morning, included many physical activities—such as ziplining, large inflatable jumpers and play areas, and a climbing wall—as well as a host of educational activities, such as the opportunity to earn honor badges in panning for gold, travel, nutrition, physics, laundering, animal tracking, and many more. To earn badges, Pathfinders engage in a two-hour class about the subject to learn as much as they can about it. There were also several sporting activities and friendly competitions, such as flag football, basketball, soccer, and co-ed volleyball matches.
Camporee also included the opportunity to visit the Pathfinder Museum, which contains a lot of historic paraphernalia—such as uniforms, honor patches, curriculum, and more—dating back to the very early days of Pathfinders.
The theme of the 2022 Camporee was "Identity in Jesus," and the keynote speaker was pastor Damian Chandler, pastor of the Capitol City church in Sacramento, Calif. On Friday night, many young people came forward to give their hearts to Jesus. Over 64 kids were baptized.
 "We were overwhelmed by so many kids being willing to let God lead in their lives," Heinrich said about the hundreds of youth who dedicated their lives to Christ, including those who did not get baptized on site. Heinrich added that some kids wanted to study more before getting baptized, but many of those who got baptized had already been studying. 
The Pacific Union Conference Pathfinder Camporee 2022 concluded on Sunday, October 9.
"One great thing about being youth director for the Pacific Union is the fabulous network of youth directors," Heinrich concluded. "We work well together, and without them this camporee could not happen." 
The next big event Pathfinders are looking forward to and preparing for is the International "Believe the Promise" Camporee scheduled for August 2024 in Gillette, Wyoming. 
____________________
By Cynthia Mendoza