During the summer young adult retreat held July 21 to July 23, the Nevada-Utah Conference (NUC) Youth Department set out to create an experience where young people had the opportunity to connect with Christ more fully.  Only the young adults were brave enough to weather the 104-degree heat in Moab, Utah!
The theme for this retreat, held at Castle Valley Academy, was "Your Story. Your Journey. The Calling." Its emphasis was on how each story and life journey is unique, but everyone is called to Christ. NUC Youth Director Rudy Alvir focused attention on Ephesians 4:1-7, reminding attendees to walk worthy of their individual calling, through the One God that is in all. "This camp was an awesome opportunity to spend time with God in such a beautiful place," exclaimed Javier from Utah. "I made many new friendships and heard a powerful message from Pastor Rudy. I'm looking forward to future summer camps."
Unlike most retreats, this was unique in the sense that there was not a solo guest speaker. Each one of the young adults in attendance became the speakers, with each one of them sharing their testimonies, struggles, frustrations, joys, and their hope and expectations for the future. The participants walked away refreshed and knowing that God continues to be in control. Teresa from Reno said, "The vespers discussion and activity opened my eyes to other opinions and other people's experience as Seventh-day Adventists. It was incredibly impactful and inspiring."
Sabbath was a special day that afforded the group an opportunity to serve the local Moab community. The group members partnered with Community Rebuilds, assisting in the construction of homes for low-income families. It was an honor to be able to stain the wood, clean up the wood shavings and dust, and participate with an organization that focuses on bettering living conditions for individuals in the community. What a great reminder of "The Calling" Jesus has for us to minister to those in need.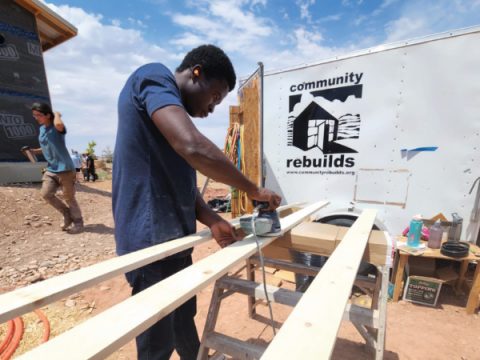 The retreat concluded with a beautiful yet difficult hike to the world-famous Delicate Arch. After much-needed rest and photoshoots, the young adults thought it was a great opportunity to continue witnessing to the community through song. Familiar songs such as "Amazing Grace" and "What a Friend We Have in Jesus" caught the attention of other hikers. What took place next was inspiring; as the songs echoed across the valley, the Holy Spirt seemed to touch hikers' hearts. People stopped, listened, and instead of focusing on taking pictures of the arch, they reverently recorded the worship service.
As one young adult commented, "It seemed like God hit the pause button and wanted everyone to focus on His creation." And Laionda from Reno added, "It's amazing to see young people getting together, discussing the good news of God. I learned a lot about what it means to be called. I cannot wait to embrace the calling that God has placed on my life." 
____________________
By Delberth Castillo