Kai' Hodges Installed at Oakland Market Street
On Oct. 29, Kai' Hodges was installed as the new associate pastor of the Market Street church.
The service was moving and overflowing with deep emotions. Pastor Kai' expressed gratitude to her family, her senior pastor Edwin Brown, and the congregation for the opportunity to serve God's people.
According to Rudy Peters, coordinator of African American ministries, "I believe Market Street church has found the right person at the right time for the assignment. It was heartwarming to see the youth conducting the entire service and pledge their support to God and their new associate pastor."  
____________________
By Yolanda Frazier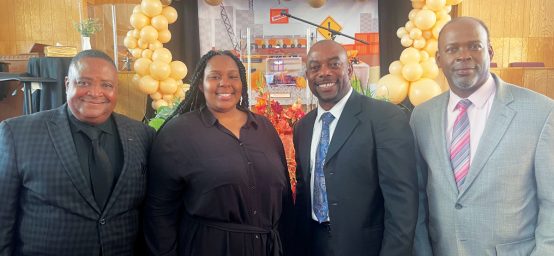 Kai' Hodges es presentada en Oakland Market Street
El 29 de octubre, Kai' Hodges fue presentado como el nuevo pastor asociado de la iglesia de Market Street.
El servicio fue conmovedor y rebosante de emociones profundas. La pastora Kai' expresó su gratitud a su familia, a su pastor, Edwin Brown, y a la congregación por la oportunidad de servir al pueblo de Dios.
Según Rudy Peters, coordinador de ministerios afroamericanos: «Creo que la iglesia de Market Street ha encontrado a la persona adecuada en el momento adecuado. Fue reconfortante ver a los jóvenes dirigiendo todo el servicio y prometiendo su apoyo a Dios y a su nueva pastora asociada».  
____________________
Por Yolanda Frazier
---
Lizeth Momanga Installed at Tracy
On Nov. 5, Lizeth Momanga was installed as pastor at the Tracy church. Before "Pastor Liz" settled in Tracy, she circled the world as a guest speaker in places like Venezuela, Kenya, and the Philippines. She planted a church of 25 in rural Alaska and produced daily live devotionals for the local radio station.
She says her passion is to "demonstrate God's saving grace and love to the world through the living and preaching of the gospel."
Lizeth earned her Master of Divinity in 2022 from Andrews University and shares her life with her husband, Richard. 
____________________
By Ken Miller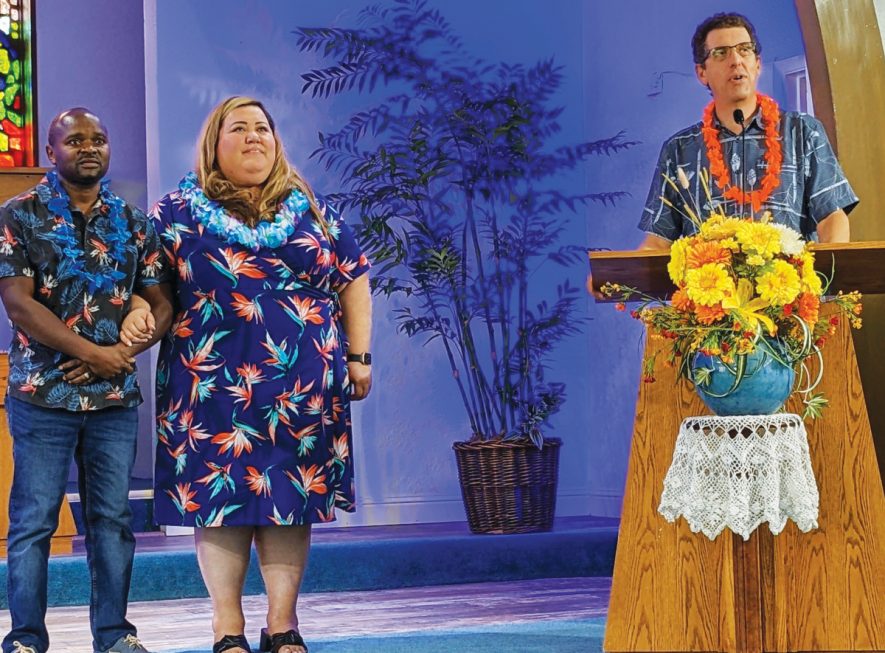 Lizeth Momanga es presentada en Tracy
El 5 de noviembre, Lizeth Momanga fue presentada como pastora en la iglesia en Tracy. Antes de que la «pastora Liz» se estableciese en Tracy, dio la vuelta al mundo como oradora invitada en lugares como Venezuela, Kenia y Filipinas. Inició una iglesia de 25 personas en una zona rural de Alaska y produjo devocionales diarios en vivo para la estación de radio local.
Ella dice que su pasión es «demostrar la gracia salvadora y el amor de Dios al mundo a través de vivir y predicar el evangelio».
Lizeth obtuvo su Maestría en Divinidad en 2022 de Andrews University y comparte su vida con su esposo, Richard. 
____________________
Por Ken Miller
---
David Peckham Installed at Stockton Central
On Nov. 19, David Peckham was installed as the new pastor of the Stockton Central church.
    Peckham joins the Northern California Conference from Valley Center church in San Diego County, where he has been since 2015. In ministry since 1974, Peckham is known for his friendliness and constant activity.
    According to Meleseini Tu'itupou, church secretary, "Even before he arrived, he asked us to send out invitations to everybody on our books, attending and not. He wants our membership to be proactive and involved in habits of connecting with our community, both Adventist and not."
    Tu'itupou continued, "I think members have been sparked and drawn into a leadership style of energy and action. This will be great as we serve our neighbors with passionate kindness."
    David and Cheryl, his wife of 48 years, have two daughters: Melissa, who is principal of Hilltop Christian School in Antioch, and Janine, associate pastor at Lodi Fairmont.
____________________
By Ken Miller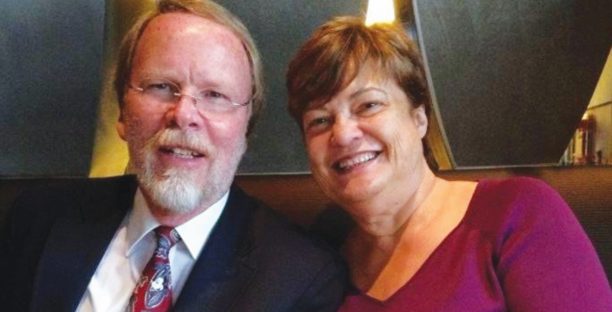 David Peckham es presentado en Stockton Central
El 19 de noviembre, David Peckham fue presentado como el nuevo pastor de la iglesia Stockton Central.
Peckham se une a la Northern California Conference desde la iglesia Valley Center en el condado de San Diego, donde ha estado desde 2015. En el ministerio desde 1974, Peckham es conocido por su amabilidad y actividad constante.
Según Meleseini Tu'itupou, secretaria de la iglesia: «Incluso antes de que llegase, nos pidió que enviásemos invitaciones a todos en nuestros libros, asistan o no. Él quiere que nuestros miembros sean proactivos e involucrados en el hábito de conectarse con nuestra comunidad, tanto adventista como no».
Tu'itupou continuó: «Creo que los miembros han sido estimulados y atraídos a un estilo de liderazgo enérgico y activo. Esto será grandioso mientras servimos a nuestros vecinos con apasionada amabilidad».
David y Cheryl, su esposa de 48 años, tienen dos hijas: Melissa, directora de Hilltop Christian School en Antioch, y Janine, pastora asociada de Lodi Fairmont.
____________________
Por Ken Miller