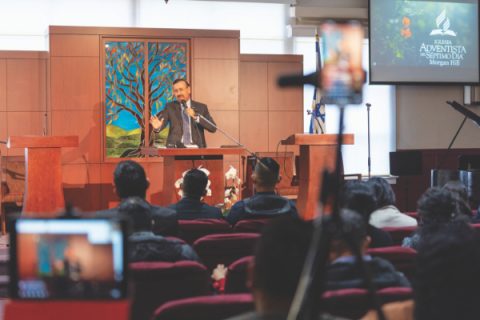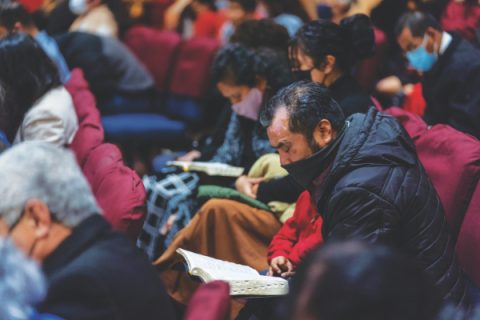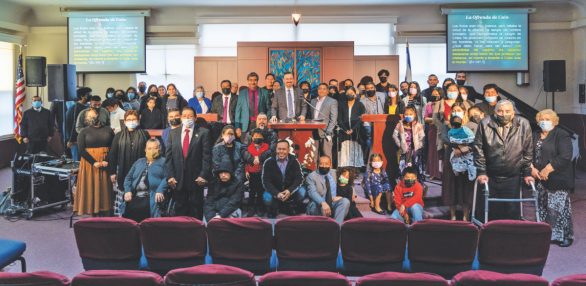 "The purpose of the church planting department of the Central California Conference is to establish new congregations where there is no Adventist presence," explained Ricardo Viloria, director of the ministerial and church planting departments.
But there is a process that must be followed to achieve this goal. It starts with establishing new groups throughout the territory. Over time, these groups grow into companies. With work, worship, and love, these companies continue to blossom until they ultimately organize as a church. These churches are designed to continue to grow so the cycle can repeat.
As more groups, companies, and churches are created, more opportunities to reach people arise. "In a survey sent to our pastors, we found that we currently have 75 groups in our conference. Our goal was to double that number by the end of 2022, then double that amount in 2023 and so on to reach 1,200 groups by 2025," Viloria said.
There are currently 150 churches in the Central California Conference. Using the church planting process, the dream is to add 50 new churches by 2025. The goal is for these churches to thrive at a level that naturally results in more churches.
The CCC church planting department provides pastors and leaders with motivation, training, and resources. "These groups, companies, and churches will meet well-prepared leaders, thus providing a tremendous opportunity to mobilize and activate them to the mission," Viloria explained.
There are plans to create a digital training center that will help in this process. The training center will be used to train pastors and leaders and provide them with all of the information they need to succeed in creating healthy congregations. "This process has already begun in our conference. We currently have 10 new active church planting projects that are being developed, the newest of them being the Morgan Hill church plant," said Viloria.
Morgan Hill Bilingual Group
According to Gilbert Garcia, senior pastor for the Gilroy Hills Bilingual and Salinas Spanish churches, the Morgan Hill church plant has been an idea for several years. But because of the coronavirus, the timing just wasn't right.
Garcia asked to rent a Jewish synagogue and was given access to it. He expressed the joy that came when the idea naturally came to fruition after finding a place in which to worship. "It's such a beautiful place, and I asked and prayed within me, 'Lord give me this place, it would be such a blessing to worship here.'" This mission group has already grown from 12 to nearly 75 members.
"God is planning something here. The way He has led in the last month and a half is such a clear message that God wants us there and He's opening the doors. And I don't know what else He has planned, but this is the Lord's doing and I am so humbled and grateful to the Lord that He let me have a part of this," expressed Garcia.
Fresno Ghanaian Group
The Fresno Ghanaian group is another new church plant in the Central California Conference. There are more than 50 Ghanaian churches throughout the United States, and this new group in Fresno will work to increase that number.
"This group is made up of people who are originally from Ghana who have moved and made the United States their home," explained Issac Amo-Kyereme, leader of the Fresno Ghanaian Group. "There are many people from various disciplines, but there's something that binds the Twi people together. They need to worship and to devote themselves to God." 
Alonzo Wagner, director of African-American Ministries, is excited to be the first pastor to plant a Ghanaian church in the Central California Conference. "We recognize that people worship more comfortably and effectively when they worship based upon their heart language, and with the Ghanaian community, Twi is the heart language. And they intersperse it, creating a dynamic, exciting enthusiasm and a connection."
There are other church plants in the process, including the Tulare mission group, a Samoan church plant, the first Portuguese church plant in the conference, and the first Haitian church plant in the conference. These continue to create more opportunities to spread God's message.
____________________
By Brennan Hallock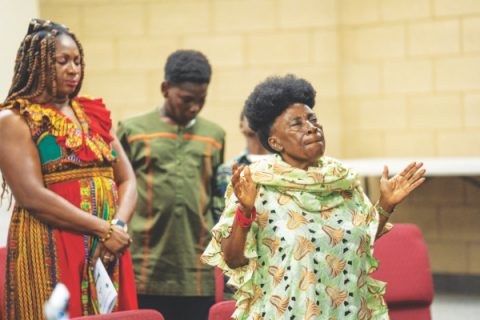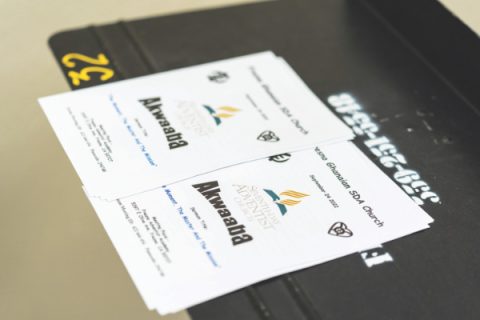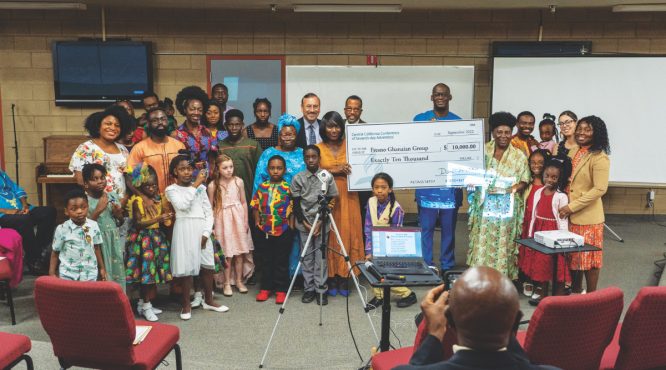 Las nuevas iglesias crean más oportunidades para difundir el mensaje
«El propósito del departamento para crear nuevas iglesias de la Central California Conference es establecer nuevas congregaciones donde no hay presencia adventista», explicó Ricardo Viloria, director del departamento ministerial y de plantación de iglesias.
Pero hay un proceso que debe seguirse para lograr ese objetivo. Comienza con el establecimiento de nuevos grupos en todo el territorio. Con el tiempo, esos grupos se convierten en compañías. Con trabajo, culto y amor, esas compañías continúan floreciendo hasta que finalmente se organizan como iglesia. Esas iglesias están diseñadas para continuar creciendo para que el ciclo pueda repetirse.
A medida que se crean más grupos, compañías e iglesias, surgen más oportunidades para llegar a más personas. «En una encuesta entre nuestros pastores, encontramos que tenemos 75 grupos en nuestra conferencia. Nuestro objetivo era duplicar ese número para fines de 2022, duplicar después esa cantidad en 2023 y así sucesivamente hasta llegar a 1.200 grupos en 2025», dijo Viloria.
Actualmente hay 150 iglesias en la Central California Conference. Usando el proceso de plantación de iglesias, el sueño es agregar 50 nuevas iglesias para 2025. El objetivo es que esas iglesias prosperen a un nivel que naturalmente resulte en más iglesias.
El departamento de plantación de iglesias de la CCC proporciona motivación, capacitación y recursos a los pastores y los líderes de las iglesias. «Esos grupos, compañías e iglesias se reunirán con líderes bien preparados, brindando así una tremenda oportunidad para movilizarlos y activarlos para la misión», explicó Viloria.
Hay planes para crear un centro de capacitación digital que ayudará en ese proceso. El centro de capacitación se utilizará para capacitar a pastores y líderes y proporcionarles toda la información que necesiten para tener éxito en la creación de congregaciones saludables. «Ese proceso ya ha comenzado en nuestra conferencia. Actualmente tenemos 10 nuevos proyectos activos de plantación de iglesias que se están desarrollando, el más nuevo de ellos es la plantación una iglesia en Morgan Hill», dijo Viloria. 
Grupo bilingüe Morgan Hill
Según Gilbert García, pastor principal de la iglesia bilingüe Gilroy Hills y la iglesia hispana de Salinas, la plantación de una iglesia en Morgan Hill se había considerado durante varios años. Pero debido al coronavirus, simplemente no era la ocasión apropiada.
García solicitó alquilar una sinagoga y se le concedió. Expresó su alegría cuando la idea naturalmente llegó a buen término después de encontrar un lugar donde adorar. «Es un lugar muy hermoso y oré: "Señor, dame ese lugar; sería una bendición adorar ahí"». Ese grupo misionero ya ha crecido de 12 a 75 miembros.
«Dios tiene planes para este lugar. La forma como ha guiado en el último mes y medio es un mensaje muy claro que Dios nos quiere allí y está abriendo puertas. No sé qué más ha planeado, pero es la obra del Señor y me siento humilde y agradecido con el Señor por permitirme tener una parte», expresó el pastor García. 
Grupo Ghana de Fresno
El grupo ghanés de Fresno es otra nueva iglesia en la Central California Conference. Hay más de 50 iglesias ghanesas en todo Estados Unidos y este nuevo grupo en Fresno trabajará para aumentar ese número.
«Este grupo está formado por personas originarias de Ghana que han inmigrado y han hecho de Estados Unidos su hogar», explicó Issac Amo-Kyereme, líder del grupo Ghana de Fresno. «Hay muchas personas de diversas disciplinas, pero hay algo que une a la gente que habla el dialecto Twi de Ghana. Necesitan adorar y dedicarse a Dios».
Alonzo Wagner, director de Ministerios Afroamericanos, está entusiasmado de ser el primer pastor en plantar una iglesia ghanesa en la conferencia. «Reconocemos que las personas adoran de manera más cómoda y efectiva cuando adoran según el idioma de su corazón y con la comunidad ghanesa, Twi es el idioma del corazón. Lo intercalan, creando un entusiasmo dinámico y emocionante y una conexión».
Hay otras iglesias en proceso, incluyendo el grupo de Tulare, una plantación de iglesia samoana, la primera plantación de iglesia portuguesa en la conferencia y la primera iglesia haitiana en la conferencia. Se continúan creando más oportunidades para difundir el mensaje de Dios.
____________________
Por Brennan Hallock