Loma Linda University Health recently launched a tattoo removal program to help people efface visible gang-related or anti-social tattoos. The program is part of an endeavor to curb violence associated with gangs, for which the Inland Empire holds a reputation.
Sigrid Burruss, MD, a trauma surgeon at Loma Linda University Health, has cared for more violently injured patients lately—especially from gang-affiliated altercations. She founded the tattoo removal program, with the support of Juan Carlos Belliard, Ph.D., and the Institute for Community Partnerships, to approach the issue from a specific angle—removing stigmatizing tattoos could help patients de-identify as gang members and avoid repeated assault.
"Trauma teams don't want to see our patients come back from reinjury," she said. "In addition to fixing up patients in the hospital, we want to address why they were injured to begin with."
Burruss says tattoos are more than ink on skin; they have the power to signify identity, ideology, and affiliation. Removing visible gang-related or anti-social tattoos can help people protect themselves and embody the self-image they wish to project.
The tattoo removal program aims to serve those with a history of involvement with gangs who are looking to remove tattooed markers of their past to move on, reintegrate into society, and find employment.
Eligible patients must complete 10 hours of community service, which helps them connect with their community in a meaningful manner.
The program has garnered an overwhelming response, generating more than 100 interests within the first few days.
David Loya helps people transitioning out of prison to obtain jobs. He's removing his face tattoos because they don't represent who he is anymore and doing so will boost his ability to help his clients when speaking to business owners on their behalf.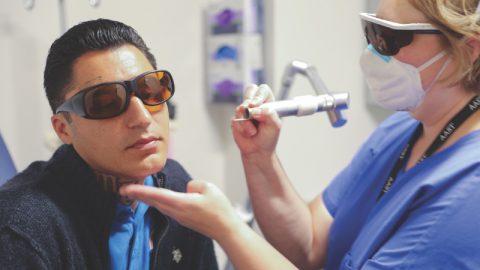 "When I look into the mirror, my tattoos remind me of who I was," Loya said. "When people see my face, they are stand-offish. Though they eventually warm up, I want to get the tattoos off my face so I don't get misjudged."
Loya, who grew up in the Inland Empire, says in adolescence, he "got involved in the streets" and "hung around the wrong people," leading a lifestyle that came with tattoos, specific dress codes, and substance abuse.
He frequented juvenile halls and prisons for seven years, getting more and more tattoos to express his identity as a gangster. When Loya found himself facing a serious sentence at 27 years old, he experienced a change of heart: "I was sitting in the prison cell, and I was just tired. I thought, 'This is not cool. I don't want this life.'"
Once released from prison, Loya attended a Christian men's home, where he says he developed a strong calling. He now works as a leader in his church to help those out of prison transition back into society and obtain jobs. Getting his face tattoos removed was just another step toward being able to help others.
"It feels like the right thing to do, like I'm forgetting the past and moving forward to a brighter future," Loya said. "I'm thankful for this program because it's helping me erase a mistake that I never thought I could."
____________________
By Lisa Aubry