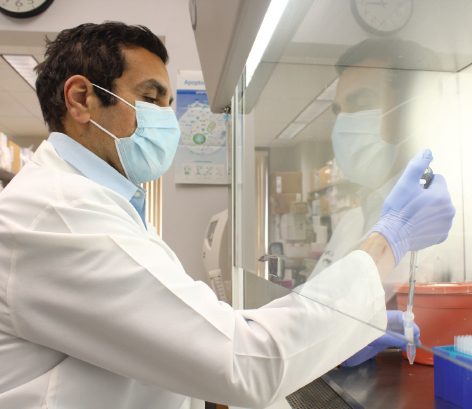 Loma Linda University Cancer Center has formed a new Division of Transplant and Cellular Therapy (TCT) to enhance blood and marrow transplantation and offer novel treatment possibilities, making these options now accessible to patients in the region.
The TCT division will unite pediatric and adult services, providing patients from all walks of life with precise, individualized transplant and therapeutic options, including immune effector, cell and gene therapies, and graft engineering.
"This is a tremendous opportunity to enable a continuum of care for pediatric and adult patients and extend the latest, state-of-the-art transplant, immune effector cell, and gene therapy to patients in the Inland Empire and beyond," said Hisham Abdel-Azim, MD, MS, division head of Transplant and Cell Therapy and professor of Pediatrics, Medicine and Basic Sciences.
Bone marrow transplants, including engineered grafts, along with cell and gene therapy options, will primarily help people diagnosed with cancer, Abdel-Azim said. Additionally, he says people diagnosed with non-malignant genetic conditions will also be able to benefit from the TCT division's services.
"The division will combine clinical services with translational research to continue providing excellent service to patients and lead development of new cell-based therapy treatments like gene therapy and immune effector cell therapies, including CAR-T cell therapy, for advanced malignancies," Abdel-Azim said.
Abdel-Azim said these transplant and cellular therapy services tend to require shared expertise to address similar aspects of their care, including side effect profiles, product processing, and treatment administration. So, housing the services under a single division allows experts from various specialties to coordinate efforts and exchange information seamlessly.
"As a major academic medical center teaming with multi-disciplinary expertise in various specialties, Loma Linda University Health has the depth and breadth of knowledge to ensure safe delivery of the specialized services offered by the TCT division," Abdel-Azim said.
The consolidation of adult and pediatric services will enable TCT to provide care across different age groups as well as provide an optimal environment to translate bench research into clinical trials. Adolescent and Young Adult (AYA) and long-term survivorship patients will particularly benefit from the continuity of expertise across age categories.
"Depending on a patient's circumstances, some things can be managed better from an adult approach and other times from a pediatric approach. So it's not one size fits all," and the Cancer Center modeled its TCT division after this philosophy, Abdel-Azim said.
Before the TCT division, Abdel-Azim said Inland Empire residents would need to travel long distances east or west to obtain this caliber and combination of services. The Cancer Center's TCT division is the only care center from Las Vegas to Los Angeles to provide such comprehensive TCT patient care.
To learn more about all of the resources offered to cancer patients at the center, visit https://lluh.org/cancer-center.
____________________
By Lisa Aubry