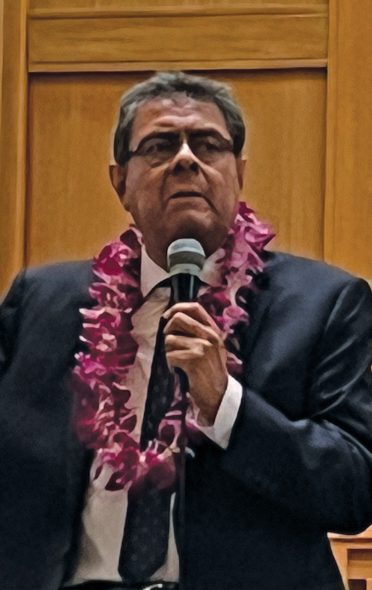 This October, the Light Above congregation officially became organized as a church, 16 years after it was first formed. The congregation began meeting as a group in October 2006 and was later organized as a company in March 2018.
"Most of the core group members came from one of the islands of the Philippines—Mindanao to be specific," said Rodrigo Alabat, pastor of the Light Above church.
As a Filipino congregation in the Greater Los Angeles area, the Light Above congregation has a unique opportunity and perspective through which to do ministry in the community. On the organization Sabbath this fall, Southern California Conference (SCC) President Velino A. Salazar spoke about the congregation's success. "You have understood your local context," he said. "Most of you and I, we came from another country. Doing ministry in the Philippines is different than here. We need to contextualize our ministry in a way that we can serve God. It doesn't mean one is better than the other; it's different because the context is different."
The congregation has moved a few times from its founding in Eagle Rock to its current location in Glendale, but its mission and purpose in the community are unwavering. "We hope and pray that by God's mercies and His providences, our presence in the place where we are worshipping can surely be a beckoning light of the gospel to souls who are benighted in sin, and they will see the light of Jesus in us," Alabat said, "that Jesus is Lord, Savior, and Redeemer of the lost."
Themed "This Far By Faith," the celebration included beautiful music showcasing the talents of the members, as well as delicious food. "Faithfulness to Him is the resounding music of each and every heart of the members of Light Above church," Alabat said. "Evidence to this fact is that the theme song adapted by us is 'This Far By Faith.' And by faith in the faithful God, we have come this far."
SCC Vice President James G. Lee challenged the church to partner with God as He works new things in their story. Encouraging those present with various examples from Scripture, Lee spoke about God's immense ability to work new things for His people when they trust Him. Kathleen Diaz, SCC treasurer/CFO, acknowledged the church's work of ministry thus far and presented to the church a check for $2,500 for evangelism.
"Becoming one of the organized churches of the worldwide Seventh-day Adventist Church is the work and gift of God to us," Alabat said. "We sincerely and genuinely praise and glorify God on this matter. We are not qualified, but God qualified us."
____________________
By Lauren Lacson