On August 14, 2022, the Kaneohe church women's ministries group, Ladies as Christ Expects (L.A.C.E.), hosted by Elsie Frisbee, held their ninth annual retreat, with the 2022 theme "In My Heart There Rings a Melody." The event, attended by both Adventists and non-Adventists, celebrated the power of God's presence through the ministry of music and prayer. It featured a collection of musical artists such as Shirley Kuma, Zelpher Lilio, and Terry Sheindlin. Guest presenters Lisa Leonardo and Alohalani Hose gave the message through music.
Lisa, an accomplished musician, testified how music has shaped her life and has encouraged her to be more prayerful. She follows Psalm 150:1-5, giving all glory to Him for this musical talent, and she is willing to share His messages in song. Since grade school she has shared this talent, singing for church services and events across the U.S. and in several other countries. She shared three songs that have helped define her daily walk with God: "My Tribute" by Evie, "In the In Between'' by Sandi Patty, and her most requested song, "Via Dolorosa" by Sandi Patty. She mentioned that she was inspired by the prayer room that had been recently presented at the Hawaii Prayer Conference held August 4-6. In the prayer room, retreat attendees were able to spend time in meaningful prayer as they experienced each prayer station.
Alohalani shared her testimony and words of inspirational encouragement. She began with her life story, describing how she became orphaned at a young age but always trusted God's love and direction. She shared a message full of hope, encouraging attendees to live life to the fullest and lean into God's calling, explaining that as we live out God's calling in our lives we experience peace and fulfillment. To illustrate her points, she shared an upbeat local Hawaiian song and used simple visual examples like a mug. Shari Castillo modeled a racerback shirt designed for Alohalani's song "Aloha Sabbath." Shari shared that the design and Scripture, Mark 2:27, attracted people to inquire about it. This opportunity gave her healing and helped her to overcome life's challenges. "Wearing this shirt makes me feel really good and excited, and I really loved her song 'Aloha Sabbath!'"
Alohalani closed her talk with a song that God inspired her to write during an especially difficult time in her life, quoting James 5:13, in which believers are encouraged to sing psalms.
____________________
By Lisa Leonardo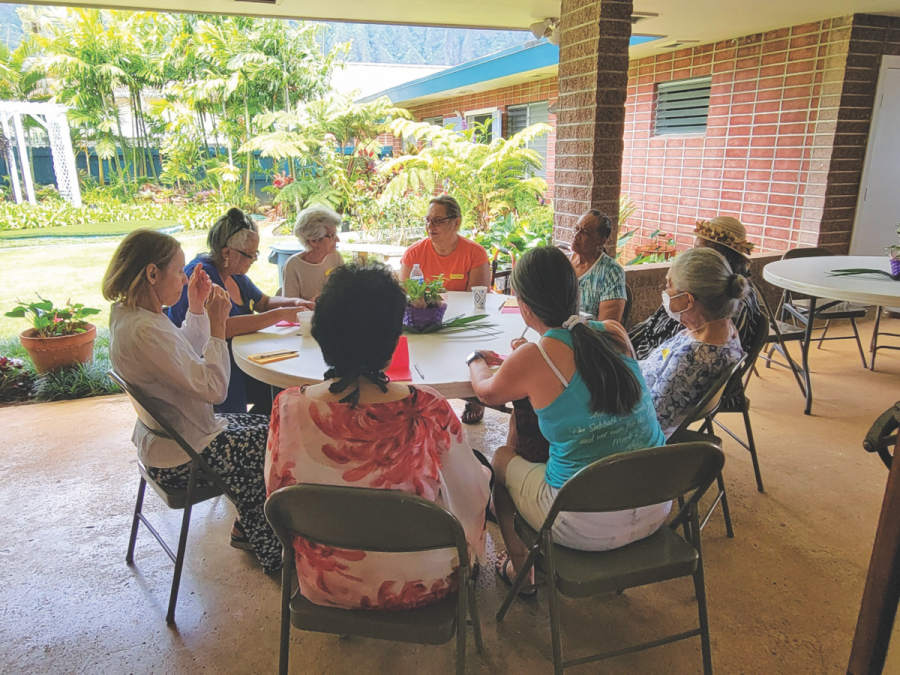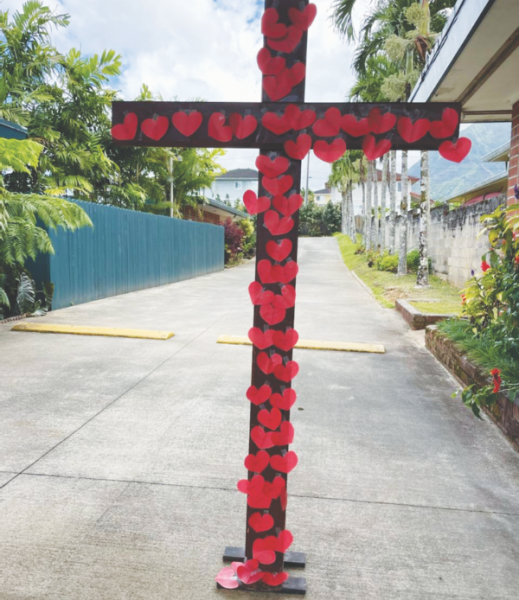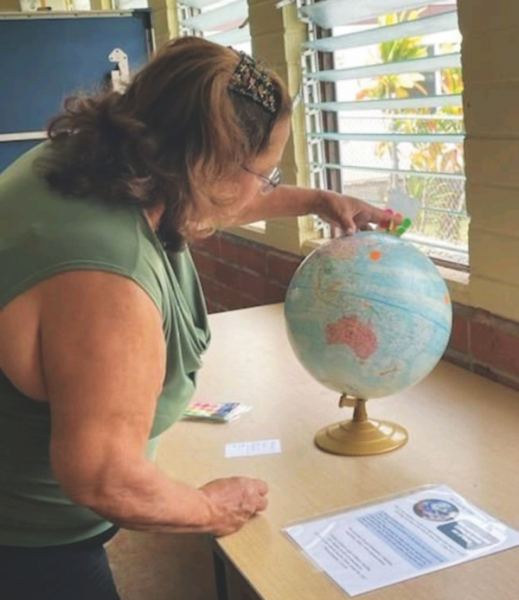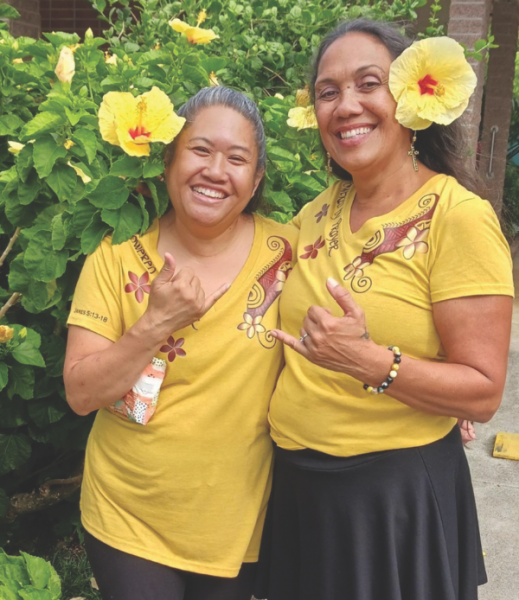 El retiro del Ministerio de la Mujer de Kaneohe brinda aliento
El 14 de agosto de 2022, el grupo de ministerio de la mujer de la iglesia Kaneohe, Ladies as Christ Expects [damas como Cristo espera] (L.A.C.E.), organizado por Elsie Frisbee, celebró su noveno retiro anual, con el tema de 2022 «En mi alma suena un cantar». El evento, al que asistieron adventistas y no adventistas, celebró el poder de la presencia de Dios a través del ministerio de la música y la oración. Contó con una colección de artistas musicales como Shirley Kuma, Zelpher Lilio y Terry Sheindlin. Las presentadoras invitadas, Lisa Leonardo y Alohalani Hose, dieron el mensaje a través de la música.
Lisa, una artista consumada, testificó cómo la música ha moldeado su vida y la ha animado a ser más constante en la oración. Ella sigue el Salmo 150:1-5, dándole toda la gloria al Señor por ese talento musical, y está dispuesta a compartir su mensaje a través del canto. Desde la escuela primaria ha compartido ese talento, cantando para servicios y eventos religiosos en los Estados Unidos y en varios otros países. Ella compartió tres cantos que han ayudado a definir su caminar diario con Dios: «My Tribute» de Evie, «In the Between» de Sandi Patty, y su himno más solicitado, «Via Dolorosa» de Sandi Patty. Ella mencionó que se inspiró en la sala de oración que se había presentado recientemente en la Conferencia de Oración de Hawaii celebrada del 4 al 6 de agosto. En la sala de oración, los asistentes al retiro pudieron pasar tiempo en profunda oración mientras experimentaban cada estación de oración.
Alohalani compartió su testimonio e inspiradoras palabras de aliento. Comenzó con la historia de su vida, describiendo cómo quedó huérfana a una edad temprana, pero siempre confió en el amor y la dirección de Dios. Compartió un mensaje lleno de esperanza, alentando a las asistentes a vivir la vida al máximo y apoyarse en el llamado de Dios, explicando que a medida que vivimos el llamado de Dios en nuestras vidas, experimentamos paz y satisfacción. Para ilustrar sus puntos, compartió un alegre canto hawaiano y usó ejemplos visuales sencillos, como una taza. Shari Castillo modeló una camisa racerback diseñada para el canto de Alohalani, «Aloha Sabbath». Shari compartió que el diseño y las Escrituras, Marcos 2:27, atrajeron a la gente a preguntar al respecto. Esa oportunidad le dio sanidad y le ayudó a superar los desafíos de la vida. «¡Usar esa camisa me hace sentir muy bien y me emociona, y realmente me encantó su canto "Aloha Sabbath!"».
Alohalani cerró su charla con un canto que Dios la inspiró a escribir durante un momento especialmente difícil de su vida, citando Santiago 5:13, en el que se anima a los creyentes a cantar salmos.
____________________
Por Lisa Leonardo