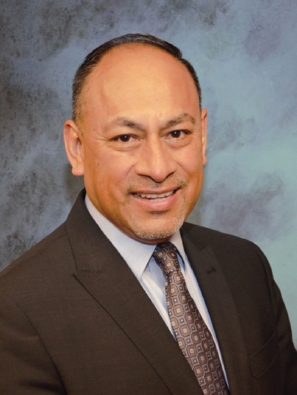 After serving in the Pacific Union Conference for over 25 years, Jorge Ramírez, most recently executive secretary/ministerial director for the Arizona Conference, bids the West farewell once again as he heads East to accept the position of undersecretary for the North American Division (NAD).
"My heart is filled with gratitude to past Southeastern California Conference administrators, Arizona Conference officers, and Pacific Union Conference administrators for their support of my 25 years of ministry, both as a pastor and administrator," Ramírez said.  "I have been blessed with godly mentors during these years, and as I transition to the North American Division, I want to thank these leaders for shaping and influencing my ministry in so many positive ways."
Ramírez holds a BA degree in pastoral ministry from Loma Linda University and a Master's in Divinity from Andrews University. He began his pastoral ministry in 1985 in the Southeastern California Conference, where he served as youth pastor, associate pastor, and senior pastor of large congregations for 22 years. In October 2007, he moved to the Potomac Conference to serve as the vice president of administration. In May of 2014, he completed his Doctor of Ministry degree from Andrews University in Leadership and Church Growth. In January 2019, he received an invitation from the Arizona Conference to serve as the executive secretary and ministerial director.
Ramírez and his wife, Bexy Castellón, who works as a respiratory therapist, are the proud parents of three young men: Reuben, Ryan, and Reiss. When not working, Ramírez enjoys jogging, traveling, and playing guitar. His greatest passion is to serve the God who has the power to restore broken relationships. "I consider the restoration of broken relationships the greatest miracle in life," Ramírez said.
Born and raised in a very conservative Catholic home, Ramírez first heard the Adventist message as a teenager at an evangelistic series sponsored by the La Sierra Spanish church in Riverside, California, and was baptized in 1979. His first two pastors as a new believer were inspirational to him, and they were quite influential in his decision to not just learn more about the Bible and join the Adventist church but also to choose ministry as his life's work.
"I fell in love with the way they did ministry and how much they loved people, including me," Ramírez reflected. "They took a special interest in me and invited me to serve the church, even as a teenager. This is how I fell in love with God and His church."
Early in his pastoral ministry Ramírez experienced a "baptism by fire" that, challenging as it was, served to strengthen and solidify his commitment to serving God. Some members at one of the churches where he was pastoring were dealing with demonic possession. In dealing with this situation as a pastor, Ramírez realized how very real the battle between good and evil really is. "I made a lifetime commitment with God to serve Him and His mission," Ramírez said.
He has lived up to the commitment for over 25 years, and he looks forward to continuing to do so at the NAD. Having already lived back East for 13 years in previous positions, Ramírez will miss his many friends and connections made in Southeastern California and Arizona but looks forward to reconnecting with his friends and mentors in Maryland, too. The Pacific Union Conference will always hold a special place in his heart and pastoral journey, because this is where it all began.
"It was here where God called me into ministry. It was here where God placed godly men and women in my path to mentor me," he said. "I was ordained as a minister in the Pacific Union. My first sermon and baptism took place in the Pacific Union."
"Jorge is a great guy. I have enjoyed working with him," said Ed Keyes, president of the Arizona Conference where Ramirez served for three years. "He's a super organizer and a strategic planner. He's more detail oriented, and I'm more about the big picture, so we complemented each other well in that respect. He's a solid Seventh-day Adventist as far as his teaching, he's ethical, and he's humble enough to lead from second chair."
Through his work in ministry, Ramírez's own personal walk with God has also been strengthened, allowing him to learn and grow personally and professionally. He looks forward to taking all his experience and passion for service to his new position.
  "I have grown both as a Christian and as a leader with every opportunity God has given me," he said. "As a pastor, I learned to love people and to see their potential for mission. As an administrator, I have learned to understand what mission and vision is and to apply these leadership skills in my ministry as a conference officer. I have also learned to live by the values of integrity, excellence, service, and spiritual growth. I look forward to continuing to serve the mission of the church along with my fellow administrators in the North American Division."
___________________________________________
By Cynthia Mendoza