by Leon B. Brown Sr.

Luke 15:18 tells of a transformational moment toward which the prodigal son has been heading for years. His arrival at this moment was not planned, but it was scripted. Every act of this young man's life was leading him directly to this moment.

There was nothing anyone could do to keep him from arriving here. It is almost as if he took a car and placed it on the road with the navigation set in this intended direction. And he didn't want anyone to tell him anything different. There would be no detours.

If the truth were told, everyone reading this, including me, has lived and followed this script—although for most of us, it is a milder version. We have all lived some variation of the exploration of a "far country." We all have taken some form of this journey. 

Some of us got there before others. Some of us passed near enough to smell the pigs and the slop. Some just missed being ruined because the grace of God the Almighty shielded us.

Maybe you are at that place right now. Maybe you are just a step away. Maybe today God intends to save you from you. 

I would like to suggest that this young man, this prodigal from the story found in Luke 15, was a special young man. 

My reasoning as to why he was special is found in the text. Despite how we feel about him, and despite his initial blunders, there is one thing that this young man got right. When it counted, the prodigal made the right choice. 

Jesus told this story as an object lesson for you and me. And He left this story here as a reminder that lost people don't have to remain lost. You see, this story doesn't work without the fateful moment and decision—the moment he made the decision to not remain lost, to no longer be a prodigal. 

This story works because the prodigal determined in his heart and mind, "I will leave and return to my father" (Luke 15:18, ICB).

When we read this story, we will always think of this young man as a prodigal. However, the moment he arrived home, he was no longer considered a prodigal. He was considered a son.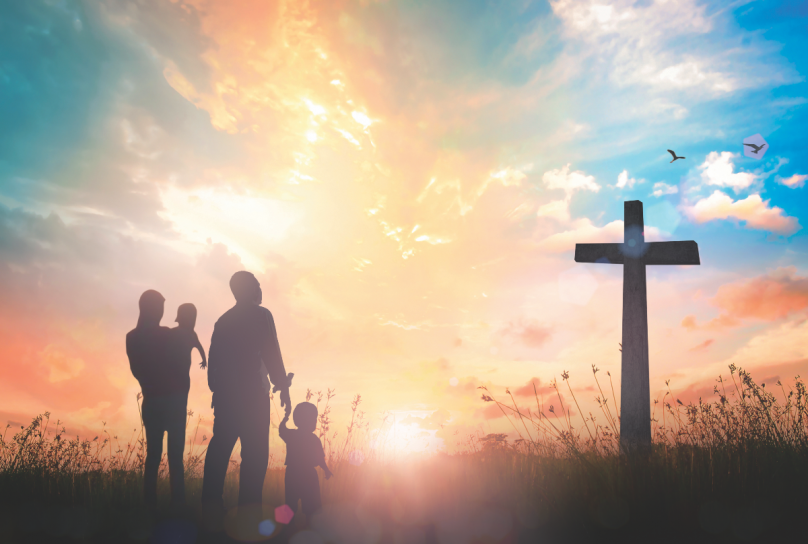 What this son didn't know was that God had given his parents a road map that clearly outlined instructions about how he could get back home when he was in big trouble: "Train up a child in the way he should go: and when he is old, he will not depart from it" (Proverbs 22:6, KJV). That "training up" was like an invisible divine microchip with a road map in his head that could be triggered when he arrived at this crucial moment in his life. 
So, when he arrived at the exact moment where hunger, depravation, loneliness, betrayal, and disgrace converged at the exact same time, the processor that God instructs parents to implant in the hearts of their most precious gift, their children, turned on and began to read the implanted microchip, which had specific instructions from God. It simply said, "Go home."
When the chip had been activated in this young man, he responded in the affirmative to the voice of the Spirit of God. And he said, "I will return."
Let me disabuse you of the notion that everyone will immediately respond in the way this young man did. That is not true. I learned from an early age that when the decision is made to go to a far country, not everyone makes it home safely. 
As a young boy, I personally observed friends arrive at that consequential moment and fail to declare, "I will return" or "I will go home."
All of us, from time to time, hear the still, small voice. But not everyone responds in the affirmative to the voice of the Holy Spirit. 
Let me suggest that you or someone you know may still be at the place where the train wreck occurred. You or someone you know may still be awaiting the moment of ultimate transformation. 
No matter where you or someone you love may be, the truth is we all still remember how and why we made the same bad choices.
But praise God for the microchip, the road map, the preprogrammed voice navigation of the still, small voice of the Spirit of God.
Otherwise, we wouldn't be here.
The sad reality is that there are countless millions around the globe whom God longs to hear declare, "Lord, I will return." It is up to us, His children, to share the good news of God's great love and His longing to have the rest of His children home.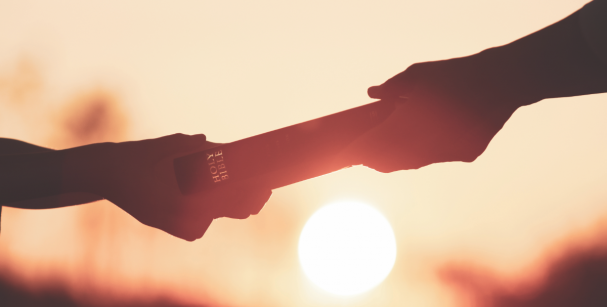 It is up to us, His children, to share the good news of God's great love and His longing to have the rest of His children home.
As you bask daily in the renewal and peace that a changed and transformed life brings, remember that there are millions who long for what we sometimes take for granted. 
If you have somehow forgotten that you are loved by the one who is the Author, Creator, and Fulfillment of love, remember that you can return. Just close your eyes right now and talk to your Best Friend. Tell Him exactly where it hurts. Tell Him how you feel. Don't leave anything out. He is longing to hear from you again.
Then begin to recharge. We are recharged each day when we spend those moments alone with God. When I go AWOL and/or get too busy to stop and recharge or refill, it is as if I am running on empty. When I think about this condition, I am reminded of the words I heard a preacher say when I was a boy: "Much prayer, much power; little prayer, little power; no prayer, no power."
As you listen attentively to the preprogrammed navigation device that is daily leading you to our heavenly home, don't forget the moment that changed your life forever. 
Praise God, there is power available to each one of us. But what about the others who don't know of this power? Show them in a glorious expression of God's amazing love—demonstrate the gospel by the way you live your life. If necessary, use words.
_____________________________
Leon B. Brown Sr. is the executive vice president of the Pacific Union Conference.
«Regresa a casa»
Lucas 15:18 habla de un momento de transformación hacia el cual el hijo pródigo se había estado dirigiendo durante años. Su llegada en ese momento no fue planeada, pero estaba en el guion. Cada acto de la vida de ese joven lo estaba llevando directamente a ese momento.
No había nada que nadie pudiese hacer para evitar que llegase ahí. Es casi como si tomase un automóvil y lo colocase en la carretera con la navegación configurada en esa dirección prevista. No quería que nadie le dijese nada diferente. No habría desvíos.
Si se dijese la verdad, todos los que leen esto, incluyéndome a mí, han vivido y seguido ese guion —aunque para la mayoría de nosotros, es una versión más suave—. Todos hemos vivido alguna variación de la exploración de un «país lejano». Todos hemos tomado alguna forma de ese viaje. 
Algunos llegamos antes que otros. Algunos pasamos lo suficientemente cerca como para oler los cerdos y la basofia. Algunos simplemente no terminamos arruinados porque la gracia de Dios Todopoderoso nos protegió.
Tal vez estás en ese lugar ahora mismo. Tal vez estás a solo un paso. Tal vez Dios hoy tiene la intención de salvarte de ti mismo. 
Me gustaría sugerir que ese joven, ese hijo pródigo de la historia que se encuentra en Lucas 15, era un joven especial. 
Mi razonamiento de por qué era especial se encuentra en el texto. A pesar de como lo consideramos y a pesar de sus errores iniciales, hay una cosa que ese joven hizo bien. Cuando llegó el momento, el hijo pródigo hizo la decisión correcta. 
Jesús contó esa historia como una lección objetiva para ti y para mí. Dejó esa historia como un recordatorio de que las personas perdidas no tienen que permanecer perdidas. Esa historia no funciona sin un fatídico momento y una decisión —el momento cuando tomó la decisión de no permanecer perdido, de dejar de ser un hijo pródigo—. 
Esa historia funciona porque el hijo pródigo determinó en su corazón y en su mente: «Me levantaré e iré a mi padre» (Lucas 15:18, RVR).
Cuando leemos esta historia, siempre pensamos en ese joven como un hijo pródigo. Sin embargo, en el momento en que llegó a casa, ya no era considerado un hijo pródigo. Era considerado un hijo.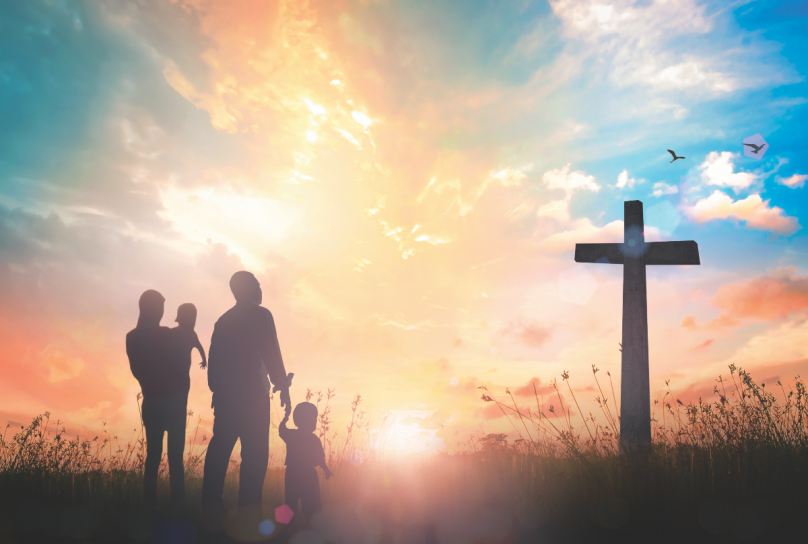 Lo que ese hijo no sabía era que Dios le había dado a sus padres un derrotero que claramente describía instrucciones sobre cómo podría regresar a casa cuando estuviese en grandes problemas: «Instruye al niño en el buen camino, y aun cuando envejezca no se apartará de él» (Proverbios 22:6, RVR). Ese «instruye» era como un microchip divino invisible con un derrotero en su cabeza que podría activarse cuando llegase a ese momento crucial en su vida. 
Entonces, cuando llegó al momento exacto cuando el hambre, la depravación, la soledad, la traición y la desgracia convergían exactamente al mismo tiempo, el procesador que Dios instruye a los padres a implantar en los corazones de su más precioso regalo, sus hijos, se encendió y comenzó a leer el microchip implantado, que tenía instrucciones específicas de Dios. Simplemente decía: «Regresa a casa».
Cuando el chip se activó en ese joven, respondió afirmativamente a la voz del Espíritu de Dios. Dijo: «Regresaré».
Permítanme desengañarlos de la idea de que todos responderán inmediatamente de la manera como lo hizo ese joven. Eso no es cierto. Aprendí desde una temprana edad que cuando se toma la decisión de ir a un país lejano, no todos regresan a casa sanos y salvos. 
Cuando era niño, personalmente observé a mis amigos llegar a ese momento consecuente y no declarar: «Regresaré» o «iré de regreso a casa».
Todos nosotros, de vez en cuando, escuchamos esa voz suave y apacible. Pero no todos responden afirmativamente a la voz del Espíritu Santo. 
Permíteme sugerirte que tu o alguien que conoces todavía puede estar en el lugar donde se descarriló el tren. Tu o alguien que conoces todavía puede estar esperando el momento de la transformación final. 
No importa dónde estés, o alguien que amas, la verdad es que todos recordamos cómo y por qué tomamos las mismas decisiones incorrectas.
Pero alabado sea Dios por el microchip, el derrotero, la navegación por voz preprogramada de la voz apacible y delicada del Espíritu de Dios.
De lo contrario, no estaríamos aquí.
La triste realidad es que hay incontables millones en todo el mundo a quienes Dios anhela escuchar declarar: «Señor, regresaré». Depende de nosotros, sus hijos, el compartir las buenas nuevas del gran amor de Dios y su anhelo de tener al resto de sus hijos en casa.
Depende de nosotros, sus hijos, el compartir las buenas nuevas del gran amor de Dios y su anhelo de tener al resto de sus hijos en casa.
Mientras disfrutas diariamente de la renovación y la paz que trae una vida renovada y transformada, recuerda que hay millones que anhelan lo que a veces damos por sentado. 
Si de alguna manera has olvidado que eres amado por aquel que es el Autor, Creador y el Cumplimiento del amor, recuerda que puedes regresar. Solo cierra los ojos ahora mismo y habla con tu mejor amigo. Dile exactamente dónde te duele. Dile cómo te sientes. No omitas cosa alguna. Él anhela saber de ti de nuevo.
Comienza después a cargar tus baterías. Recargamos nuestras baterías cada día cuando pasamos momentos a solas con Dios. Cuando no lo hago y/o estoy demasiado ocupado para tomar tiempo y recargar mis baterías, es como si estuviese corriendo sin carga. Cuando pienso en esa condición, recuerdo las palabras que escuché decir a un predicador cuando era niño: «Mucha oración, mucho poder; poca oración, poco poder; nada de oración, nada de poder».
Mientras escuchas atentamente el dispositivo de navegación preprogramado que te lleva diariamente a nuestro hogar celestial, no olvides el momento que cambió tu vida para siempre. 
Alabado sea Dios, porque hay poder disponible para cada uno de nosotros. Pero, ¿qué pasa con quienes no conocen de ese poder? Muéstrales en una expresión gloriosa del asombroso amor de Dios: demuestra el Evangelio por la forma como vives tu vida. Si es necesario, usa palabras.
_____________________________
Leon B. Brown Sr. es el vicepresidente ejecutivo de la Pacific Union Conference.