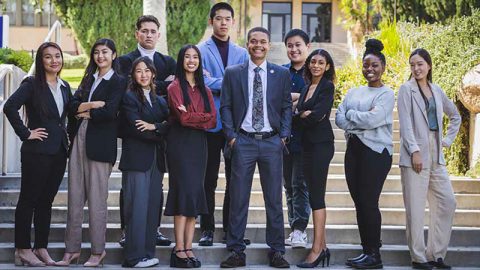 College represents new beginnings and opportunities for brighter futures, but tuition costs and other expenses can create a significant hurdle between students and their educational goals. Toward breaking down such barriers, La Sierra pulls out all the stops to financially assist and support its students in a variety of ways.
More than 90 percent of La Sierra's students pay for tuition through free financial aid from institutional, state, and federal sources. Top funding opportunities include four- year renewable scholarships, Seventh-day Adventist Membership awards, the Literature Evangelist Earnings Match program, and the La Sierra/North American Division 100% Free Tuition Partnership.
The largest renewable university scholarship is the $15,000 Presidential Scholar award given to students who meet certain eligibility criteria including a demonstrated dedication to improving the world around them. Students who have been admitted to La Sierra University and meet the cumulative GPA requirement of 3.6 or above must also submit a curriculum vitae describing their accomplishments and must write an essay outlining how they have strived to understand and serve others, and how those experiences have helped to shape them and impact those they served.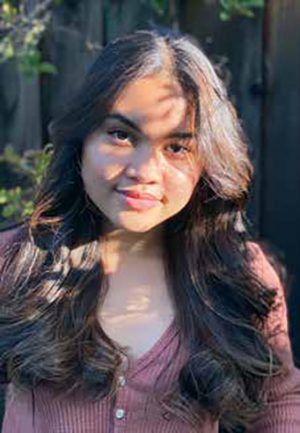 Two Presidential Scholars were selected for the 2021-22 school year – Domonique Douglas, who arrived from Pembroke, Bermuda to study health care management and pre-medicine, and Krista Dufala who came from San Jose, Calif. to pursue a degree in neuroscience.
"I was attracted to La Sierra for their sense of strong Adventist community and their closeness in relation and proximity to Loma Linda as I plan to apply to their medical school," said Dufala whose achievements include starting a foundation that serves orphans around the world. "I selected this college because I truly believe that this is where God wants me to be, just having this blessing of the Presidential Scholarship is enough clarity for me."
1989 alumnus Bobby Bhasker-Rao aimed to study biochemistry and pre-medicine with the goal of entering medical school when he enrolled at the La Sierra campus
of Loma Linda University in 1985. His sisters Salina and Sabrina, close in age to Bobby, also enrolled at La Sierra to respectively study business and communication. In order to cover tuition costs, the siblings worked closely with La Sierra's Student Financial Services Assistant Director Audrey Gaspard to find various resources to help them achieve their educational goals. In the end, institutional, federal and state resources were secured to cover much of their college tuition.
One of the cornerstones of our institutional mission is to serve others. We fulfill that mission first with our students... and we do everything in our power to help them succeed.
"Anytime a [financial resource] was available, she would help us," Bobby Bhasker-Rao said. "It was good to have that sort of help to get through college."
"It is truly gratifying to be able to help a student find the needed funds to pay for college expenses," Gaspard said. "It is fulfilling to know that you are able to make a difference in someone's life and help that person achieve his or her dreams."
Bhasker-Rao, a noted bariatric surgeon based in Rancho Mirage, graduated from the La Sierra campus in 1989 and studied medicine at Loma Linda University School of Medicine. He completed his residency at Brookdale University Hospital & Medical Center in New York City and furthered his education through a Minimally Invasive Surgery Fellowship at the University of California, Davis Medical Center.
Federal Pell grants for eligible undergraduates are also an important piece of many students' financial aid packages at La Sierra. U.S. News & World Report's Best Colleges 2022 guide released Sept. 13, 2021 ranked La Sierra University 11th out of 122 universities in the western region for 'social mobility.' The category rates universities on their success in enrolling and graduating students who are recipients of Pell funds. The majority of Pell Grant awardees are those whose adjusted gross family incomes are under $50,000. Students' eligibility for this aid is identified by the government based on the information in the student's Free Application for Federal Student Aid, or FAFSA.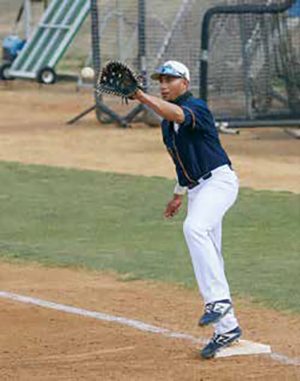 "At La Sierra University, one of the cornerstones of our institutional mission is to serve others. We fulfill that mission first with our students, in particular those who come from difficult circumstances, and we do everything in our power to help them succeed," said Director of Student Financial Services Elina Bascom. "A college education can be absolutely life changing for those who come from financially challenged environments and it gives us joy to watch students overcome obstacles of all sorts to grow and learn and improve their lives beyond what they'd ever imagined."
Fourth-year strategic communication major Jacob Ochoa stressed the importance of the Pell Grant in fulfilling his academic and life interests which involve pursuing a career with the United States Air Force or in San Diego law enforcement. "To me, receiving a Pell Grant means more than money sent to my student account. It's an opportunity for me to achieve my educational and career goals," he said.
"Without a Pell Grant, my tuition then becomes unaffordable. As a first-generation college student, any opportunity or resource given to me has made all the difference to me. Without the help of FAFSA, scholarship, or grants such as these, a college education would have never been attainable."