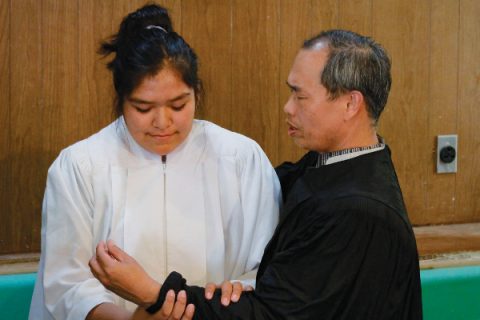 The date was May 1, 2021. Twenty-six individuals stood in the pastor's study at the Holbrook church, preparing for baptism. Of that number, three were Navajo parents, ready to be baptized along with their children who attended the Holbrook Indian School (HIS). Just a few weeks previously, they had learned of their children's decision to be baptized due to their Bible classes at school. The parents also asked for Bible studies so they could be baptized with their children. They watched as their children entered the water and smiled as they came up with a new-found commitment. When they entered, they were equally overjoyed as they came out of the water, renewed.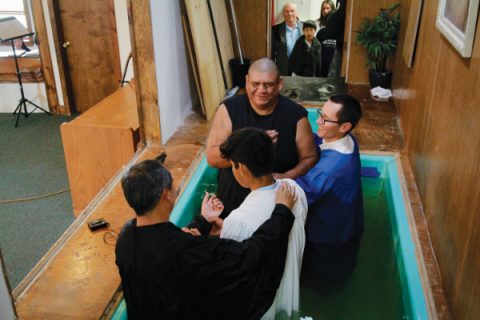 Fast forward a little over a year to July 2022. The family was now helping to plan a unique run/walk across the Navajo Nation to promote a major evangelistic event, "Message from the Metal Man," by the broadcast ministry It Is Written. Not only was this family heavily involved, but many more students from HIS were participating in the event across the Navajo Nation. It is a typical example of healing to help others, blessed to be a blessing. Their story is one of many, representing the ripple effect of God's work through one small school in the desert. 
The Greyeagles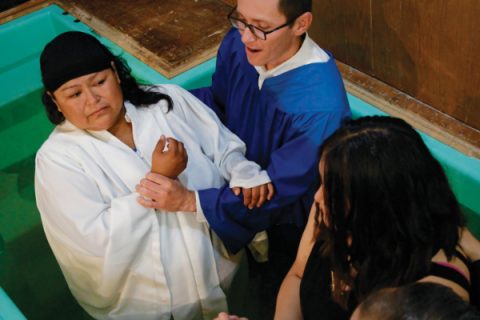 Clarisse and Rudy Greyeagle have three children who have attended Holbrook Indian School: Dakota, Nathaniel, and Jameslyn. Before the family baptism, Rudy says he participated in a 12-step recovery program to break his drug addiction. The program was a ministry of the Chinle Seventh-day Adventist Church in the Navajo Nation. It was their first exposure to Adventism. They heard about HIS through the suggestion of a family member, Clarisse said, and the school became a place of recovery for one child who was suffering academically at the time. An academic turnaround would not be the only benefit they would receive. The family found hope and inspiration through the children's decision to be baptized. "It was Jameslyn who told us, 'I decided to get baptized,'" Clarisse said. "I asked if it was OK if we got baptized too."
Various parties organized the Metal Man Run, as this event spanned four different conferences. In the Chinle region of the Navajo Nation, the Greyeagles were instrumental in organizing and recruiting. They had experience participating in the walk for Missing Murdered and Indigenous Women in honor of Jamie Lynn Yazzie in September 2021. That experience was vital to the planning team and gave insight into obtaining an escort from Navajo authorities. More than half the people who showed up for the event in Chinle came because of the Greyeagles.
HIS students
HIS student Kaiss was giving out flyers on the Chinle segment of the run. As cars drove past, he would wave and hand a flyer to them, said Pastor Wolcott, Arizona Conference Native ministries director.
Former HIS student Neilsen Begay is only nine years old, but he was out in front, running and walking. "I was amazed at his endurance," Pastor Wolcott said. "Kallie [another HIS student] was also out there with them."
Mr. Hubbard
Sam Hubbard teaches Navajo language, history, and government; math; and maker space classes at HIS. When he moved to Holbrook in 2006, he first worked as a dean and Bible teacher, and he has since been a beacon for the Navajo community on the school's campus. Mr. Hubbard had a struggling past of his own before he found hope in God. He often helps many of the non-native staff connect and better relate to Navajos and other Indigenous nations. 
Mr. Hubbard and his wife were runners in the Metal Man Run for the Kinlichee to St. Michael segment. Despite the higher elevation, he and his wife completed the noble trek along this part of the reservation. Although this segment did not have any HIS students participating, he and his wife could be seen with other Adventist Navajos running behind a banner promoting the upcoming prophecy event.
Regarding Adventist evangelistic efforts on the reservation, Mr. Hubbard said, "There's generally a good turnout." He continued, "The main thing to remember is you have to build trust." Many Indigenous peoples, including the Navajo, have been poorly treated and deceived by government and religious entities. It is very difficult for the Navajo to forget this traumatic history, and building trust is essential in any relationships sought. 
Hence the wisdom in using a run to promote the event. It promotes healthy living and is an accepted means of gently catching attention. "I think that was part of the reasoning behind the Metal Man Run. People like the idea of a walk for a great cause," said Mr. Hubbard.
The Metal Man Run will go until the evangelistic series begins on September 9.
It's wonderful to hear the stories of how God continues to work in the lives of our students and beyond. Your support of Native Americans through Christian education continues to make a difference. Thank you for your support.
____________________
By Chevon Petgrave