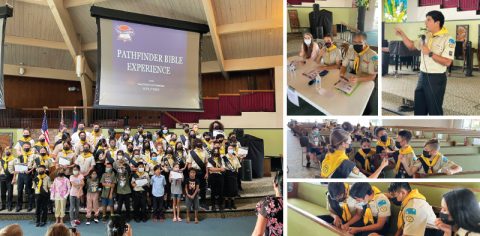 When people are learning about Pathfinders, often the kinds of activities that get highlighted are the ones that take place outdoors or the ones that build physical skills. It can be easy to overlook one of Pathfinders' fundamental aims: the spiritual development and discipleship of young people. It was this goal that the Hawaii Conference Pathfinder leadership had in mind when they decided to incorporate a new event into the annual Pathfinder program—the Pathfinder Bible Experience (PBE).
While PBE has been around for many years, five Pathfinder clubs—Honolulu Central, Honolulu Japanese, Waipahu, Waimanalo, and Kapolei Samoa Tonga—made history on Sunday, February 6, when they took part in the Hawaii Conference's first-ever Pathfinder Bible Experience! The event took place at the Honolulu Central church, and church lay members, conference employees, and local pastors volunteered to serve as event judges and MCs.
PBE is arguably one of the hardest challenges a Pathfinder club can engage in. First, Pathfinders from clubs across the conference form teams of two to six members that prepare for PBE by studying and memorizing pre-selected books of the Bible. Ruth and 1 Kings are the books assigned for 2022. On the day of the event, these PBE teams convene, and their knowledge of the Scriptures is tested via 90 questions. At the end of the event, PBE teams are awarded first, second, or third place based on how many questions they answered correctly. The highest-ranking teams are allowed to advance to PBE testing at the union and division levels.
Each team hoped to achieve a first-place standing; however, the success of the event wasn't gauged by how many points each team earned. At the beginning of the event, Pastor Jaime Vargas, the Hawaii Conference Pathfinder director, made it clear that each team's success had already been secured by the fact that they were present to make history and challenge themselves in new ways. The goal of future PBE events in Hawaii will never be that Pathfinder teams simply make it to first place but rather that Pathfinders allow God's Word to have first place in their hearts and minds. And this the Hawaii Conference will seek to do, one PBE at a time.
____________________
By Jaime Vargas