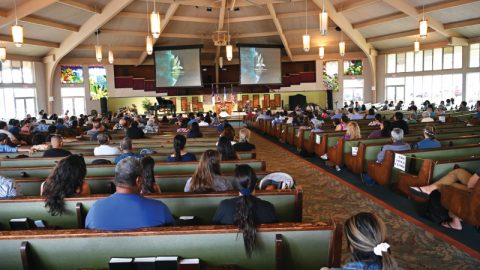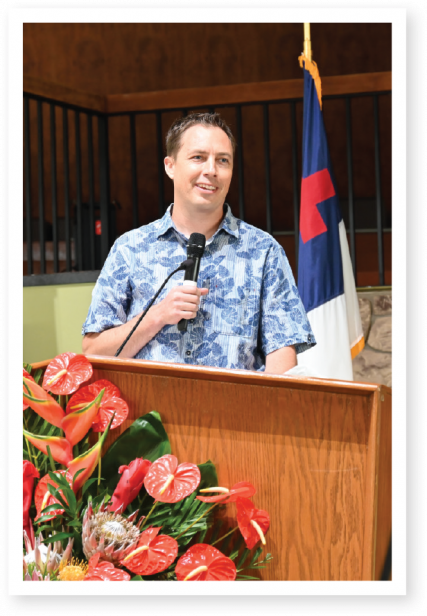 Erik VanDenburgh was elected Hawaii Conference president at the 11th constituency session on April 24, 2022, held at the Honolulu Central church. He succeeds the retiring Elder Ralph Watts III, who faithfully served Hawaii for the past 16 years. Watts and his wife, Sharon, will settle near Lodi, California, where they will enjoy being near their parents and grandchildren.
VanDenburgh has served as Hawaii Conference youth director for the past seven years. He and his wife, Jana, came to Hawaii after serving in the Arizona Conference for 11 years, where he worked as Literature Ministries and Youth Director. The VanDenburgh family has three handsome and energetic young sons—Jacob, Joel, and Jaben—who love their tropical home.
VanDenburgh has established his good name and reputation as a forward- thinking, creative, highly energetic, and spiritual leader. He has motivated hundreds of young people to become faithful and responsible leaders in the Seventh-day Adventist Church.
His first priority after coming to Hawaii was to revolutionize Camp Waianae, resulting in a major remodel with new and improved facilities throughout—totally worth a visit by our members, by the way.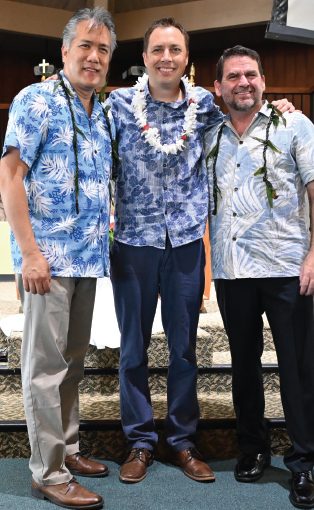 VanDenburgh also developed the Pastoral Intern program, in which future potential pastors work for one year with a mentoring pastor in local Hawaiian churches. Many go on to become pastors who will eventually serve the church throughout the world.
Pastor VanDenburgh shared his three commitments for his ministry as Hawaii Conference president.
His commitment to God with his heart, mind, body, and soul.
A commitment to his family to be there for them as husband and father, to never neglect them and always do what's best for them spiritually, physically, and mentally, leading them to a personal walk with Jesus.
A promise to love this church and lead with integrity while embracing the mission of the great Hawaii Conference "to facilitate the proclamation of the everlasting gospel in the context of the three angels' messages of Revelation 12:6-12 to all peoples within its territory, leading them to accept Jesus as personal Savior and to unite with His church, and nurturing them in preparation for His soon return."
Highlights of the session included special music from the Hawaiian Mission Academy choir, directed by Zoviel Charles. In his devotional, Elder Ralph Watts III recalled his 16-year ministry here in Hawaii, including both challenges and victories. Quoting Joshua 1:9, a Watts family favorite text, he encouraged our Hawaii family to "be of good courage."
The treasurer's report was given by Benjamin Supit, there was an audited video report from GC Senior Auditor Jacob Bindernagel, and Executive Secretary Jay Warren presented the Constitution and Bylaws Report.
After the nominating committee report from Pacific Union Conference President Brad Newton, the new Hawaii Conference officers were announced: President, Elder Erik VanDenburgh; Executive Secretary, Elder Jay Warren; and Treasurer, Benjamin Supit.
____________________
By Jay Warren