After meeting with pastors to discuss church growth, Royal Harrison, Greater Los Angeles Region (GLAR) director, challenged the churches to prioritize evangelism last year—and moving forward.
"We're trying to get back to our first love: evangelism," Harrison said. "We've kind of lost that as years have gone by. We want our members excited about evangelism again and to see it not just as something we do, but as who we are."
Several churches answered this call last year through outreach programs, speaker series, Bible studies, and more.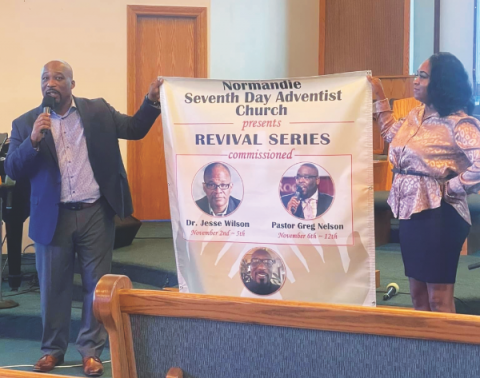 Normandie Avenue church reaches community through impactful service
Last year, Normandie church had I.M.P.A.C.T. Sabbaths once a quarter to reach the community in four areas: Love and Laundry, Parking Lot Prayer, Soap Socks, and Sandwiches, plus the food distribution the church hosts every second and fourth Sabbath. "I believe we have to teach our people how to do evangelism," said Deon Chatman, senior pastor. "I.M.P.A.C.T. stands for investing in ministry through positive action—acts of kindness."
Chatman understands the importance of a holistic approach. "People are experiencing emotional trauma, are in physical crisis, have broken spirits," Chatman added. "We're counseling them through the Word." Each of these initiatives were a stepping stone to help the church connect with the community in a deeper way. This year of dedicated outreach led to a week-long evangelistic crusade in November during which 12 people were baptized, 10 people scheduled baptism, and several others signed up for Bible studies.
Valley Crossroads holds Power Weekend speaker series
In a world of endless distractions where attention spans continue to get shorter, Valley Crossroads catered to this growing trend by hosting Power Weekends, themed "Falling in Love with Jesus," in November and December. Guest speakers and musicians were invited from near and far for weekends of powerful preaching and dynamic praise beginning Friday night and concluding Sabbath afternoon.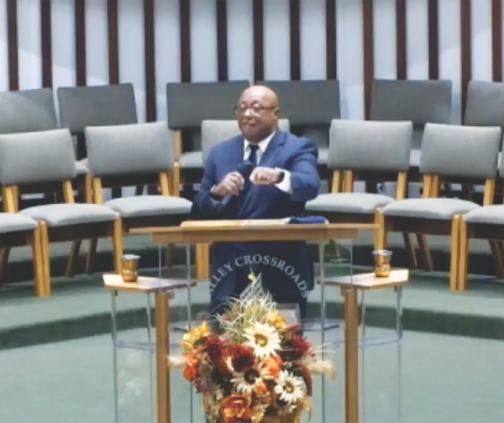 "One of our goals was to train the congregation how to do evangelism," Knight said, "so that we could replicate this on an ongoing basis. We've also seen a dramatic increase in attendance!"
These Power Weekends have continued in February and led to a friendship ministry encouraging members to invite friends. "With evangelism, you can promote in many ways," Knight added, "but the number one reason people come is because somebody invited them."
Miramonte and Maranatha worship experience reaches young people
November's evangelistic campaign for Maranatha and Miramonte, two district churches led by Pastor Ira Barksdale, began with an interest in bringing people back to church.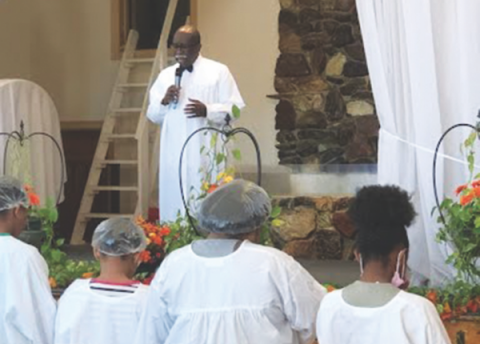 When Barksdale was preaching one Sabbath, he made a call to anyone who wanted to dedicate their life to Christ. A young person, Shamir, enthusiastically said yes. Soon plans were made for baptism during the evangelistic campaign.
"We believed God was going to send us some souls," Barksdale said. "Before I knew it, Shamir's siblings said they wanted to be baptized, too." Twelve people were baptized, eight of which were young people under 18. As a result, a new youth program has started, parents have been bringing their children to church, and a discipleship class has begun for the new young believers.
"God gave us these young people so they can be baptized and we can rebuild our churches," Barksdale said.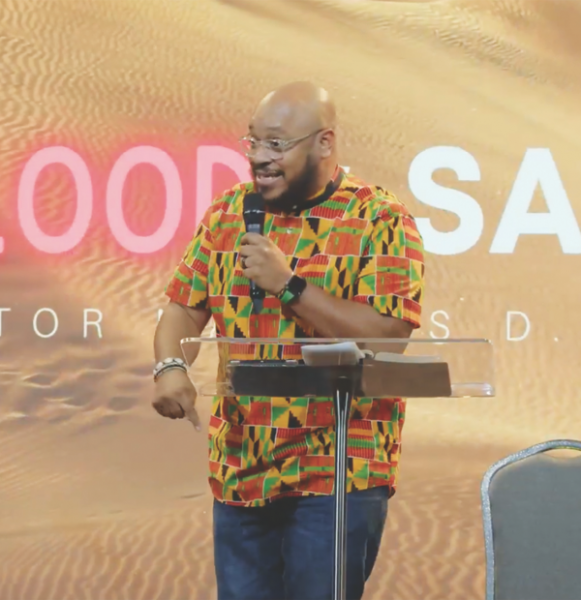 GLAR hosts fall revival at Breath of Life church
In November, GLAR sponsored a revival hosted at the Breath of Life church. The theme, "Coming Out Stronger," was chosen to represent coming out of the pandemic stronger as people and as a church.
Terrance Taylor, senior pastor of Breath of Life church, saw the revival as a way to gauge interest in meeting together in person, online, or hybrid. "This event gave churches a model of what hybrid church can look like," he shared. "The production was high, and we're moving away from what had been done before and trying to move into a bit more contemporary service."
The evangelistic campaigns at Normandie, Valley Crossroads, Miramonte, and Maranatha churches have set the tone for ministry moving forward as they continue to pursue evangelism. Other churches in GLAR, such as Tamarind, University, 54th Street, and Ephesus, are also planning evangelistic campaigns for this year.
"We hope that this sets a new culture as we move forward in terms of church growth and witnessing," Harrison said, "and that evangelism is going to dominate the Greater Los Angeles Region."
___________________
By Araya Moss
El evangelismo prospera en la región metropolitana de Los Angeles
Después de reunirse con pastores para discutir el crecimiento de la iglesia, Royal Harrison, director de la Región del Gran Los Angeles (GLAR), el año pasado desafió a las iglesias a priorizar el evangelismo y avanzar.
«Estamos tratando de volver a nuestro primer amor: el evangelismo», dijo Harrison. Hemos perdido eso a medida que han pasado los años. Queremos que nuestros miembros se entusiasmen con el evangelismo nuevamente y que lo vean no solo como algo que hacemos, sino como lo que somos».
Varias iglesias respondieron a ese llamado el año pasado a través de programas evangelísticos, series de oradores, estudios bíblicos y más.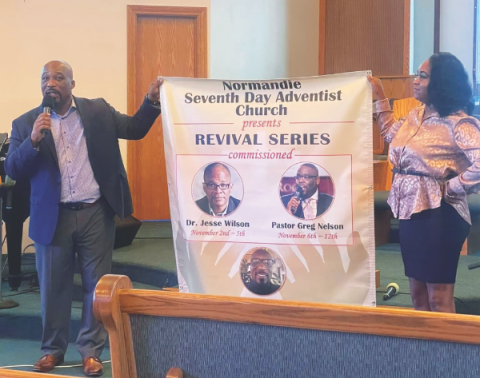 La iglesia de Normandie Avenue llega a la comunidad a través de un servicio impactante
El año pasado, la iglesia de Normandie tenía sábados I.M.P.A.C.T. una vez al trimestre para llegar a la comunidad en cuatro áreas: amor y lavandería, oración en el estacionamiento, calcetines, jabón y sándwiches, además de la distribución de alimentos que la iglesia organiza cada segundo y cuarto sábado. «Creo que tenemos que enseñar a nuestra gente cómo hacer evangelismo», dijo Deon Chatman, su pastor. «I.M.P.A.C.T. significa invertir en el ministerio a través de la acción positiva en actos de bondad».
Chatman entiende la importancia de un enfoque holístico. «Las personas están experimentando un trauma emocional, están en crisis física, tienen el ánimo por los suelos», agregó Chatman. «Los estamos aconsejando a través de la Palabra». Cada una de esas iniciativas ha sido un trampolín para ayudar a la iglesia a conectarse con la comunidad de una manera más efectiva. Este año se llevó a cabo una campaña evangelística de una semana en noviembre durante la cual 12 personas fueron bautizadas, 10 personas programaron el bautismo y varias otras se inscribieron en estudios bíblicos.
Valley Crossroads celebra la serie de oradores Power Weekend
En un mundo de distracciones interminables donde la capacidad de atención continúa acortándose, Valley Crossroads atendió a esa tendencia creciente organizando Power Weekends, con el tema «Enamorarse de Jesús», en noviembre y diciembre. Oradores y músicos invitados fueron convocados de cerca y de lejos para fines de semana de impactante predicación y alabanza dinámica que comenzaban el viernes por la noche y concluían el sábado por la tarde.
«Uno de nuestros objetivos era capacitar a la congregación sobre cómo hacer evangelismo», dijo Knight, «para que pudiésemos replicarlo de manera continua. ¡También hemos visto un aumento dramático en la asistencia!»
Esos Power Weekends han continuado en febrero y han llevado a un ministerio de amistad alentando a los miembros a invitar amigos. «En cuanto al evangelismo, lo puedes promover de muchas maneras», agregó Knight, «pero la razón número uno por la que la gente viene es porque alguien los invitó».
La experiencia de adoración de Miramonte y Maranatha llega a los jóvenes
La campaña evangelística de noviembre de Maranatha y Miramonte, dos iglesias regionales dirigidas por el pastor Ira Barksdale, comenzó con el interés en traer a la gente de vuelta a la iglesia.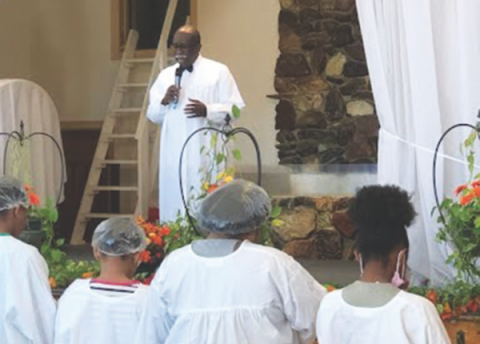 Cuando Barksdale estaba predicando un sábado, hizo un llamado al bautismo. Un joven, Shamir, dijo con entusiasmo que sí. Pronto se hicieron planes para el bautismo durante la campaña evangelística.
«Creíamos que Dios nos iba a enviar algunas almas», dijo Barksdale. «Antes de darme cuenta, los hermanos de Shamir dijeron que ellos también querían bautizarse». Doce personas fueron bautizadas, ocho de las cuales eran jóvenes menores de 18 años. Como resultado, ha comenzado un nuevo programa para jóvenes, los padres han estado trayendo a sus hijos a la iglesia, y una clase de discipulado ha comenzado para los nuevos jóvenes creyentes.
«Dios nos dio a esos jóvenes para que sean bautizados y podamos reconstruir nuestras iglesias», dijo Barksdale.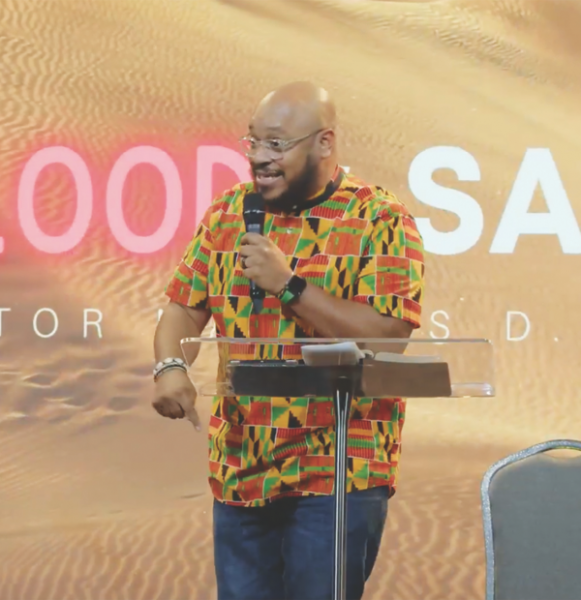 GLAR organiza reavivamiento de otoño en la iglesia Breath of Life
En noviembre, GLAR patrocinó un reavivamiento organizado en la iglesia Breath of Life. El tema, «Salir más fuerte», fue elegido para representar salir de la pandemia más fuertes como personas y como iglesia.
Terrance Taylor, pastor de la iglesia Breath of Life, vio el reavivamiento como una forma de medir el interés en reunirse en persona, en línea o de forma híbrida. «Ese evento dio a las iglesias un modelo de cómo puede ser la iglesia híbrida», compartió. «La producción fue de calidad y nos estamos alejando de lo que se había hecho antes y tratando de pasar a un servicio un poco más contemporáneo».
Las campañas evangelísticas en las iglesias de Normandie, Valley Crossroads, Miramonte y Maranatha han establecido el tono para que el ministerio avance a medida que continúan haciendo evangelismo. Otras iglesias en GLAR, como Tamarind, University, 54th Street y Ephesus, también están planeando campañas evangelísticas para este año.
«Esperamos que esto establezca una nueva cultura a medida que avanzamos en términos de crecimiento y testimonio de la iglesia», dijo Harrison, «y que el evangelismo domine la Región del Gran Los Angeles».
___________________
Por Araya Moss