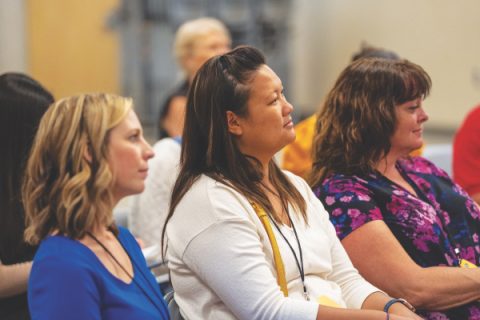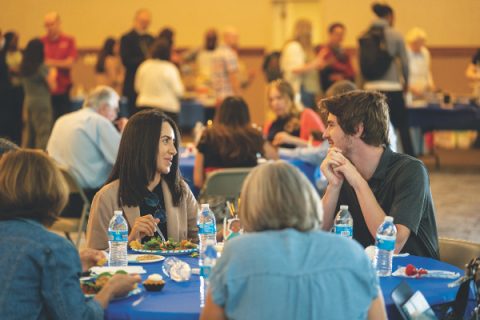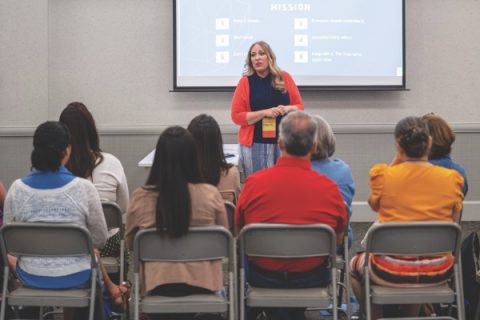 Teachers and principals from Central California Conference's (CCC) 19 schools attended an educators' in-service on Aug. 9 to learn how to build a spiritual climate within the conference schools. This educators' in-service takes place once a year, at the beginning of the school year, to prepare the conference's educators and help create a supportive environment for the upcoming school year.
This year's theme, Building a Spiritual School Climate, came from Acts 2:21: "And everyone who calls on the name of the Lord will be saved" (NIV).
Pastor Don MacLafferty, a discipleship training minister, spoke at the event. MacLafferty is a former conference pastor now based in Tennessee. Along with his team, he provides training for schools that want to learn to be more intentional about providing a spiritual environment.
"We thought and prayed about it and decided he would be a tremendous individual to bring in," said Ken Bullington, vice president of education for the CCC, who coordinated and planned the event along with his team. MacLafferty was the keynote speaker, and he brought Edith Kiggundu and Lynne Macias to help with breakout sessions.
Several conference officers, including Dan Serns, conference president; Ron Rasmussen, executive secretary; Mayra Thompson, treasurer; and David Hudgens, vice president for Human Resources, attended the program and were involved in the dedication service at the end. Bullington added, "They've done this a couple times with us, and it's been wonderful to work with them." Lisa Plasencia, child ministries director for the conference, was also instrumental in communicating the spiritual action plan. 
The call, the partnership, and growing with God
Bullington explained that the schools are being accredited on more than just their academics. The accreditation process also includes how much spiritual support the school is providing to its students. "Our goal is to educate our young people for eternity," he added.
"The rationale behind it is that we normally have our schools develop three action plans for the accreditation process," explained Bullington. "One of the action plans we've had in the past is looking at what our students are learning spiritually and being more intentional about developing that action plan."
For this reason, they decided to focus this in-service entirely on spiritual help and support within the school. They developed this into three stages: the Call, the Partnership, and Growing with God. The Call involves being called by Jesus to minister to students. The Partnership focuses on the connection between the church, the home, and the school. And Growing with God involves supporting and teaching our young people to continue and enhance their walk with God as well as communicating that to others.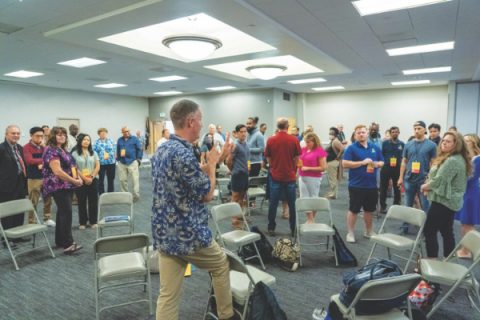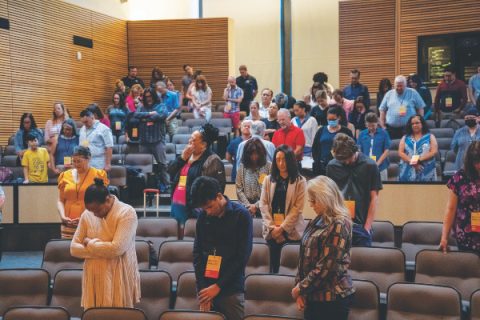 "When a school develops a spiritual action plan, it is something they can get people connected to—not just their administration, staff, and students," Bullington explained. They can also get the stakeholders in their community connected: the parents, pastors, and other groups who are involved. They can all become a partner in growing and supporting their school spiritually. This will have more than a long-term impact on the school; it can provide an eternal impact.
Church, school, home
This in-service is intended to be more than a one-day event. "Sometimes with in-services you bring in a great program and you hope something comes out of it. But this time we decided to give them additional help and support with how to build their spiritual climate on their campus," said Bullington.
MacLafferty continues to be involved with the conference schools throughout the school year via Zoom. The schools were asked if they would like more support going forward and the opportunity to meet throughout the year. Of the 19 schools, 11 requested additional help and support. They are: Armona Union Academy, Bakersfield Adventist Academy, Foothill SDA Elementary School, Hollister SDA Christian School, Los Banos Adventist School, Mother Lode Adventist Junior Academy, Peninsula Adventist School, San Francisco Adventist School, Templeton Hills Adventist School, Valley View Junior Academy, and VHM Christian School. There will be four meetings during the school year offering additional training and support. The first meeting was Oct. 6.
This event was about more than just teachers and administration. Bullington stated, "It's not only within the school walls but outside, dealing with mission trips, community service, churches, opportunities for young people to be more involved—whether that be up front or involved in different types of ministries." It is about creating an environment where our children are part of a church, school, and home environment where everyone is supporting each other. 
____________________
By Brennan Hallock