Typically, Pathfinder investitures are similar in every church. The club members march down the aisle in their neat uniforms, carrying the flags. There are recognitions and awards. The events tend to follow the expected routine.
But this year at Nueva Esperanza in Salt Lake City something was out of the ordinary. Two Pathfinders were being recognized—again. This is not unusual. What was extraordinary is the comment made by Pastor Benjamin Carballo. "Ligia [15 years old] was invited to the club by her best friend Jovismar Rangel [14 years old]. Ligia came, she liked the club, and today she is participating in the investiture, but that's not the whole story." Pastor Carballo continued, "Some months ago Ligia came to an evangelistic series, and she was baptized, the only one in her family." Her baptism was the result of an invitation from her Adventist friend, Jovismar.
Friends, this should not be unusual; this is the reason the church exists. This is why Club Ministries exist. Can you imagine what the result would be if every Pathfinder invited one friend to the club and eventually to the church?
Recently a pastor asked online, "Who is the most courageous person you have met lately?" The answer? Jovismar. This is a kind of courage that you don't often see these days. Courage to be bold enough to invite your friend to an activity you know is going to bless her. 
When Jovismar was told that NUC Youth Director Rudy Alvir wanted to write an article on this "miracle" she was surprised. She did not think that what she had done was out of the norm. She genuinely loves her friend.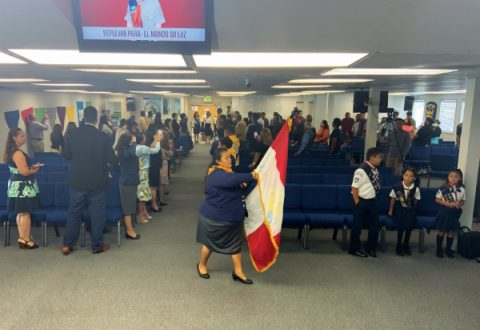 It should be natural for us to want to share what we know with our friends, with the people we love, but often we are hesitant and timid. Some of us believe that the church exists solely to take care of our needs and our Pathfinder clubs are here to exclusively serve our young people, but that is not the case. We exist to advance the kingdom—wherever, however, and with whomsoever. Courage should be the norm! Let's pray for courage and reach out to those whom God places in our sphere of influence.
____________________
By Rudy Alvir