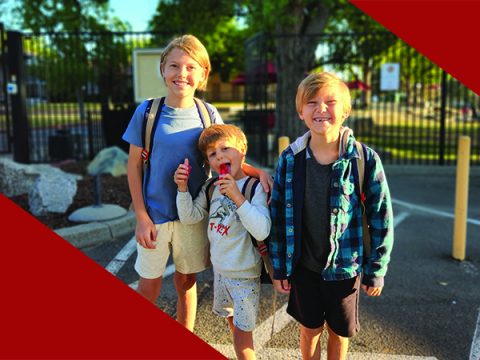 One would expect a school campus to be quiet in the summer while teachers and students are away. This summer Sacramento Adventist Academy (SAA) was anything but quiet.
In July, Pixie, a member of the Granite Bay Hilltop church, walked through the doors of SAA with a mother and her three sons. Iulia and her family came to Sacramento from Moldova, seeking asylum from the war in Ukraine.
Currently, SAA has ten students displaced by the war enrolled from kindergarten to high school. Despite the language barrier, these students have built connections and friendships with their classmates in the first few months of school.
"Sometimes God works in our lives in unexpected ways. Although we have been given the opportunity to practice our school theme, 'More than Me,' I feel that I am gaining more of a blessing from my relationships with these families than they have gained from us," said Michelle Piner, registrar. "I am impressed by their courage and positivity amidst incredible hardship."
"At first, some students felt unsure about 'the new kid who speaks no English,'" said Kat Schroer, vice principal of K-5. "Now you see this same student running happily with classmates and making the motions for 'I've Got a River of Life.'"
In faith, the SAA community committed to raising $50,000 to help with the tuition for these eight students. A month after school started, Iulia emailed the school to let us know that her very shy kindergartner said 
(in English), "Bye, Mom!" as he ran off to class. A small miracle.
____________________
By Jenni Glass