The Lodi Academy and Central Valley Christian Academy (CVCA) boys' basketball teams recently faced each other at the PUC Invitational Basketball Tournament. 
The two schools often play against each other, and while they are friends, the competition is always stiff. 
CVCA had come to the tournament with only five players, one nursing a hurt ankle. So, when they met in the playoff rounds, the suspense was high.
The game was close, with the score never separated by more than a few points either way. Midway through the second half, the player with the injured ankle could no longer play. This left the CVCA team with four players. The Lodi team had five players. It looked like it was going to be a five-to-four matchup.
As the CVCA coach gathered his team of four, and the whistle to restart was imminent, spectators wondered if the game was basically over. The crowd could be heard murmuring comments such as "this game is over" and "this will be interesting."
It was a spine-tingling moment to see sportsmanship from our coaches and players like this.
However, on Lodi's bench, head coach Mike Unterholzner looked to his assistant and asked, "Just to confirm, we're going with four, right?" 
Fans sitting nearby could hear the assistant firmly say, "Absolutely!" without hesitation. 
At that point, the four remaining CVCA players took the floor, and the Lodi team sent only four players out to keep the game even. 
Although the Lodi team won, the game was fair because of a character-defining decision by the coach. This decision sent a clear message to the fans and the players that although basketball is a competitive sport, the value of good sportsmanship and fair play is paramount. 
Another Lodi parent said, "It was a spine-tingling moment to see sportsmanship from our coaches and players like this. It made me proud of the character taught, learned, and exhibited by our coaches and players."
One parent stated after the game, "Our Christian coaches find character-teaching moments in competitive sports by valuing sportsmanship, fair play, and attitudes toward winning and losing. How you play defines who you are, and true victory is measured not only by the final score but by how you treat your opponents." 
This is a life lesson many of the players took home that night.
____________________
By Lauren Johnson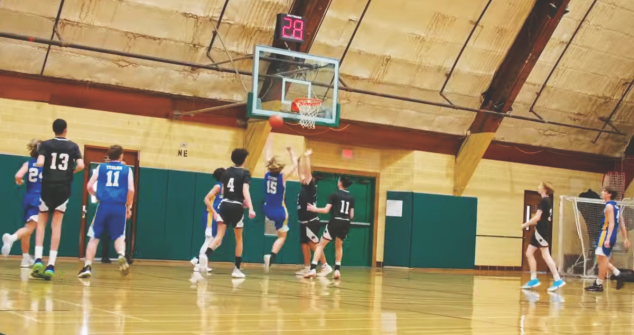 Carácter y deportividad en la cancha
Los equipos de baloncesto masculino de Lodi Academy y Central Valley Christian Academy (CVCA) se enfrentaron recientemente en el PUC Invitational Basketball Tournament. 
Las dos escuelas a menudo juegan una contra la otra, y aunque son amigas, la competencia siempre es intensa. 
CVCA había llegado al torneo con solo cinco jugadores, uno de ellos con un tobillo lesionado. Así que, cuando se enfrentaron en las rondas de liguilla, el suspenso era alto.
El juego fue cerrado, con el marcador nunca separado por más de unos pocos puntos de parte de ambos equipos. A mediados de la segunda mitad, el jugador con el tobillo lesionado ya no pudo jugar. Eso dejó al equipo de CVCA con cuatro jugadores. El equipo de Lodi tenía cinco jugadores. Parecía que iba a ser un enfrentamiento de cinco contra cuatro.
Cuando el entrenador de CVCA reunió a su equipo de cuatro y el silbato para reiniciar era inminente, los espectadores se preguntaron si el juego había básicamente terminado. Se podía escuchar a la multitud murmurando comentarios como «este juego ha terminado» y «esto va a ser interesante».
Sin embargo, en el banco de Lodi, el entrenador Mike Unterholzner miró a su asistente y le dijo: «Solo para confirmar, vamos con cuatro, ¿verdad?»
Los fanáticos sentados cerca podían escuchar al asistente decir firmemente: «¡Absolutamente!» sin dudarlo. 
En ese momento, los cuatro jugadores restantes de CVCA tomaron la pista y el equipo de Lodi envió solo a cuatro jugadores para mantener el juego igualado. 
Aunque el equipo de Lodi ganó, el juego fue limpio debido a una decisión que definió el carácter por parte del entrenador. Esa decisión envió un mensaje claro a los aficionados y a los jugadores de que, aunque el baloncesto es un deporte competitivo, el valor del buen espíritu deportivo y el juego limpio son primordiales. 
Un padre de Lodi dijo: «Fue un momento escalofriante ver la deportividad de nuestros entrenadores y jugadores portarse así. Me hizo sentir orgulloso del carácter enseñado, aprendido y exhibido por nuestros entrenadores y jugadores».
Otro padre declaró después del juego: «Nuestros entrenadores cristianos encuentran momentos que modelan el carácter en los deportes competitivos al valorar el espíritu deportivo, el juego limpio y las actitudes hacia ganar y perder. La forma como juegas define quién eres y la verdadera victoria se mide no solo por el puntaje final, sino por cómo tratas a tus oponentes». 
Esa es una lección de toda la vida que muchos de los jugadores se llevaron a casa esa noche.
____________________
Por Lauren Johnson