On October 22, 2022, three churches in the Southeastern California Conference (SECC) celebrated big-number anniversaries with special services, events, and guests.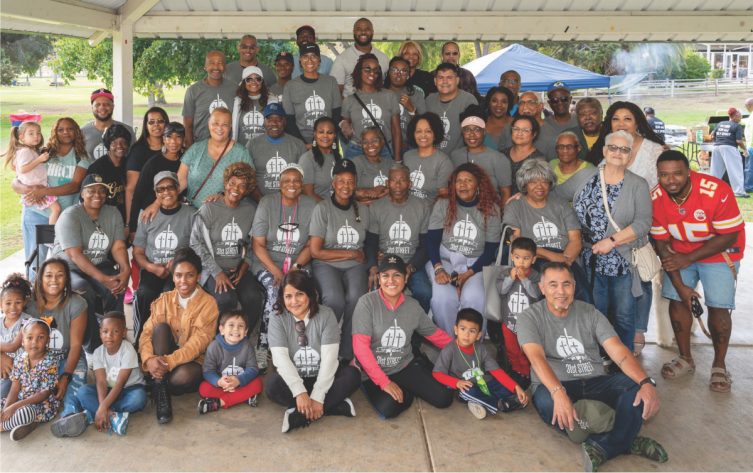 31st Street church: 100 years
"It's the mother church," commented Rashad Burden, lead pastor of the 31st Street church in San Diego. The two other predominantly Black Adventist churches in the city were birthed from 31st Street. "There's something special about being the place where so many people met Jesus."
The 31st Street church has been celebrating their 100th anniversary all year, starting in March with a series of sermons presented by former 31st Street pastors. They also started a Friendship Walk, in which, one Sabbath a month, members walk a mile or two around the neighborhood after church and engage with their neighbors. A 100-mile walking challenge over the year emphasized the church's health ministry program, and several members have already surpassed the 100 miles.
During what the church called "Homecoming Weekend" in October, beloved former pastors spoke and provided music for services, and the congregation enjoyed a special gala Saturday night at the Legacy Center in downtown San Diego. The culminating event was a field day on Sunday, complete with food, games, and community.
"Looking into the future, we are truly focused on manifesting our mission through our ministries," Burden said. "We're not a megachurch, but that doesn't mean we can't do mega-ministry."
---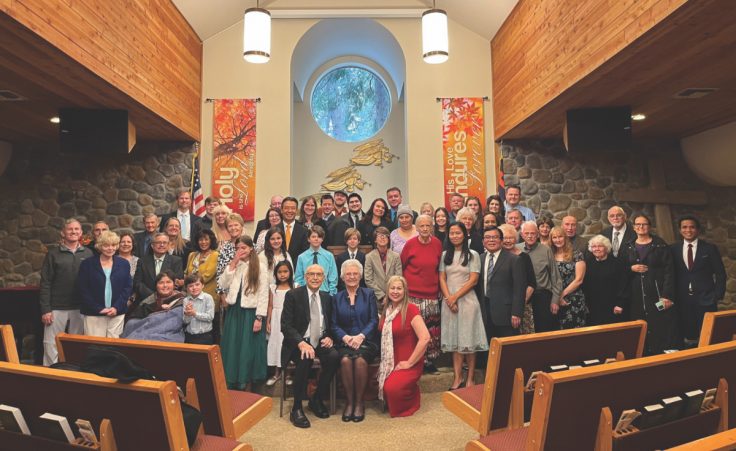 Crestline church: 107 years
Originally, this congregation thought they were celebrating 100 years in 2020. As they waited out the pandemic, however, further research revealed that the church was actually founded in 1915, making their eventual celebration in 2022 their 107th anniversary.
"This building was actually once the local bar," shared Pavel Rudoy, pastor of the Crestline church. "Our Sabbath service speaker, SECC President Jonathan Park, talked about churches that have become other things, like libraries and restaurants. He pointed out how wonderful it is that within the walls where people used to imbibe alcoholic spirits, it is now the Holy Spirit filling those here."
Rudoy feels Crestline church is unique in the sense that it gives the favorable impression of being far removed from the city, with 88 curves leading up the mountain road to the town's forested, lakeside surroundings.
"We often get young adults visiting from Loma Linda University," he commented. "They want a break from city life, and they like our family atmosphere."
As for the near future, the church has successfully raised enough funds to hire a Bible worker to go door-to-door within the community, inviting neighbors to Bible studies and church services.
"We pray always to grow," Rudoy said. "We are a small, friendly church, and we think many others would like it here, too."
---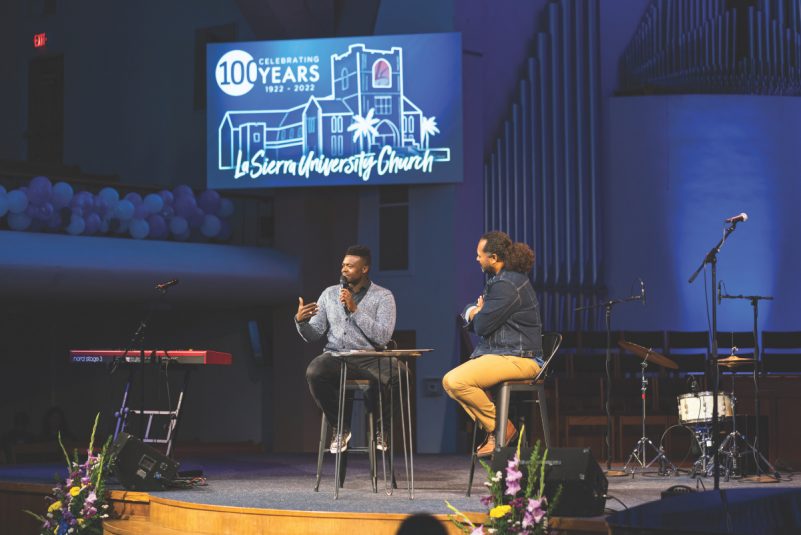 La Sierra University church: 100 years
Though now known for being the large, diverse congregation next to the university campus, La Sierra University church was originally made up of the founders of La Sierra Academy in 1922, and in October, the church, university, and academy all celebrated their 100th anniversaries.
"One fun thing we did for the Sabbath service was experience how worship has adapted over time," explained Raewyn Orlich, associate pastor at La Sierra University church. "To illustrate this, we sang along to worship music in three different styles, utilizing organ, piano, and band."
 The service included a fun segment on what life was like in 1922. An additional highlight was an interview with Kevin Olusola of Pentatonix fame, who shared about his spiritual journey, his mess-ups, and what God was teaching him through it all. Former pastors were invited to attend. Over a dozen did, with some spanning as far back as the 1980s. The mayor of Riverside also said a few words, thanking the church for being truly present in and supportive of the local community.
At the end of the service, the children led the congregation in the Lord's Prayer—part of La Sierra's weekly liturgy—representing the generation who will continue to lead long after those currently leading are no more.
"What's ahead of us now is to keep in tradition with what is behind us," said Iki Taimi, La Sierra church senior pastor. "This is to say, to clearly live, love, and teach the ways of Jesus for as long as we can to as many as we can, striving to be authentic, transparent, inclusive, and compassionate."
____________________
By Becky St. Clair