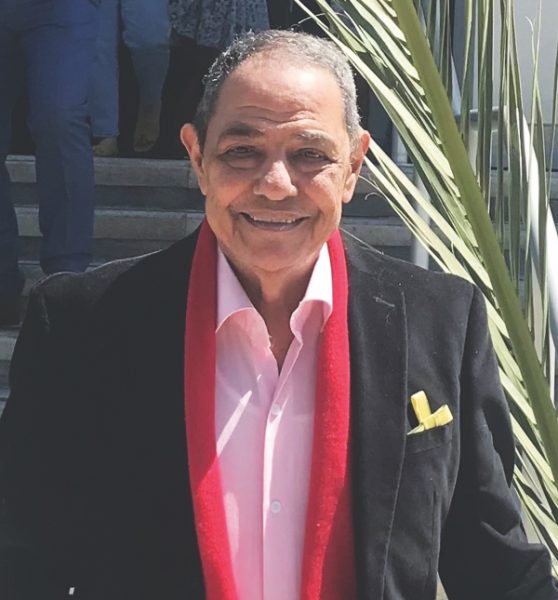 Structural interventional cardiologists at Loma Linda University International Heart Institute have performed hundreds of valve replacement procedures, each case different. Fixing 70-year-old Kamal Guindi's heart valve proved a highly risky prospect, said Amr Mohsen, MD, who performed the procedure with Jason Hoff, MD. The team had to strategize in a new way.
Guindi and his family expressed gratitude that the minimally invasive procedure known as transcatheter aortic valve replacement (TAVR) restored his independence by ending years-long suffering from intense symptoms like shortness of breath, weakness, and fatigue.
"These cardiologists at LLU thought outside the box to make my father's procedure happen," said Guindi's son, Joseph Haroun. "Their persistence and care saved him."
Several factors contributed to the complexity of Guindi's case, said Mohsen: a history of heart attack, bypass surgery, severe heart failure, blocked arteries in the legs, and a valve disorder with a leaky aortic valve. In a leaky aortic valve, flaps that control blood flow through the heart valve no longer close tightly, so the blood that's supposed to pump out of the valve instead leaks backward, said Mohsen.
Mohsen and Hoff devised a plan to remedy Guindi's leaky aortic valve using a slightly oversized artificial valve during the TAVR. Typically, artificial TAVR valves anchor to calcium lining patients' heart valves; the devices don't stay in place without calcium and in a leaky valve like Guindi's. Deploying a larger-sized artificial valve in Guindi's leaky valve would help ensure it stayed secure, Mohsen said.
To perform Guindi's minimally invasive TAVR, Mohsen and Hoff punctured an artery in the leg. Through this small puncture, they implanted the new valve on a balloon slender enough to fit in the artery. Next, they advanced this valve through a sheath—maneuvering blockages in Guindi's leg arteries and stents from prior procedures—eventually reaching and replacing the diseased aortic valve. Guindi was able to return home the next day.
Haroun said his father experienced a winding, challenging journey leading to the TAVR. Guindi's health had steadily deteriorated for two years while symptoms worsened, and he struggled to breathe and walk. Cardiologists ran tests and debated Guindi's available treatment options as a high-risk patient. Medical therapy had failed to control Guindi's symptoms, and he was not eligible for advanced heart failure therapy, including a heart transplant or left ventricular assist device (LVAD).
When heart failure specialist Ahmed Seliem, MD, met Haroun and Guindi, he referred them to structural interventional cardiology to see what could be done. By this point, Mohsen said Guindi's heart was only functioning at a 15% capacity, making any procedure risky, "but his only option." Mohsen communicated the TAVR's risk considerations with Guindi in his native language of Arabic, and the family opted to move forward with the procedure.
"We understood the procedure was risky but decided to move forward with it because my father was in a bad state, and his quality of life would otherwise have kept declining," Haroun said.
A month after the procedure, Guindi said he "feels good" and can return to his peaceful life as a retired pharmacist. He has regained the ability to tend to daily errands and enjoy neighborhood strolls.
"Doctors Seliem, Mohsen, and Hoff treated my dad as he if were a family member," Haroun said. "They were willing to take the risk and help him by making this procedure happen."
Recent tests revealed Guindi's heart function increased to 25%, and Mohsen said he is hopeful for further improvement over time.
____________________
By Lisa Aubry
Cardiólogos arreglan la válvula cardíaca con fugas de un paciente de alto riesgo con una solución «fuera de lo normal»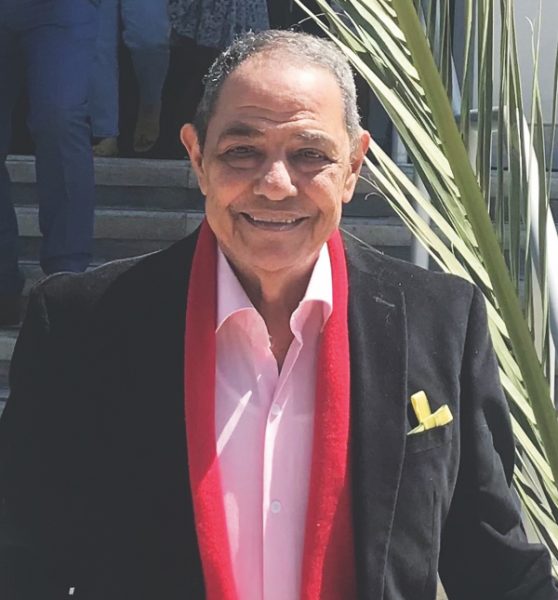 Aunque los cardiólogos intervencionistas estructurales del International Heart Institute de Loma Linda University han realizado cientos de procedimientos de reemplazo de válvulas, cada caso es diferente. La reparación de la válvula cardíaca de Kamal Guindi, de 70 años, demostró tener una perspectiva altamente arriesgada, dijo Amr Mohsen, MD, quien realizó el procedimiento con Jason Hoff, MD. El equipo tuvo que elaborar estrategias de una manera nueva.
Guindi y su familia expresaron su gratitud porque el procedimiento mínimamente invasivo conocido como reemplazo de válvula aórtica transcatéter (TAVR) restauró su independencia al poner fin a años de sufrimiento de síntomas intensos como dificultad para respirar, debilidad y fatiga.
«Esos cardiólogos de LLU pensaron fuera de lo normal para hacer que el procedimiento de mi padre se llevase a cabo», dijo el hijo de Guindi, Joseph Haroun. «Su persistencia y cuidado lo salvaron».
«Varios factores contribuyeron a la complejidad del caso de Guindi», dijo Mohsen: antecedentes de ataque cardíaco, cirugía de bypass, insuficiencia cardíaca grave, arterias bloqueadas en las piernas y un trastorno valvular con una válvula aórtica con fugas. «En una válvula aórtica con fugas, los colgajos que controlan el flujo sanguíneo a través de la válvula cardíaca ya no se cierran herméticamente, por lo que la sangre que se supone que debe bombear fuera de la válvula se filtra hacia atrás», dijo Mohsen.
Mohsen y Hoff idearon un plan para remediar la válvula aórtica con fugas de Guindi utilizando una válvula artificial ligeramente sobredimensionada durante el TAVR. Por lo general, las válvulas artificiales de TAVR se anclan a las válvulas cardíacas de los pacientes que recubren el calcio; los dispositivos no permanecen en su lugar sin calcio y en una válvula con fugas como la de Guindi. El despliegue de una válvula artificial de mayor tamaño en la válvula con fugas de Guindi ayudaría a garantizar que se mantuviese segura, dijo Mohsen.
Para realizar el TAVR mínimamente invasivo de Guindi, Mohsen y Hoff perforaron una arteria en la pierna. A través de esa pequeña punción, implantaron la nueva válvula en un globo lo suficientemente delgado como para caber en la arteria. Después, avanzaron esa válvula a través de una vaina, maniobrando bloqueos en las arterias de la pierna de Guindi y stents de procedimientos anteriores, y finalmente alcanzaron y reemplazaron la válvula aórtica enferma. Guindi pudo regresar a casa al día siguiente.
Haroun dijo que su padre experimentó una experiencia sinuosa y desafiante que condujo al TAVR. La salud de Guindi se había deteriorado constantemente durante dos años mientras los síntomas empeoraban, y luchaba por respirar y caminar. Los cardiólogos realizaron pruebas y debatieron las opciones de tratamiento disponibles para Guindi como paciente de alto riesgo. La terapia médica no había logrado controlar sus síntomas y no era elegible para una terapia avanzada para la insuficiencia cardíaca, incluyendo un trasplante de corazón o un dispositivo izquierdo de asistencia ventricular (LVAD).
Cuando el especialista en insuficiencia cardíaca Ahmed Seliem, MD, se reunió con Haroun y Guindi, los remitió a cardiología intervencionista estructural para ver qué se podía hacer. En ese punto, Mohsen dijo que el corazón de Gundi solo funcionaba a una capacidad del 15%, lo que hacía que cualquier procedimiento fuese arriesgado, «pero su única opción». Mohsen comunicó los riesgos del TAGR con Guindi en su lengua materna, el árabe, y la familia optó por seguir adelante con el procedimiento.
«Entendimos que el procedimiento era arriesgado, pero decidimos seguir adelante porque mi padre estaba en mal estado, y su calidad de vida hubiese seguido disminuyendo», dijo Haroun.
Un mes después del procedimiento, Guindi dijo que «se siente bien» y puede volver a su vida pacífica como farmacéutico retirado. Ha recuperado la capacidad de atender los recados diarios y disfrutar de los paseos por el vecindario.
«Los doctores Seliem, Mohsen y Hoff trataron a mi padre como si fuese un miembro de la familia», dijo Haroun. «Estaban dispuestos a correr el riesgo y ayudarlo haciendo que este procedimiento se llevase a cabo».
Pruebas recientes revelaron que la función cardíaca de Guindi aumentó al 25% y Mohsen dijo que tiene la esperanza de una mayor mejora con el tiempo.
____________________
Por Lisa Aubry