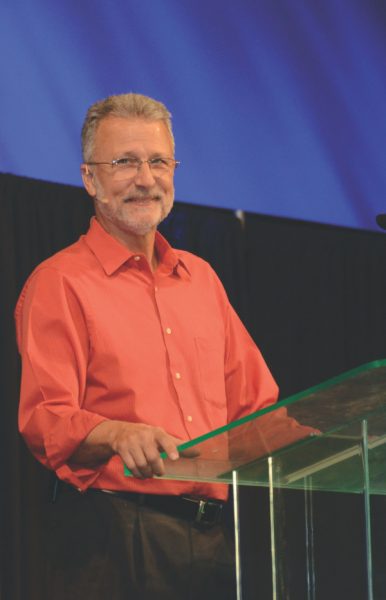 Camp Yavapines is a beautiful respite from the heat of the lower valleys of Arizona during the summer months. With temperatures that average 20 degrees lower than the Phoenix valley, the soothing sounds of wind in the pines, stars that shine brightly at night, and the songs of birds in the cool early mornings, the camp provides the perfect atmosphere to recharge and reconnect with God. Throughout the first half of June, two large groups of people came to Yavapines for this recharge and renewal.
The Arizona Conference Hispanic Ministries Camp Meeting focused on the three traditional aspects of life: the mind, the body, and the soul. Cooking classes, daily devotionals, family Olympics, mental health seminars, and daily soccer games were all a part of ministering to the whole person. Each morning started off early with retired Pacific Union Conference Hispanic Ministries Coordinator Elder Jorge Soria leading out in a special prayer session at 6:45 a.m. Pastor Carlos Martin had the evening devotionals, while Drs. Andres Ramírez and Blanca Nelly Guerra Zambrano held separate seminars on keeping strong mentally. Teresita Beltrán Castro led each afternoon's cooking class.
The following week, the Arizona Conference Camp Meeting kicked off with the Venden family beginning their study of the Gospel of John. Cousins Lee and Gary Venden, along with Gary's wife Marilynn, presented a powerful series of messages each morning and evening. Pacific Union Conference Director of Public Affairs and Religious Liberty Alan J. Reinach presented his series focusing on how patriotism, religious liberty, faith, and religion all intersect in our society. Pediatrician Ugonna Woods gave insight into healthy living in her daily health seminar. Each morning Pastor Paul Blake started the day with his devotional series on "Truth Matters."
Music played a key part in the ministry on the weekends. During Hispanic Ministries Camp Meeting, Cuarteto Legado were the featured musical guests. Marilynn Venden's singing was an integral part in each of the devotional meetings during the second week of camp meeting. 3ABN Praise Him Music Network Director Tim Parton was the guest musician for the weekend of the Arizona Conference Camp Meeting. The Camp Meeting Anthem Choir and Orchestra, directed by Dennis Marsollier, was another highlight.
Baptisms punctuated the Sabbath program each week. These baptisms demonstrate that the Year of Evangelism is going strong in the Arizona Conference. Two separate pastor ordinations took place, one on each Sabbath, and a teacher commissioning service was held during Sabbath School of the second weekend.
President Ed Keyes echoed the sentiment of many attendees at the conclusion of the camp meetings, "I was blessed by the music and the wonderful messages during camp meeting."
____________________
By Jeff Rogers