By the Recorder editorial staff
William Ward Simpson was born in Brooklyn, New York, on August 1, 1872, to English parents. The family moved back to England shortly afterwards and then returned to the U.S. when he was 11. His father died soon after the voyage.
When William fell ill, his mother was advised to take him to Battle Creek. Though from an atheist family, William accepted the Adventist message at 18 and began work in the Sanitarium and later at the Review and Herald.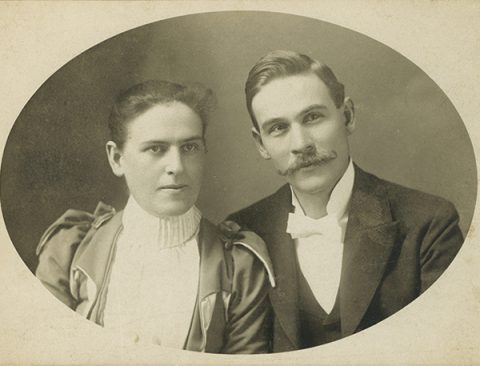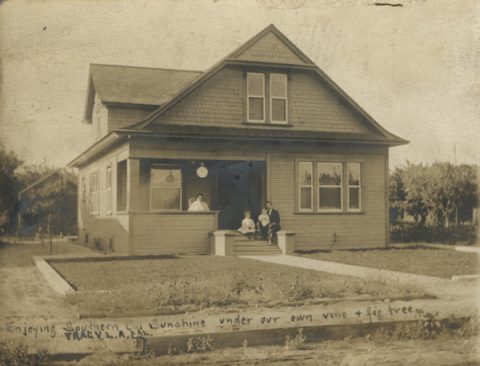 One day, as he operated one of the printing machines, he announced to his foreman that he was leaving "to preach the third angel's message." Soon after he was given a ministerial license, and he worked both in Michigan and in Ontario, Canada, which came under the Michigan Conference at that time.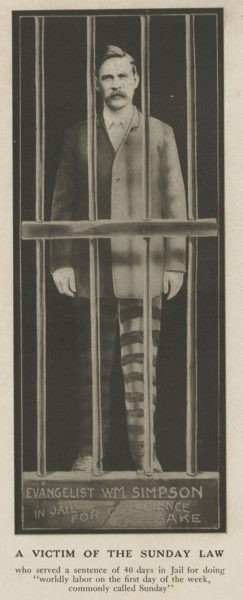 He organized a church in Kent County, Ontario, but while there he was imprisoned for 40 days for the crime of "desecrating the Sabbath" under the local Sunday laws. While in prison he wrote poetry and sent letters, one of which records his experience and was printed in the Review and Herald: "My cell is so small I have hardly room to undress. I am locked in at six o'clock, and let out at seven next morning, so you see that the most of my time is spent there. I am not lonely; for the most precious experiences of my life have been while locked in my cell. Instead of being shut in by bare walls, it seems like being shut in with Jesus."1 He later used this experience in some of his handbills advertising his evangelistic meetings.
In 1897 he and another licensed minister began a church among the Iroquois in a reservation near Brantford, Ontario—the first Native American church in North America.
In 1899 he married Nellie Ballenger, daughter of Adventist pioneer John Fox Ballenger, having first met the family in 1894.
Moving to California in 1902, he developed his evangelistic strategies and held meetings in Redlands, Riverside, Pasadena, San Diego, San Francisco, and Oakland.
But his greatest work was reserved for the city of Los Angeles. Beginning in 1904, he held public meetings in the downtown area and attracted thousands.
Using graphic illustrations and clear expositions of Bible truth, he convinced many of the Advent message. After the first set of meetings, over 200 were baptized. When it was thought he would finish, a petition was circulated by the local people, urging more meetings.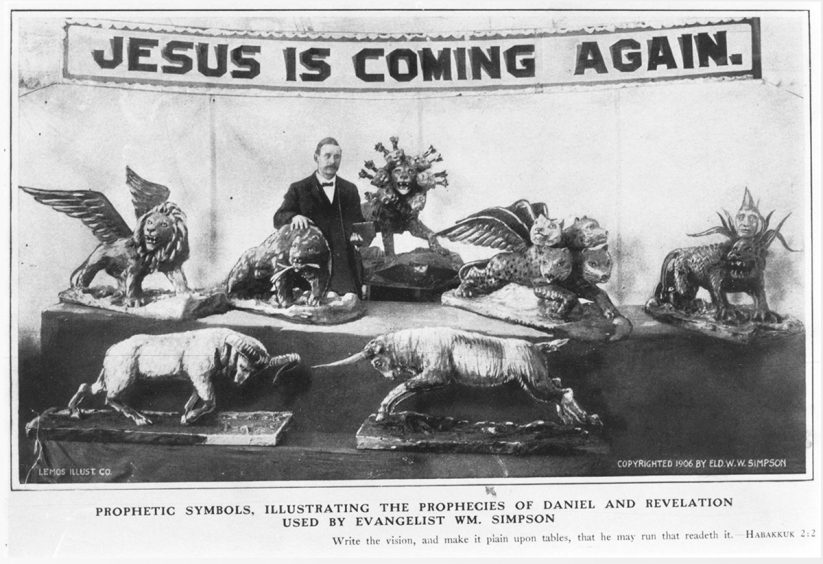 When the conference did suggest a move, Ellen White opposed it. She took a great interest in Simpson's work, writing to him several times. However, she was concerned about burn-out, telling him, "I am deeply interested in your work in Southern California. I am so anxious that you shall not break down under the strain of long, continuous effort. Let someone connect with you who can share your burdens. This is the plan that was followed by the Great Teacher. He sent His disciples out two and two."2 
She also spoke very favorably about his methods: "Brother S is an intelligent evangelist. He speaks with the simplicity of a child. Never does he bring any slur into his discourses. He preaches directly from the Word, letting the Word speak to all classes. His strong arguments are the words of the Old and the New Testaments. He does not seek for words that would merely impress the people with his learning, but he endeavors to let the Word of God speak to them directly in clear, distinct utterance. If any refuse to accept the message, they must reject the Word."3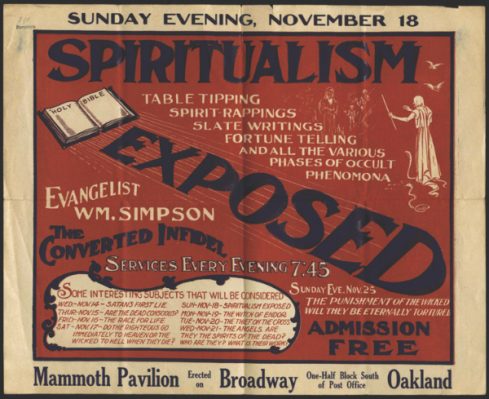 She praised his ingenuity: "I am pleased with the manner in which our brother [Elder S] has used his ingenuity and tact in providing suitable illustrations for the subjects presented—representations that have a convincing power. Such methods will be used more and more in this closing work."4 So it was all the more tragic that he died so early, at the age of 34 in 1907, leaving behind his wife and three young children. Ellen writes of her sadness: "While we were at Loma Linda, we were made sad to hear of the death of Elder W.W. Simpson. Brother Simpson was a man who thoroughly believed the message for this time, and he preached it with power. His winning way of presenting Bible doctrines, and his ability to devise and to use suitable illustrations, enabled him to hold the close attention of large congregations. He had confidence in the power of the word of God to bring conviction, and the Lord greatly blessed his efforts in the salvation of many souls."5
Ministerial colleague Roderick S. Owen conducted Simpson's funeral and wrote, "The service, conducted in the Central church in Los Angeles, was attended by a large concourse of people.... He was buried in the new cemetery at Tropico, Cal., where he will sleep in Jesus until the voice of his Master calls him forth to behold, in wonder and rapture, the scene of Christ's return to earth, which scene he has so often and so vividly portrayed before his audiences."6
Even so, come, Lord Jesus.
_____________________________
1. William Simpson, "From Chatham Jail," Review and Herald, May 26, 1896, p. 333.
2. Ellen G. White, "Proper Voice Culture," Manuscript Releases, vol. 9 (Silver Spring, MD: Ellen G. White Estate, 1990), p. 15.
3. Ellen G. White, Evangelism (Washington, DC: Review and Herald Pub. Assn., 1946), p. 204.
4. Ellen G. White, Evangelism, p. 205.
5. Ellen G. White, "Notes of Travel—No. 2," Review and Herald, Aug. 1, 1907, p. 8.
6. Roderick S. Owen, Review and Herald, May 23, 1907, p. 23.
Pioneros adventistas en el oeste: William Ward Simpson 
Por el personal editorial del Recorder
William Ward Simpson nació en Brooklyn, Nueva York, el 1 de agosto de 1872, de padres ingleses. La familia regresó a Inglaterra poco después y luego regresó a los Estados Unidos cuando tenía 11 años. Su padre murió poco después del viaje.
Cuando William se enfermó, se le aconsejó a su madre que lo llevase a Battle Creek. Aunque provenía de una familia atea, William aceptó el mensaje adventista a los 18 años y comenzó a trabajar en el sanatorio y más tarde en la Review and Herald.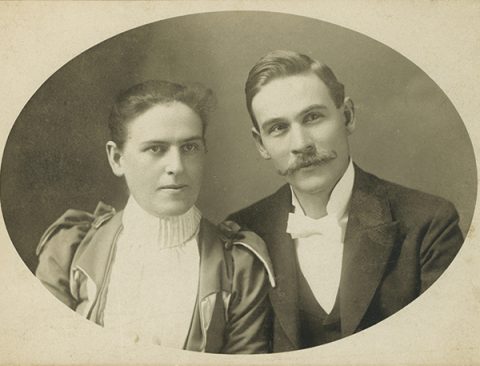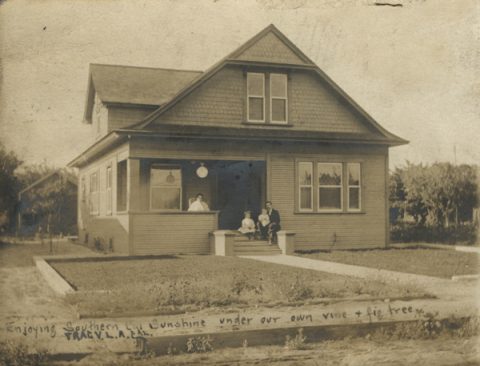 Un día, mientras operaba una de las máquinas de impresión, anunció a su capataz que se iba «a predicar el mensaje del tercer ángel». Poco después se le dio una licencia ministerial y trabajó tanto en Michigan como en Ontario, Canadá, que estaba bajo la Michigan Conference en ese momento.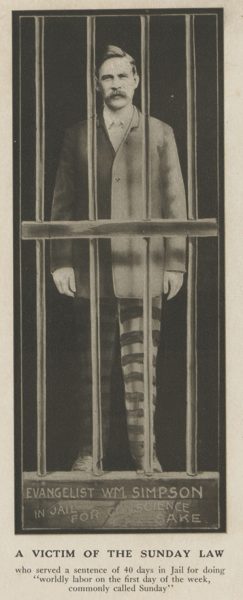 Organizó una iglesia en el condado de Kent, Ontario, pero mientras estuvo allí fue encarcelado durante 40 días por el delito de «profanar el sabbath» bajo las leyes dominicales de la localidad. Mientras estuvo en prisión escribió poesía y envió cartas, una de las cuales registra su experiencia y fue impresa en la Review and Herald: «Mi celda es tan pequeña que apenas tengo espacio para desvestirme. Estoy encerrado a las seis en punto y me dejan salir a las siete de la mañana siguiente, así que la mayor parte de mi tiempo lo paso allí. No estoy solo; porque las experiencias más preciosas de mi vida han sido mientras estaba encerrado en mi celda. En lugar de estar encerrado por paredes desnudas, me parece estar encerrado con Jesús».1 Más tarde usó esa experiencia en algunos de sus boletines anunciando sus reuniones evangelísticas.
En 1897, él y otro ministro comenzaron una iglesia entre los iroqueses en una reserva cerca de Brantford, Ontario, la primera iglesia nativa americana en Norteamérica.
En 1899 se casó con Nellie Ballenger, hija del pionero adventista John Fox Ballenger, habiendo conocido a la familia en 1894.
Al mudarse a California en 1902, desarrolló sus estrategias evangelísticas y celebró reuniones en Redlands, Riverside, Pasadena, San Diego, San Francisco y Oakland.
Pero su mayor obra estaba reservada para la ciudad de Los Angeles. A partir de 1904, celebró reuniones públicas en el centro de la ciudad y atrajo a miles.
Usando ilustraciones gráficas y exposiciones claras de la verdad bíblica, convenció a muchos del mensaje de Adviento. Después de la primera serie de reuniones, más de 200 fueron bautizados. Cuando se pensó que terminaría, la población local distribuyó una petición, instando a más reuniones.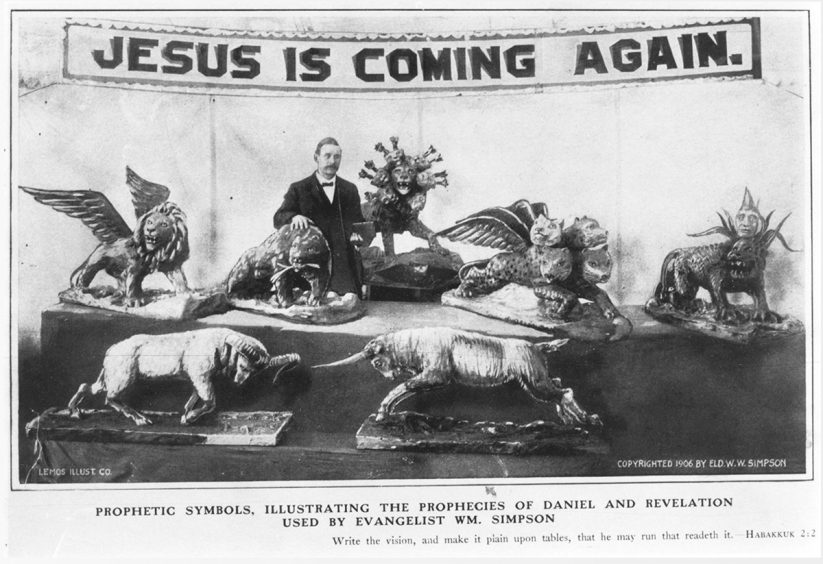 Cuando la conferencia sugirió un traslado, Elena White se opuso. Ella tomó un gran interés en el trabajo de Simpson, escribiéndole varias veces. Sin embargo, estaba preocupada por su agotamiento, escribiéndole: «Estoy profundamente interesada en su trabajo en el sur de California. Estoy tan ansiosa de que no se derrumbe bajo la tensión de un esfuerzo largo y continuo. Deje que alguien se conecte con usted para que pueda compartir sus cargas. Éste es el plan que fue seguido por el Gran Maestro. Envió a sus discípulos de dos en dos».2 
También habló muy favorablemente sobre sus métodos: «El hermano S es un evangelista inteligente. Habla con la sencillez de un niño. Nunca arrastra sus palabras en sus presentaciones. Predica directamente de la Palabra, dejando que la Palabra hable a todas las clases. Sus firmes argumentos son las palabras del Antiguo y del Nuevo Testamento. No busca palabras que simplemente impresionen a la gente con su conocimiento, sino que se esfuerza por dejar que la Palabra de Dios les hable directamente en una expresión clara y directamente. Si alguno se niega a aceptar el mensaje, debe rechazar la Palabra».3
Ella elogió su ingenio: «Estoy complacida con la manera como nuestro hermano [el pastor S] ha usado su ingenio y tacto para proporcionar ilustraciones adecuadas para los temas presentados —representaciones que tienen un poder convincente—. Tales métodos se utilizarán cada vez más en esta obra final».4 Así que fue muy trágico que haya muerto tan joven, a la edad de 34 años en 1907, dejando a su esposa y tres hijos pequeños. Ellen White escribió sobre su tristeza: «Mientras estábamos en Loma Linda, nos entristeció enterarnos de la muerte del pastor W. W. Simpson. El hermano Simpson era un hombre que creía plenamente en el mensaje para este tiempo y lo predicó con poder. Su manera ganadora de presentar las doctrinas bíblicas y su capacidad para idear y usar ilustraciones adecuadas, le permitió mantener la atención de grandes congregaciones. Tenía confianza en el poder de la Palabra de Dios para producir convicción y el Señor bendijo grandemente sus esfuerzos en la salvación de muchas almas».5
El colega ministerial, Roderick S. Owen, dirigió el funeral de Simpson y escribió: «Al servicio, llevado a cabo en la iglesia central de Los Angeles, asistió una gran concurrencia de personas... Fue enterrado en el nuevo cementerio de Tropico, California, donde dormirá en Jesús hasta que la voz de su Maestro lo llame a contemplar, con asombro y éxtasis, la escena del regreso de Cristo a la tierra, escena que tan a menudo y tan vívidamente ha presentado ante sus audiencias».6
Así sea, ven, Señor Jesús.
_____________________________
1 William Simpson, "From Chatham Jail," Review and Herald, 26 de mayo de 1896, p. 333.
2 Ellen G. White, "Proper Voice Culture," Manuscript Releases, vol. 9 (Silver Spring, MD: Ellen G. White Estate, 1990), p. 15.
3 Ellen G. White, Evangelism (Washington, DC: Review and Herald Pub. Assn., 1946), p. 204.
4 Ellen G. White, Evangelism, p. 205.
5 Ellen G. White, "Notes of Travel—No. 2", Review and Herald, 1 de agosto de 1907, pág. 8.
6 Roderick S. Owen, Review and Herald, 23 de mayo de 1907, p. 23.