100 Worship Leaders and Renowned Musical Artists Attend Loma Linda Institute of Worship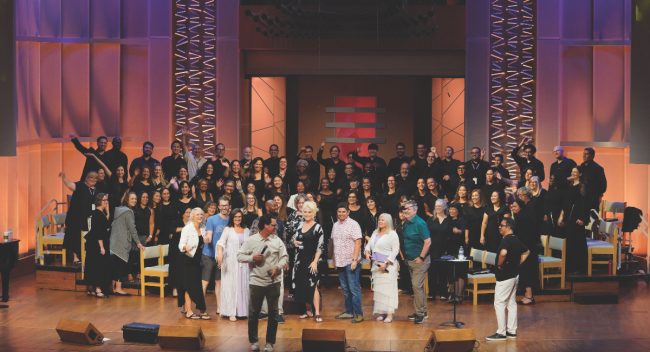 One hundred eager worship leaders gathered at Loma Linda University church (LLUC) for the Worship Leadership Certificate event, organized by the Loma Linda Institute of Worship. The four-day event conference occurred in August to certify, train, and provide resources for church worship leaders and music directors.
Worship leaders and pastors came from Australia, South Africa, Spain, Colombia, Brazil, Argentina, Mexico, the Bahamas, Canada, and several regions of the U.S. Attendees worshipped together and attended workshops to gain knowledge and resources to use during worship-leading experiences at their home churches.​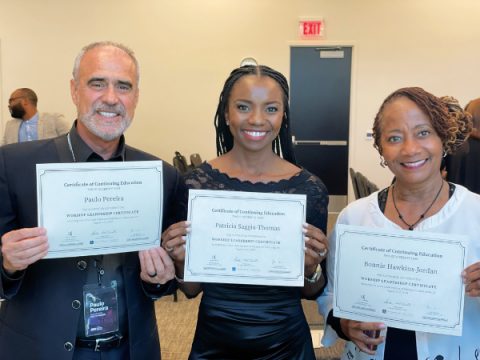 ​Special guests included Camp Kirkland, renowned conductor, arranger, and composer; the Heritage Singers; and Steve Green, a four-time Grammy-nominated singer.​
​Attendees enjoyed speaking sessions with leaders like Adriana Perera, director of worship and musical arts at LLUC; Nicholas Zork, an NYC-based songwriter, music director, and teacher; Wayne Bucknor, songwriter, composer, and professor of piano at Oakwood University; and many other remarkable musicians.
As the executive director for the Loma Linda Institute of Worship, Perera spearheaded much of the event logistics and planning in partnership with Josh Jamieson, who served as creative director, and Brenda Mohr, the Sanctuary Choir conductor at LLUC.​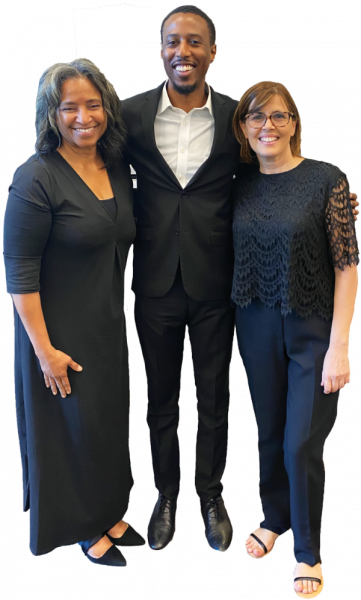 ​During the event, attendees joined the Sanctuary Choir and orchestra to form a mass choir directed by Camp Kirkland. The choir sang alongside Steve Green and the Heritage Singers as well.
"We experienced God's presence as we worshiped together," said Perera. "It was inspiring for worship leaders who come from different backgrounds to experience diverse expressions of worship."
Workshop sessions included practical lessons on songwriting for congregational worship, singing, and healing.  Other topics included biblical foundations for worship, worship leadership, technology, social media, and more.
Trusting God during planning
Five weeks before the event started, registration was low. Perera prayed to God for His help to reach worship leaders so they could benefit from this conference they had planned. That day, the Loma Linda Institute of Worship started receiving donations toward scholarships for attendees.
"Our mission was God-led," said Perera. "I'll never forget that prayer where He reminded me this event was about Him and He would bless it. And He did."
By Danni Thaw
Azure Hills Church Hosts Community Back-to-School Resource Fair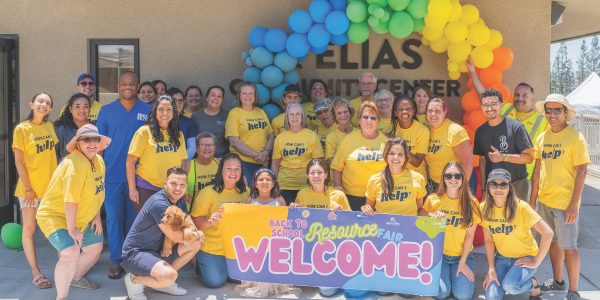 "Whoa! Look at how many games they have!" exclaimed one young boy to his brother as they filed into the Elias Community Center, a 4,000-sq.-ft. building dedicated to community engagement. Huge smiles spread across their faces as they saw the table piled high with colorful game pieces.​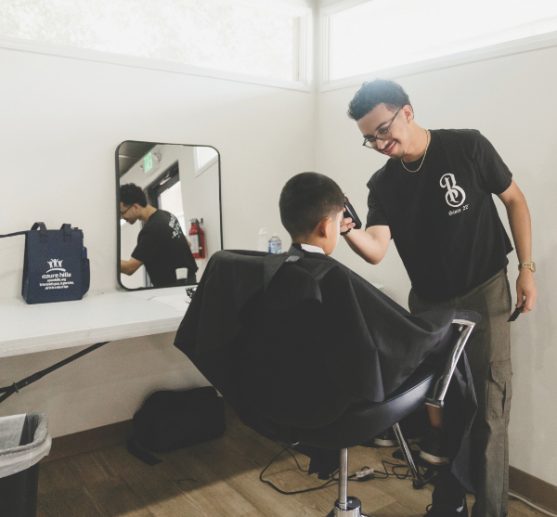 ​"Balloon animals, face painting, a jumper! This place just keeps getting more and more awesome," the boys continued, eyes wide with excitement. While the fun kid-friendly activities certainly drew the attention of our younger guests, the more practical resources were a hit with their parents and guardians.​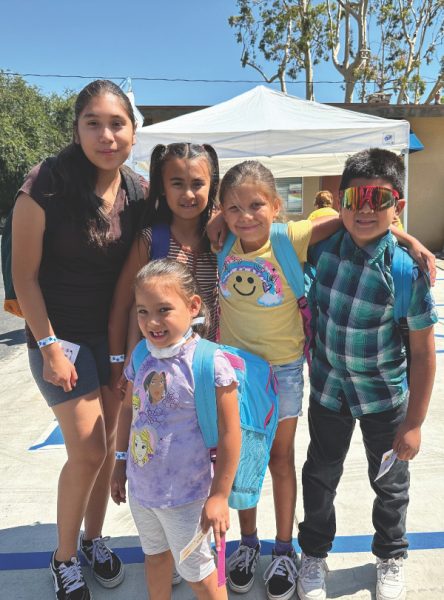 ​Azure Hills church hosted a community resource fair this past July to assist local families with children in preparing for the upcoming school year. Approximately 120 local families attended, and they were provided resources such as backpacks with school supplies, calendars, diapers, and school clothes. They also appreciated the services provided, including dental cleanings, pediatrician check-ups, back-to-school portraits, and even massages for the grown-ups.
Laia Amaya, community engagement director at Azure Hills, said, "Our church is committed to building trust with our neighbors. We continue to strive to be a church that is safe, supportive, and involved, one that connects people to the heart of Jesus. Whether you are a community leader, a pastor, or a volunteer, you can join the mission to be a voice of hope in your own neighborhood—a voice that listens well to those around you."
More than 40 adult volunteers and their families showed up to help the day of the event, joining with multiple community partners and vendors to set up booths, distribute supplies, play games, manage refreshments, take down equipment, and connect people with resources.
By Katie Sacdalan
Kids Konnect
Five Dollars
Tithe was something that Lauryn's parents had always talked about, but it was never something that Lauryn worried about…until now. 
"I have to give five whole dollars?!" Lauryn asked her mom. "That's so much!"
"It's ten percent of what you earned this month. That's a small number," her mom replied. "Tithe is giving back to God and to the church. The money will go toward important ministries that will help other people. You're helping God out by giving those five dollars!"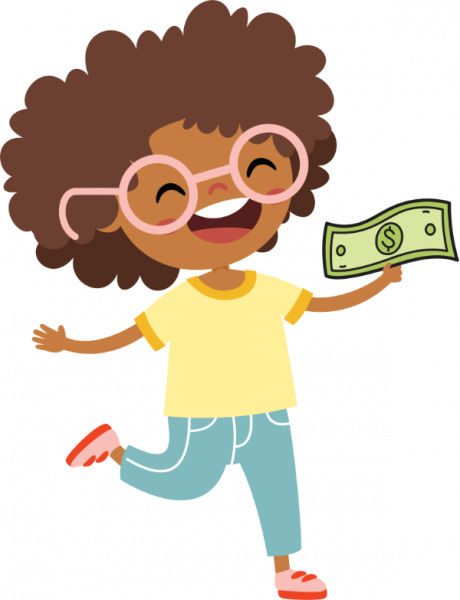 Lauryn thought about it. God helped her out so much; it made sense that she should help Him and His church too. There were so many cool things that her church did with the help of tithe! 
That Sabbath, Lauryn placed her five dollars into the tithe envelope and dropped it in the offering plate as it passed through her pew. Her parents smiled and gave her a side hug in their seats. Even though she was a little sad to give away some money, Lauryn felt happy that she was able to help her church. Maybe the five dollars would go toward her Pathfinder club!
As Lauryn and her family left church, one of the deacons stopped them. He looked at Lauryn and asked, "Did I see you give your tithe today?" 
"Yes!" Lauryn answered proudly. "A whole five dollars."
"That is amazing!" The deacon grinned. "It warms my heart to see our young people giving tithe too. I want to give this to you as a thank you for your offering." To Lauryn's surprise, he pulled out a 10-dollar bill and gave it to her. She gasped and thanked the deacon from the bottom of her heart. Giving really did feel good!
"A generous person will prosper; whoever refreshes others will be refreshed" (Proverbs 11:25, NIV).
By Megan Jacobs