Newsletter for Central California Conference
Turlock Church gives to their community through God's Closet
"We had no idea what we were getting into. We just wanted to see if there was a way we could give some free clothing to the community," says Stephanie Monteith about the God's Closet clothing program Turlock Church offers to their community. Monteith manages outreach and marketing for this program.
About 450 people come through the event each time, which begins at 9:30 am. But at the most recent event in April, there were already people waiting at the entrance at 5:30 am. "It's become very well known in the community and people get there early," says Monteith.
Christine Briggs originally started this program in 2016, having experienced other chapters of God's Closet. She continued for three years, and then Jess and Kathy Francesco took over the program and they continue to manage it.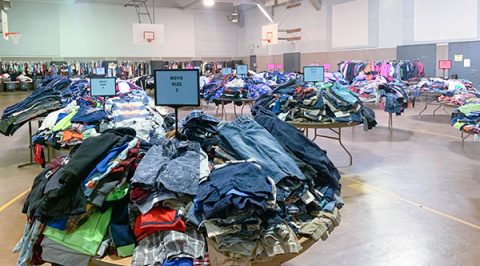 God's Closet increased in size and impact much faster than imagined. One of the church members built a donation shed that sits in the parking lot to receive donations from the community, which are
then given to those around them in need. Volunteers sort the clothing weekly to organize into sizes and remove anything not reusable.
Then in the spring and fall each year, they have free shopping days. Bags are provided to fill with clothing, shoes, items for babies, and more. A signup for Bible studies is offered, and there is even a prayer corner. The pastor also moves through the group talking to people and finding prayer requests. "We bring these to our church members, pray over the prayer requests, and follow up on any Bible studies," explains Monteith.

There are usually about 40 volunteers from the community, and if they help with setting up and at least two hours, they are allowed to have first choice in the clothing. "It's a great way to get your church known in the community," says Monteith.
If you are interested in learning more, you can contact the church office, (209) 632-2426, and they will put you in connection with the person who runs this program.
By Brennan Hallock
---
The Haystack Grant Is Teaching Schools How to Grow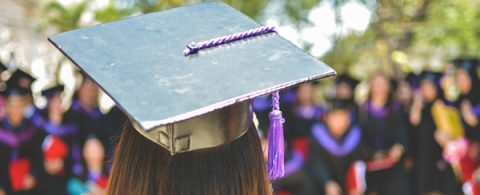 Growth for Adventist schools is possible with the proper funding, a strong school board, and effective marketing, but this seems unattainable to some teachers and school leaders. The Haystack Grant was provided to offer training and education for school leaders so they can manage their schools effectively. The participants are some of the Central California Conference principals, administrative teams, and board of trustee members.
The Haystack Grant was started as a pilot program to determine its effectiveness in improving schools and making them handle some of the unique challenges faced by Adventist education. The 11-month program has had powerful impacts on the four schools involved, which are Sierra View Junior Academy, Bakersfield Adventist Academy, Hollister SDA Christian School, and Mountain View Academy.
Charlotte Henderson, certified fundraising executive for the program, said the four schools had an overall enrollment increase of 30 percent. Additionally, the overall fundraising between the four schools increased by nearly 50 percent annually.
"We taught them proven methodologies and practices to get their school board structure fine-tuned so they have an efficient and effective board, which is the key to increasing enrollment and fundraising," explained Henderson. She has worked with schools within the CCC closely for the past few decades and has seen firsthand how to effectively accomplish these goals.
This program brings training sessions, reading materials, online videos, and more
to participants so they have what they need for success. They walk away with an expanded knowledge of marketing and fundraising as well as proven methodologies and practices to see the success they're looking for.
Beyond new skills and training, schools that complete this program will also receive a $1,000 grant. The majority of the training is virtual, and upon completing the program, participants are able to take advantage of a second-year follow-up training. This includes four video conferences that work to keep the momentum going.
The support this program offers can make a difference for local schools and the communities they reside in. If your school is struggling, know that there is hope. It may be time to refresh your practices and take your learning to the next level.
By Brennan Hallock
---
Monthly Pit Stop Youth Gatherings Bring Unity to Area 8 Churches
God put an idea into Pamela Swartzman's heart, and she chose to act. She saw the need to unify a community bigger than just her church. The result has been monthly youth nights for all the nearby Adventist churches.
These events take place at Turlock Church. Churches participating include Waterford Church, Patterson Church, Merced Bethel Church, and more. When this was started, about 50 people attended, and now about 175 join every month.
"Our church is a middle ground for eight churches. This keeps consistency," Swartzman noted.
"I didn't see a lot of occasions where we gathered together and I thought, especially after COVID, kids needed something to look forward to. We are all busy in our own churches, and I wanted to see the bigger picture," she added. "It is beautiful to see everyone there for one purpose."
Pit Stop Youth gatherings are held the fourth Sabbath of every month, and the next one happens Sept.
23. Programs start at 4 pm, when children check in at the information center for their name tags. They mingle, then there is a roll call. The pastor calls out the churches, and each church group cheers for their church.
Parents step up and act out snippets, and children and adults give devotionals. The attendees are blessed with praise music, short stories, skits, a speaker—which is sometimes one of the children attending—games, sports, and even a raffle. Each church shares the financial burden of providing the dinner as well.
The Pit Stop crew focuses on games for kids from kindergarten to college. Kids often play basketball, pickleball, Jenga, air hockey, glow in the dark soccer, and more.
This program brings parents together as well, which builds community. "The unity we see is beautiful," Swartzman shared. "In my dream God said, 'It's not you running this, it's Me!' I've had volunteers cancel 30 minutes before, and God finds a way," she added.
By Brennan Hallock