"The Prophets of Baal"
Elijah part 18
 
And Elijah said to them, 'Seize the prophets of Baal! Do not let one of them escape!' So, they seized them, and Elijah brought them down to the brook Kishon and executed them there.
As I've been going through a verse-by-verse account of the story of the prophet Elijah, I have found that these devotionals have been good for me. I hope they've been good for you as well. As we review the incredible story of one of the greatest prophets in Israel's history it is amazing to see how God was working in and through his life. However, when we come to this verse it gives us a shudder. It's hard for us to imagine the prophet Elijah ordering the people to take these prophets of Baal and slaughter them. But, even in this difficult to comprehend passage we can find lessons from God's word.
 
After God proved that he was the one true God by sending fire from heaven his judgment fell on the prophets of Baal. At Elijah's command, the people themselves seized these evil men and executed them in the Kishon valley.
 
There is also a message for all mankind in this tragic event in the lives of the false prophets. God's judgment will eventually fall on all those who choose to disobey him. Though His mercy is great and His long-suffering beyond measure, there will come a day when unbelievers will be separated from God forever. The scriptures teach that "The wages of sin is death." (Romans 6:23) and the Book of Revelation speaks of that day when all those who have denied God and lived ungodly lives will be punished. (Revelation 20)
 
But the Bible also teaches that those who respond to God's love and grace will be saved. The same scripture that teaches that the "wages of sin is death" also teaches that the gift of God is eternal life through Jesus Christ our Lord.
 
Before we get too queasy about God's "judgment" of these unrighteous prophets, remember that ultimately He wants to save everyone. And even the prophets of Baal and the prophets of the Grove had an opportunity to turn their lives around and follow the true God. It is my prayer that each one of us will make the decision that Elijah did and follow God with total devotion.
---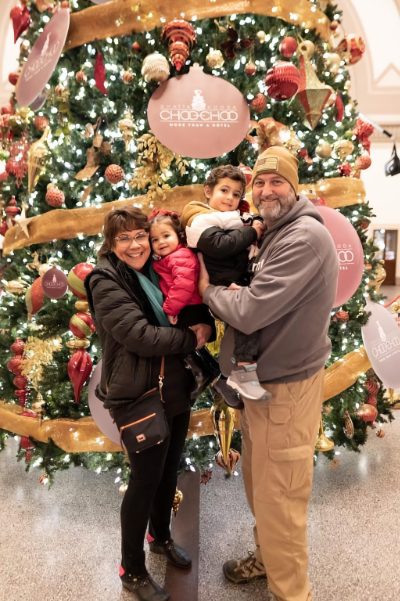 As we start this new year I want to first wish all of those who are reading these articles a wonderful and happy and prosperous new year. Most of all I wish for you an increasing amount of God's love and grace for your life. January started with my wife and I in Birmingham, AL as we were blessed to spend time with both my son and his wife and their grandkids and my daughter and her husband and our grand dog. We flew back on the 2nd and got to work immediately.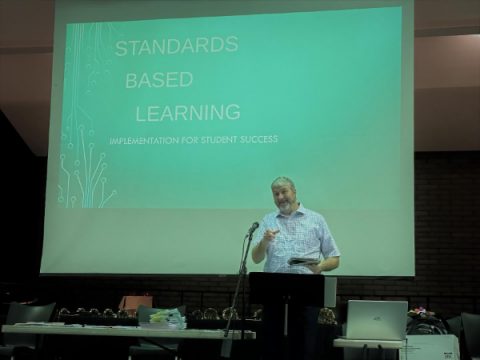 January 3 and 4 was a special teacher in-service meeting for standard based learning for our Arizona Conference educators. I had the privilege of giving the devotional on the first day of those meetings. It was great to be with all our educators and it was a joy to see our brand-new Superintendent of Education leading out in this important meeting. I pray that God bless all of our educators with the ability to teach and lead young people closer to Jesus in all that they do.
January 5 I was in the conference office preparing for the year ahead and organizing my schedule for all of the activities that would take place in 2023.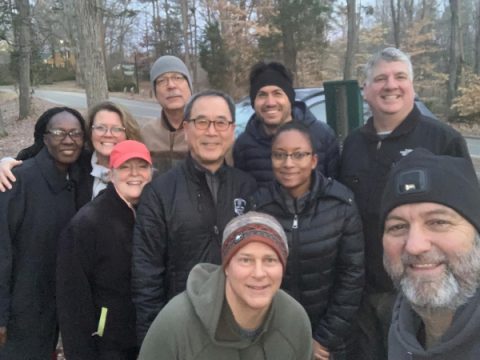 January 6 through 12 I had the privilege of being a part of the Adventist Ministries Convention in Greensboro, NC. I have spoken for these conventions many times and have been asked to do workshops and sermons all across the country. However, this time I had the best assignment I've ever had at a convention. I was asked to lead groups of hikers around the hills of North Carolina. The theme of the convention was to "Replenish" and focused on how workers in God's vineyard replenish themselves spiritually and physically. My part was to assist with the physical replenishing and each morning I lead out in a 6:00 AM pre-sunrise hike and then a 10:00 am hike. Needless to say that over the course of the convention I got a lot of steps logged.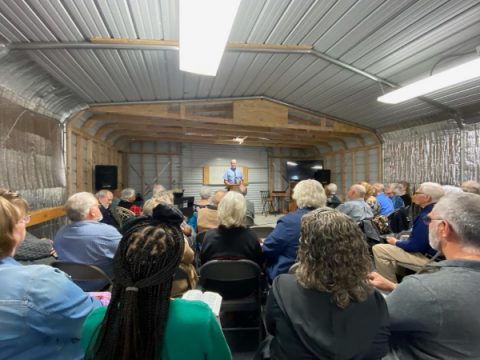 After being in Phoenix for a couple of days, I had the privilege of driving to Quartzsite, AZ on January 15 and preaching to a church that's not necessarily an official church. The people who meet each week to worship the Lord on Sabbath in a makeshift church there are dedicated and devout followers of Jesus. I had a blessed time with the 50 plus people and pray that God continue to bless them as they worship in spirit and in truth.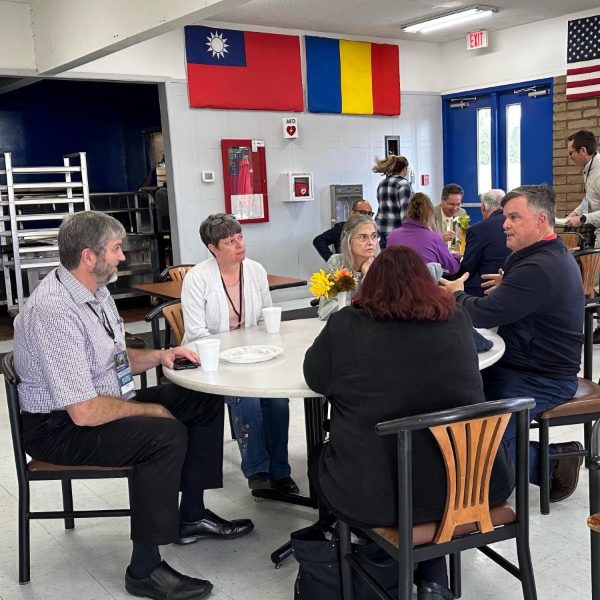 January 16 to 18 was our annual pastor-teacher team meeting called TEAM. It's great to have all of our workers together at the same time so that we can share with each other what's happening in our own fields. We had Dr. Bob Overstreet from Southern Adventist University as our featured speaker. He did a fabulous job presenting to our workers about emotional intelligence. All of the feedback heard from the pastors and teachers I spoke to were very positive about the impact his seminar would have on their ministry. I want to thank our Superintendent of Education Chris Juhl and our Ministerial Director Van Bledsoe for organizing this event. But you know who really gets the credit for the organization of the event is Kelly Sue Blake and Carolina Flores. Thank God for our wonderful administrative assistants at the Arizona Conference.
Later that week I also had the privilege of leading out in our staff worships each morning. What some of you may not realize is every day the office is open the staff gets together to worship and to pray for any particular issues that may be going on in the conference. We also pray for individuals who really need special prayer to strengthen them and give them guidance and hope.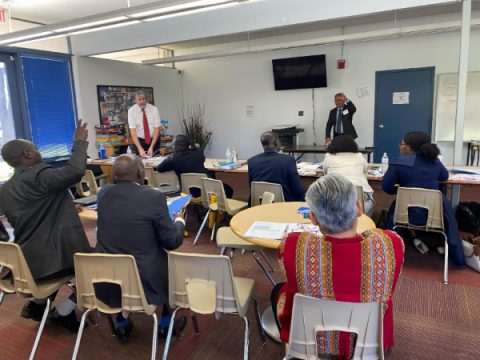 The weekend of January 20 & 21 I was blessed to be a part of Elder Villamor Meriales Family Life Leaders Training Program held in the student center at TAA. It was truly a blessing to see this group of leaders hungering for more knowledge on how to help families in their local churches get stronger which in turn leads to healthier and safer churches. 
The last full week of January was our bimonthly committee week. We had a great week with lots of discussion on the important matters of the Arizona Conference and God really blessed us with some great news. First of all our tithe is up over 4% which means we have more funds to help our 105 church groups and our ten schools. This is a very busy week but by the end of it our administrative team and I look back and praise God for his goodness.
The month of January finished off with me taking a special trip to Holbrook Indian School. It was great to be with the young people both Friday night and Sabbath sharing the wonderful Good News of God and his Amazing Grace. I was blessed to see the response of these young people to God's word. The leaders of the Academy were surrounded by young people showing the love of Jesus in their own lives. I was amazed to hear not only testimonies from young people about their growth in Jesus but testimonies from some of the staff members of what their lives have been like serving Jesus in this precious mission field. May God continue to bless the leadership of Holbrook Indian school. 
May God bless the entire Arizona Conference family. 
---

Central Valley Spanish Church
On December 3-10, the Central Valley Spanish church held an evangelistic meeting with guest speaker, Evangelist Omar Grieve. It was a well attended meeting and greatly blessed. At the end of the meetings the church celebrated with 12 baptisms.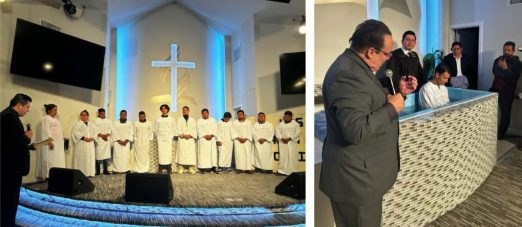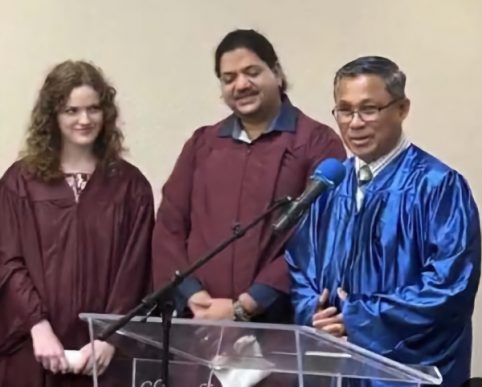 Chandler Fil-Am Church
It was a blessed Sabbath on January 14, 2023 at the Chandler Film-Am Church due to the decision of the wonderful couple, Danick and Katelynn An Adeline, to be baptized on Katelynn Ann's 23rd birthday. The couple attended the church for three months and felt very welcomed by the church. The Holy Spirit directed them in the right decision of accepting Jesus Christ as their personal Savior. Like Phillip in Acts, after they got baptized, Danick and Katelynn were very happy joining the Chandler Oil-Am Church.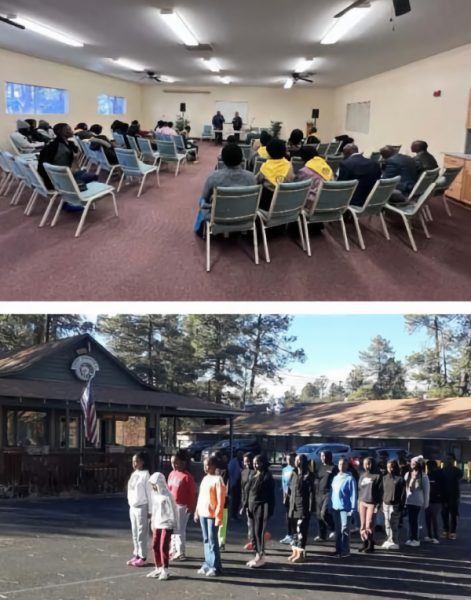 El Shaddai Company
The El Shaddai Company conducted their pathfinder camp meeting last November 25-27, 2022 at Camp Yavapines. It was a great pleasure for Elder Vallamor Meriales to give lectures on evangelism to the 45 attendees both young and old. This wonderful company is the fastest growing under the Multilingual Ministries. Because of their dedication of sharing the gospel of the kingdom to others, they were the highest in baptism in 2022 with at least 15 precious souls.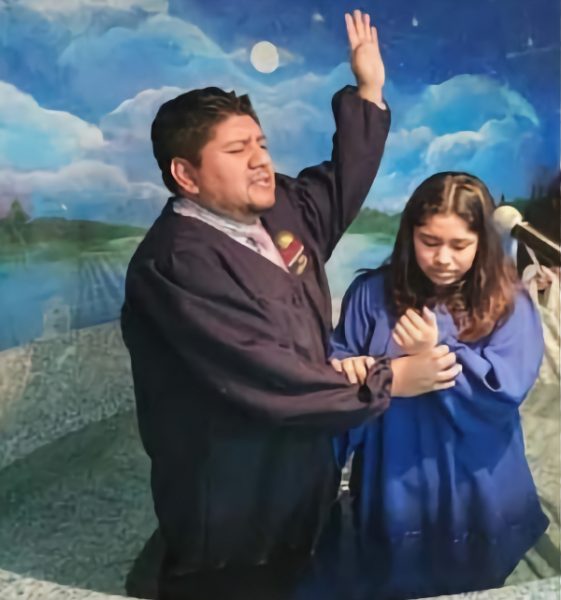 North Valley Spanish Church
To end the year, the North Valley Spanish church held a week of Stewardship with pastor Ivancy Araujo from Brazil. It was a very blessed week which closed with a baptisms. o tuvimos baptism.
Sedona Spanish Company
On December 30th, pastor Guerrero had the joy of baptizing his daughter, Isabelle Guerrero, at the Sedona church. May God guide Isabelle until His return.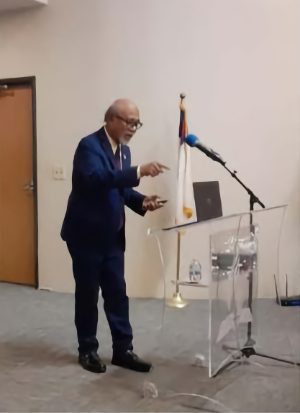 Phoenix Ghanaian Company
Because the year 2022 was the year of evangelism, the Phoenix Ghanaian Company participated joyfully by conducting a nightly evangelistic crusade by Dr. VicLouis Arreola III, PUC Vice President. They conducted their nightly meetings at the Chandler Oil-Am church being that most of their fellow Ghanaian are living in the Chandler area. It was well attended by the members both in person and in zoom with some non-SDA attendees. As a result two precious souls dedicated their lives to be baptized.

Family Ministries/Couples' Retreat
Pastor Ray Navarro, Executive Secretary of Arizona Conference, ended the year 2022 in the Family Ministry by conducting a very successful couple's retreat on December 2-3, 2022 at TAA chapel with the theme "POWER OF LOVE". Despite the very short time of promotion thank God for sending around 35 precious couples from different areas and churches. It was a pleasure to see some representatives from Chicago Fil-Am SDA Church and Las Vegas Film-Am Church at this couples' retreat. The retreat was finalized by a romantic banquet organized by Sister Eunice Lopez where Pastor Van Bledsoe, Ministerial Director, officiated the renewal of marriage vows at the TAA cafeteria.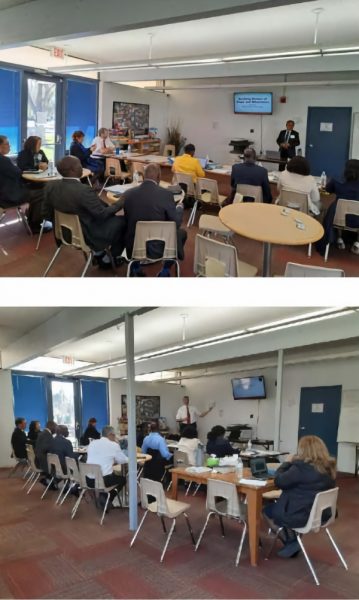 Family Ministries Certification Seminar
The Family Ministry conducted its first area certification seminar to all church family directors, associates, assistants and others who attended on Sabbath, January 21, 2023 at the Thunderbird Adventist Academy Student Center. Pastor Ed Keyes and Pastor Villamor Meriales presented to the few attendees yet they were committed to share the blessings to others. The ten precious individuals were very happy receiving their certificates that give them the authority to give lectures in their respective churches by virtue of the certification seminar they have attended. The theme for this certification seminar for this year is, "BUILDING HOMES OF HOPE AND WHOLENESS". It is the prayer of the department to preserve all families in the Adventist community especially in the Arizona Conference. A big thank you to all the churches who send their representatives such as the El Shaddai Company, Ghanaian Company, Phoenix South Mountain, Phoenix Myanmar Group and others.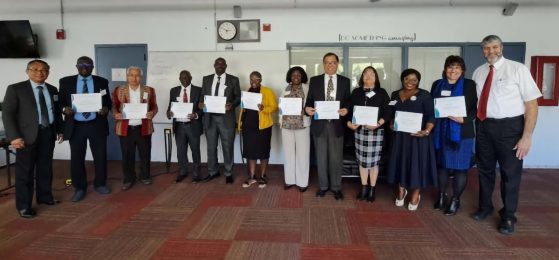 ---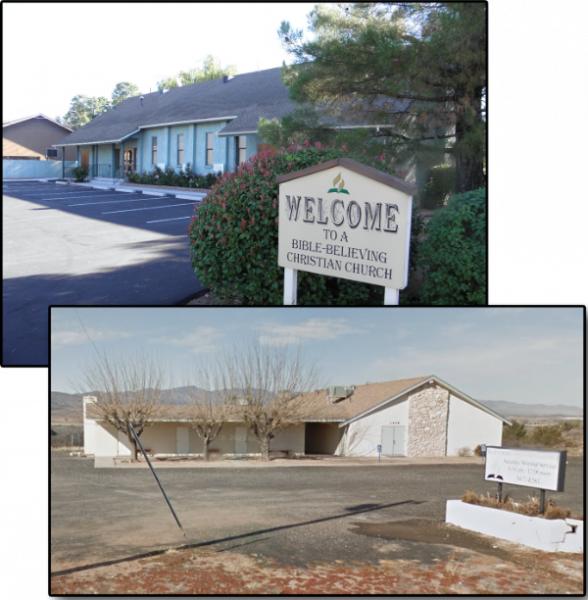 Camp Verde & Payson Churches
Pastor Mike Ortel of the Payson and Camp Verde Churches, shared with us some very exciting news earlier this week.
He told us that he recently asked a visitor at the Camp Verde Church, "So, how did you learn about our church and decide to come in the first place?" The visitor told him, "You." Confused by the answer, Pastor Mike then asked, "What do you mean, me?" The visitor then responded, "Well, I kept seeing you on TV asking me to come to your church, so I decided to come." 
We regularly air invitations to our various Arizona churches on Good News TV. If you're not sure whether we promote your church, then encourage your pastor to call and ask.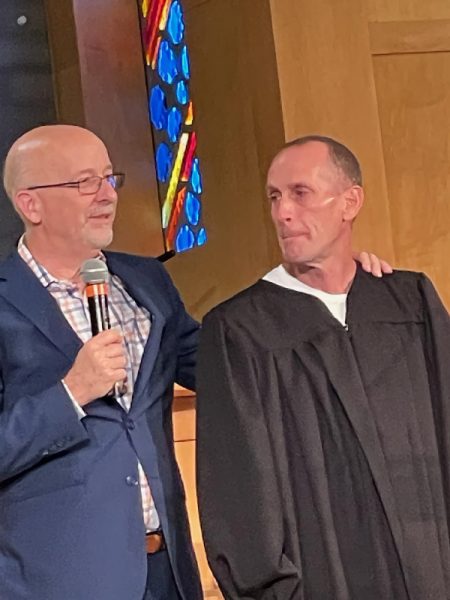 Pastor Mike went on to share that three recent baptisms at the Payson Church, including Jennifer, John and Lou, are also all Good News TV viewers, each of which first learned about our Bible-based beliefs and came to our church through watching our channels at their homes. "This ministry really works!", he exclaimed.
Paradise Valley Church
Pastor Hugh Barton of the Paradise Valley Church baptized James, another GNTV viewer, in January. Pastor Paul Blake, pictured with James, introduced him to the church prior to his baptism.
We praise the Lord for working in James life and for James making that decision for baptism. Please pray for James and all of our viewers.
We also praise the Lord for our Arizona Church families that nurture these new believers in their new faith journey. If you have Good News TV viewers attending your church please call to let us know.
THANK YOU for your prayers and support of Good News TV and GNTV Latino. 
God bless,    
Luke Skelton
Director, Media Ministry
480-264-1116
---
Thunderbird Adventist Academy
January was a busy month for the teachers in the Arizona Conference. The start of the month found all classroom instructors at TAA for a deeper, practical training in Standards Based Learning (SBL). SBL is the focusing of instruction to the standards that will help students experience success at the next grade level. Teachers really embraced the training and came away with a better understanding of how to enhance the good things already taking place in the classroom. The middle of January saw the teachers meeting with the pastors at TAA for an Emotional Intelligence Seminar. Dr. Bob Overstreet from Southern Adventist University spent the day helping teachers better understand how they relate to others and methods to help improve those interactions. Both seminars were a true blessing to the talented teaching staff here in Arizona.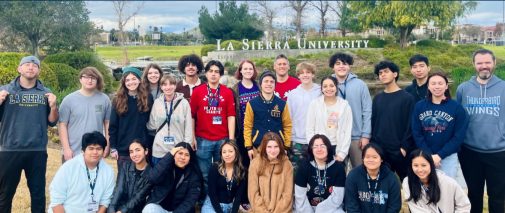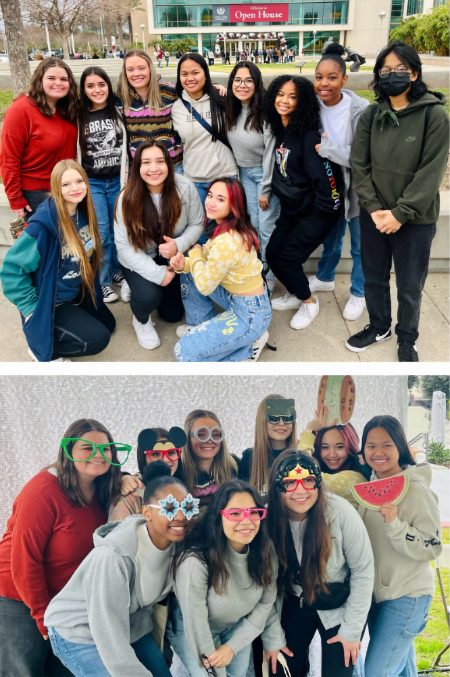 Students Visit LLU & LSU
By this time in the school year, Seniors, and even Juniors, are busy looking into career options, taking SAT and ACT exams, and visiting and applying to colleges. TAA especially encourages students to check into the diverse selection of Seventh-Day Adventist colleges, and helps connect students with recruiters and provides opportunities for college visits. At the end of January, several Senior girls visited Loma Linda University to explore various health care fields, from Dentistry and Medicine to Healthcare Administration and Speech Pathology. The students, talked with representatives from the academic programs, and got to tour the amazing medical simulation center. This trip gave them a great preview of what a career in healthcare can look like.
The Juniors also visited La Sierra University later the same weekend. They experienced life in the dorms, toured campus and specific departments depending on their interests, see with staff from various area and ate some delicious food from the LSU cafeteria. The students enjoyed seeing the gymnasium and fields where Coach Alex played as a college student. It was a busy couple days with a lot to take in, but it's never too early to start making future plans!
---
Certified Nurse Assistant Program
The Certified Nurse Assistance (CNA) program at Thunderbird Adventist Academy was created to give students interested in pursuing a career in the medical field an opportunity to gain medical knowledge, critical thinking development, patient care experience, and healthcare immersion. Once students graduate from the program they may receive their state license through the Arizona Board of Nursing by passing a knowledge and skill examination. This license, which may be transferable to other states, allows them to work as CNAs in any health care setting such as nursing homes, hospice, in-home care, and hospitals.
Students in the program learn patient care techniques to enhance patient's recovery or reach the highest level of comfort at the end of their lives. They also learn how to be an integral part of the health care team by assisting the nursing staff and be recognizing the first signs of potential physical, emotional or psychosocial decline in patients. In addition to the core curriculum, the CNA program is an excellent opportunity for students to learn service and to be the hands and heart of Jesus by providing compassionate care for patient's at their most vulnerable stage in their lives.
Instructor Eva Gonzalez, APRN, FNP-C, RN, shares, "It has been my joy and privilege to impart medical knowledge and my own personal patient care experience with my students. I pray that the Lord will continue to help me to inspire my students to give the best patient care possible and utilize their knowledge and skills to be an integral part of the Health Care team."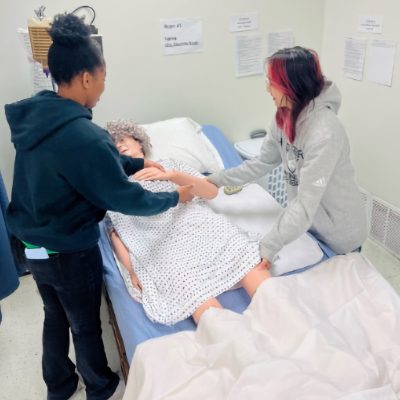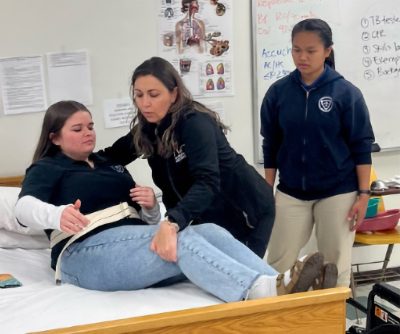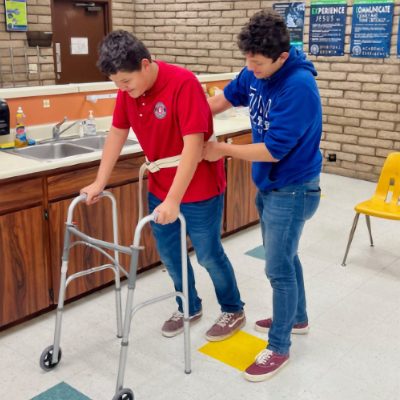 Students practicing
hands-on care during a skills lab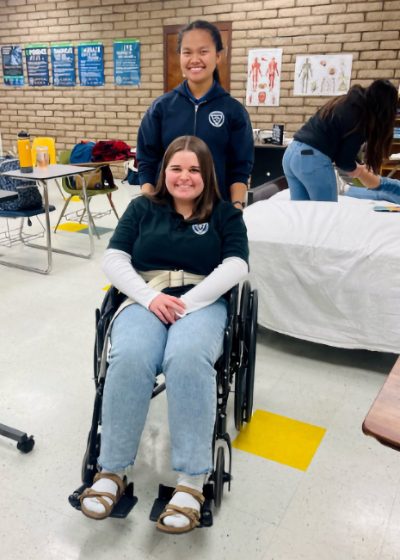 ---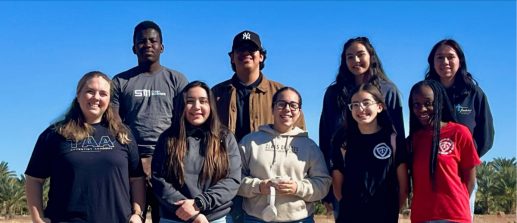 AZ Conference Recruiting
Ms. Kerysa Ford, registrar and some of the students have been busy visiting elementary schools around the Arizona Conference to meet with future TAA students. In January, they visited Saguaro Hills Adventist Christian School in Tucson and spent some time with the middle school students. The Saguaro Hills students asked some great questions and enjoyed playing a game of volleyball with the TAA students. Toward the end of the month, they also visited Yuma Adventist Christian School, where TAA students led out in Friday morning chapel. It's always fun for future TAA students to connect with current students, ask questions and find out what life at TAA is like. Upcoming visits include Verde Valley Adventist School and Prescott Adventist Christian School.
If you are a student in grades 8-11, you are invited to join us for Academy Days on March 2 & 3, 2023. During these two fun-packed days you will learn about academy life by attending classes, participating in sports, touring campus and meeting current students & teachers. There will be opportunities to win prizes & scholarships. To register go to www.thunderbirdacademy.org or call Ms. Ford at 480.948.3300.

---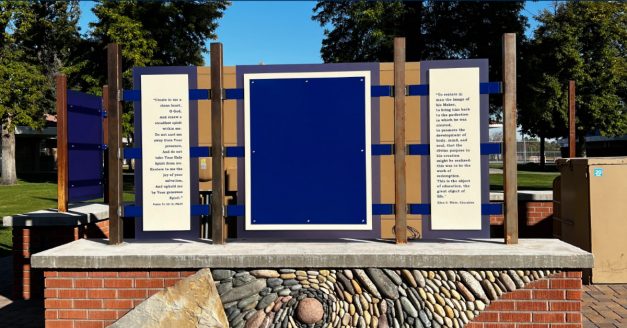 Prayer Wall
In January our new permanent Prayer Wall was installed in our Prayer & Celebration Garden area on center campus.
On the left are the Bible verses from Psalm 51:10-12 and the right is an Ellen White quote from the book Education. In the center, the surface is writeable with cha and easy to clean so students, staff & visitors will be able to write their prayer requests on an on-going basis.
A big thank you to the donors who made this wall possible.
Stay tuned for details on the dedication program in the near future.
---
WASC Visit
On Wednesday, February 1, 2023, Thunderbird Adventist Academy was visited by a small group of individuals from WASC (Western Association of Schools and Colleges). For those who don't know, WASC is an organization that provides accreditation to both public and private universities, colleges, secondary and elementary schools around the United States. In April, 2019, the WASC Visitation Committee gave TAA a 6-year accreditation with a 3-year mid-cycle visit. As a result of COVID, the mid-cycle visit or "check-up" was delayed a year, hence the visitation this year. The visitation serves as a "check" to make sure that TAA is increasing in various
 Areas of growth. During the visit, the committee members were able to walk through the various classes, talk with the administration and teachers, as well as spend a good hour picking the brains of a small group of random TAA students that represented the TAA student body. As we look forward to the next 3 years, we hope to provide the absolute best educational service and spiritual guidance to out students and their families!
---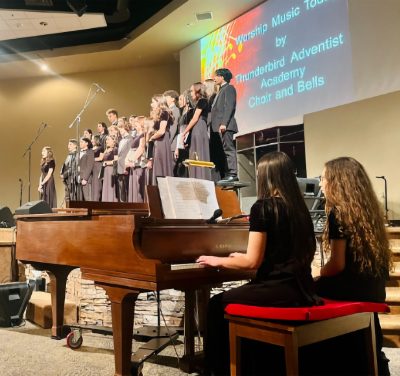 Donations provide new Handbells
During the TAA Music Department Christmas Program an appeal was made for donations to purchase additional handbell octaves so that all students who are interested may participate.
With the donations received previously and that night, an additional handbell octave was purchased for $7,000. We are anxiously awaiting their arrival and for students to use them!
If you would like to donate towards another octave or any other TAA ministry, go to www.thunderbirdacademy.org/donate.