Taking the GLOW Mission to the Furthest Edges of the World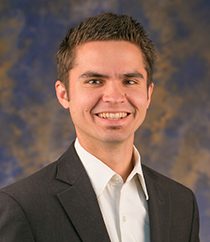 GLOW stands for Giving Light to Our World, and the leaders of GLOW Mission Trips believe that this includes every corner and the furthest ends of the earth. Last year, they emphasized this goal by taking this light to the southernmost towns in the world—at the tip of Argentina near Antarctica there are three small towns on the island of Tierra del Fuego: Ushuaia, Tolhuin, and Rio Grande.
With a team of nine volunteers, GLOW Director Nelson Ernst passed out 108,000 tracts to the people living in these remote Patagonian towns. This was in addition to the approximately 900,000 tracts already passed out by other teams of volunteers across Argentina, accomplishing their goal of giving one million tracts to the people living in the Argentina Union Conference.
Every year, GLOW conducts a mission trip to a part of the world that may not yet be reached. The focus of these mission trips is giving out literature to the residents of the area and spreading the light that Ellen White spoke of when she encouraged us to pass out literature. "If there is one work more important than another, it is that of getting our publications before the public, thus leading them to search the Scriptures," White wrote in Colporteur Evangelist (p. 80).
The power of tracts
"I think GLOW tracts in themselves are powerful," explained one of the mission trip volunteers. "I think they can reach millions of people that we ourselves as individuals cannot reach. They hold so much power."
Three different tracts were passed out. One of the tracts explains why Adventists attend church on Saturday. The second tract addresses the Adventist health message. And the third tract talks about end- time events from an Adventist perspective. On the back of each of the tracts, a book is referenced where the reader can continue learning about the message.
This mission trip did more than just spread the word to thousands of new souls, though. This trip was able to impact those giving out the literature as well.
One of the volunteers explained, "I truly believe that while we are out here—while I'm doing ministry helping others hear about the gospel and bring a revival—it truly brings a revival in my own life, and I feel deeply impacted by it. We experience powerful testimonies, and we see God's hand at work, and you just can't help but be touched by it."
The furthest parts of the world
Ernst said that every time they do a mission trip, they try to base it on a motivational element. This involves asking the question, What is going to motivate a believer to join the mission trip and be excited about sharing the light? One of those motivational elements is going to a location that is interesting or unreached. The southernmost cities in the world fit this description.
These areas of the world are beautiful and rugged, but they sometimes become neglected because they are so far from large populations. Getting the light to parts of the world that are hard to reach is another motivating factor for taking a mission trip to these locations.
The GLOW mission
GLOW has done many mission trips and is closely tied to the Central California Conference because of its history. In 2007, the conference had a large evangelism offering, and the conference president at the time, Jerry Page, approached Nelson Ernst in the literature ministries department to request they come up with a creative way to get adults involved in literature outreach.
This led the literature ministries team to come up with the concept of developing small pieces of literature and encouraging people to carry them in their everyday lives. This way the literature can be passed out any time the moment is right.
GLOW continues this goal of encouraging people to carry Christian literature in their everyday lives, spreading God's word to those in need whenever an opportunity opens. The mission trips have become a powerful element to reach the goal of spreading literature to an even broader audience.
Ernst added that this mission trip is just the beginning of much more to come. "Make plans today to join us on this exciting adventure in Bolivia on March 17-25 to distribute three million tracts in one day. And just prior to that, we're going to have a weeklong outreach where we will be going and passing out literature to several villages that have no Adventist presence."
_____________________
By Brennan Hallock
Finding "God's Gold"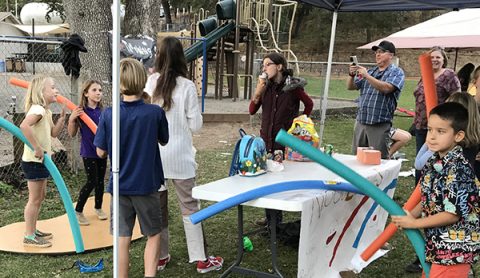 Although many settlers first arrived to pan and mine gold in California's Gold Rush Country, the Discover Life Church over the last 100 years is much more interested in finding "God's gold." The outreach of the church is combined with Mother Lode Adventist Junior Academy (MLAJA), and Adventist Health Sonora, a 152-bed hospital and medical facility. Through the years, they have demonstrated what God promised; "I will make people more rare than fine gold" (Isaiah 13:12 ESV).
As first noted in the January issue of the Pacific Union Recorder, the Discover Life Church in Sonora saw quite a few changes during the summer and fall. First, the church was completely renovated and the facility could now be open for in-service worship services. Second, Jim Berglund came as its senior pastor in April, and Tyson Kahler came as the youth pastor in September. Both men immediately focused on some very important church activities that could be reinstated after the pandemic pause.
Although Pastor Jim, as Berglund is known, is noted for his illustrated and thoughtful sermons, the students at MLAJA will tell you that he can beat them at 4-square. Kahler has seen to it that the children's story was reinstated at the worship service, and has worked with the youth to revitalize events just for them.
​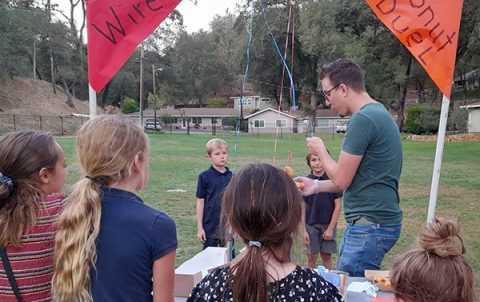 ​
Fall Festival
October was a busy month that began with the 100-year celebration on October 14 and 15, and then continuing with several others. This included the MLAJA's Fall Festival on Thursday evening, October 20. Kristen Lo, Home & School leader, along with the teachers, students, and volunteers, were grateful for the strong support by church members for their school. Held outside on the school grounds, the Fall Festival offered good food and some interesting game booths for everyone from kids to seniors. Both pastors were involved, with Kahler helping in one booth and Berglund giving train rides. Berglund even was willing to become the target in the pie-throwing booth!
God's Closet
The event at God's Closet came ten days later on Sunday, October 30.
This annual event, which occurs close to the start of the school year, greatly helps many community families. For an entrance fee of only $1, parents are allowed to shop for a wide choice of free children's clothes. There were many expressions of appreciation to Penny Wang and the team of over 60 volunteers— some of whom were students at MLAJA—who served approximately 95 families.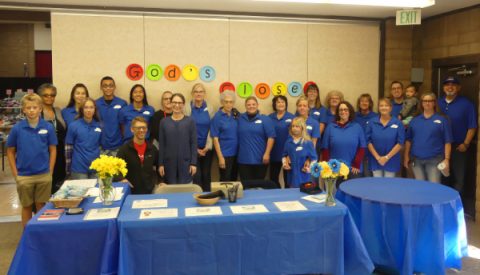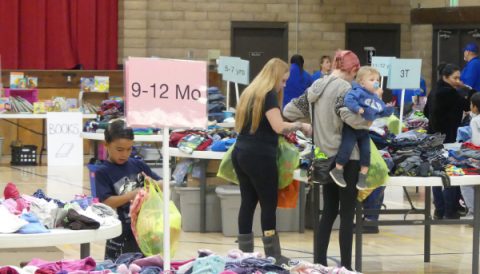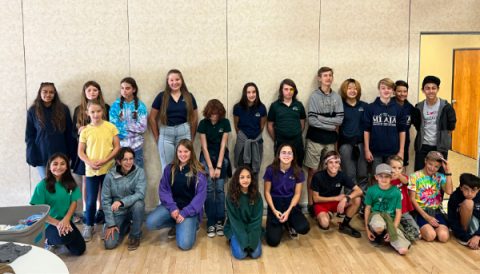 Veterans Recognition Day
The pandemic and the passing of Leslie Goodwin, who led many of the past Veterans Recognition Days, created the need for a pause in this annual event; however, this year the recognition of veterans in the community could be again held.
Before the afternoon program, veterans were invited to a special meal. Although there were many others who helped in various ways, especially the meal service, the program committee was composed of Debbie Curry, Teri Deacon, Rey Garcia, Pam Palmer, Clyde Reiswig, Melody Trauthwein, as well as the two pastors. Of special note were the MLAJA choir and band, which provided patriotic music. Approximately 30 veterans received a commemorative medal and a hand-drawn thank you card from children.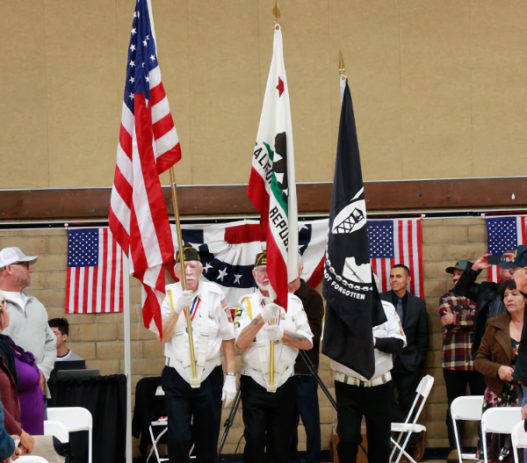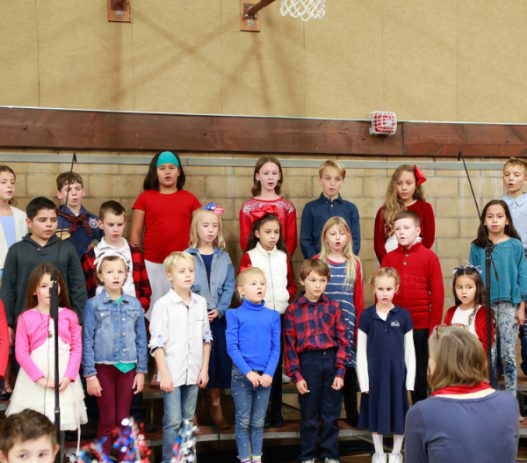 Will there be more "God's gold" events in Sonora? You can count on it! As Jesus says in Revelation 3:18, "I counsel you to buy from me gold refined by fire, so that you may be rich" (ESV). Therefore, as God richly blesses, the results of finding "God's gold" should mean, "even the world itself could not contain the books that would be written" (John 21:25, NKJV).
___________________
By Deloris Trujillo