by Alberto Ingleton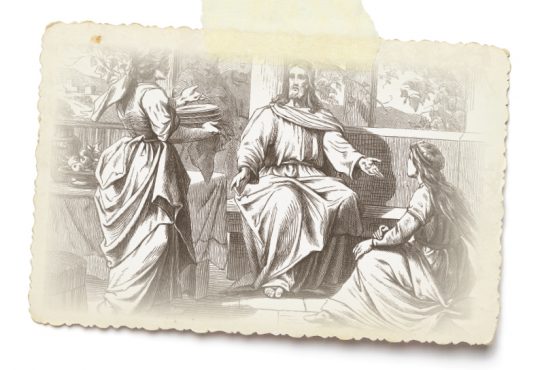 Periodically, Christ Jesus visited his friends Lazarus, Mary, and Martha. At their home, He was able to relax and get away from the constant siege to which He was subjected by the jealous religious leaders and their spies. In the tranquility of this home, Christ would offer spiritual nourishment to the family and their guests. Mary made sure to be seated in the front row, because listening to Christ was a priority in her life. Martha was an attentive and virtuous woman, who was overjoyed with the visit of Christ Jesus. She knew that His teachings would prepare her for eternity; however, she believed that preparing a delicious meal for her guests was more important than sitting down to listen to the Master.
Martha excused herself, went to the kitchen, and started cooking. In the process, she became anxious and wondered why Mary was not helping her. At that time, Martha felt that preparing the meal was more important than listening to the Master. Martha, needing Mary's assistance, decided to appeal to Jesus. I am sure she thought Christ would agree with her, so she approached Him and said, "'Lord, do You not care that my sister has left me to serve alone? Therefore tell her to help me.' And Jesus answered and said to her, 'Martha, Martha, you are worried and troubled about many things. But one thing is needed, and Mary has chosen that good part, which will not be taken away from her'" (Luke 10:40-42, NKJV; emphasis added). The message of Jesus Christ was clear; Mary had chosen correctly, and her priorities were well defined. She was following the biblical teaching, "Seek first the kingdom of God and His righteousness, and all these things shall be added to you" (Matthew 6:33, NKJV).
Like Martha, we are so busy with all the cares of this world that we neglect the most indispensable part of the Christian experience. It is not always about choosing between good and bad—sometimes it is choosing between good and best. For the Christian, the best is the "good part" that Mary chose, which was to be at the feet of Jesus. This should be our top priority. The Apostle Paul wrote, "I die daily" (1 Corinthians 15:31). In other words, my necessity of Jesus is such that I must spend time with Him daily. The apostle knew he was heavenly bound, and he knew that to get there, one thing was needed: his personal relationship with God.
I read the story of a famous skydiver who had completed more than 800 jumps. He was also a skilled photographer, dedicated to recording other skydivers during public exhibitions. On one occasion, he prepared his equipment, jumped off the plane, and with great agility followed the skydivers while recording all their movements. The skydivers completed their maneuvers and opened their parachutes, and the time had come for him to do the same. He raised his arm to pull the cord of his parachute but was horrified to discover he had forgotten to put his parachute on. Imagine the panic this man experienced when he realized death was imminent—a death that could have been avoided had he not forgotten the most indispensable piece of equipment, his parachute. This story is a sad one, but it emphasizes a cardinal truth for the Christian. Above all things we should never neglect the most important thing—cultivating a personal relationship with God—otherwise, our spiritual death will be inevitable.
As Christians, we need to experience a deeper desire for our spiritual development. Too often we are overly concerned about temporal things, and in many cases our priorities are not correct. "Me, myself and I" becomes the center and obsession of our lives, and we neglect the "one thing that is needed," which balances the life of the Christian. Inspiration tells us "Beware how you neglect secret prayer and a study of God's word. These are your weapons against him who is striving to hinder your progress heavenward. The first neglect of prayer and Bible study makes easier the second neglect" (E.G. White, "Onward and Upward," The Youth's Instructor, June 26, 1902).
On more than one occasion I have spoken with church members who sincerely long for the celestial home but tell me: "I feel far from God." "I feel empty." "My life has lost all meaning." "I feel anxious." "I am spiritually confused." "I have no peace." During our conversation, I ask the following question: "How is your daily communion with God?" Unfortunately, 99% of the responses admit to neglecting time with the Lord because they are self-absorbed in their life objectives and personal challenges. In this context we are told: "The enemy knows when we undertake to do without our Lord, and he is there, ready to fill our minds with his evil suggestions, that we may fall from our steadfastness; but it is the desire of the Lord that from moment to moment we should abide in Him, and thus be complete in Him" (E.G. White, My Life Today, p. 15).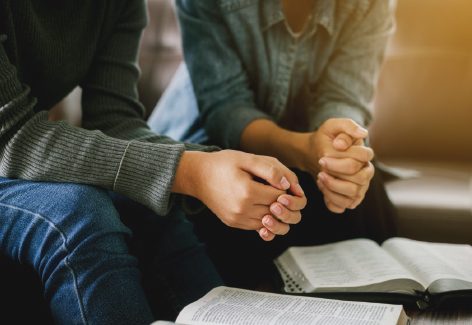 By dedicating time to the study of the Word of God, Christians will find in it the totality of divine counsel that makes them wise for salvation.
The Psalmist learned this great truth. He found the secret of his fullness with Christ and wrote: "One thing have I desired of the Lord, that I will seek after; that I dwell in the house of the Lord all the days of my life" (Psalm 27:4, KJV). David tells us that his serenity, his tranquility, his strength, his peace, and his salvation, despite the vicissitudes of life, were the result of his daily communion with God. Unfortunately, we are so busy in our professional, religious, or personal endeavors that we neglect our time with God. Sometimes we are so wounded, hurt, distressed, and worried that we do not allow time for God to give us encouragement, strength, tranquility, and the peace we long for.
What the Psalmist wants to emphasize is the fact that the privilege of the Christian does not consist of being free from problems; rather, it resides in enjoying a personal experience with Christ. While we are in this world, the problems will be real, our weaknesses will be evident, and we will experience the pressures of life; however, it is wonderful to know that we can find help through prayer and the study of the Word. The Word of God tells us "but the just shall live by his faith" (Habakkuk 2:4, KJV). It is interesting to note that the Bible tells us that this faith that gives life to the righteous is obtained when we choose the "good part." Romans 10:17 tells us, "So then faith cometh by hearing, and hearing by the word of God" (KJV).
By dedicating time to the study of the Word of God, Christians will find in it the totality of divine counsel that makes them wise for salvation. Through daily study they will find the portions that will always supply their specific needs in any circumstance. For this reason, the Christian who dedicates time to God "shall be like a tree planted by the rivers of water, that bringeth forth his fruit in his season; his leaf also shall not wither "(Psalm 1:3, KJV).
This verse speaks to me of tenacious Christians who enjoy a consistent strength because of choosing the "good part." These Christians, when threatened by heat and drought, will be sustained by Christ. When afflicted by trials, pain, disease, contempt, loneliness, and/or criticism, nothing can destroy them, because they find help, encouragement, and hope in their relationship with God. As Christians, we know this world is not our home. We are heaven bound. Let us not neglect the most essential "good part" in our lives: our communion with God.
_____________________________
Alberto Ingleton is vice president for Hispanic Ministries at the Pacific Union Conference.