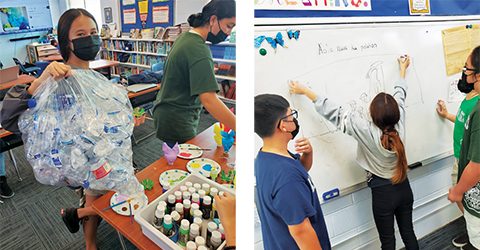 Each year, the nonprofit Kokua Foundation asks schools around the Hawaiian Islands to collect marine debris and transform it into art. This year, Hawaiian Mission Academy (HMA) Ka Lama Iki students are collecting single-use plastics, bottle caps, microplastics, and sea glass. The students have titled the mural "Pollution isn't pretty...A'ole nani ka pollution." This student-created mural will be covered in cut and shaped water bottles and disinfectant wipe containers to create coral textures, different sizes of jellyfish, turtles, local fish, and anemones. In the center of the mural are two humpback whales made of wire and filled with the single-use plastics students collected from local beaches. It's meant to show that pollution can damage the beauty of Hawaii.
It's hard to believe that 15 to 20 tons of microplastics and marine debris wash up on Oahu's shores each year. The Kokua Foundation also encourages students to start school gardens and recycling drives, but this contest seems to really bring the local schools together for the common good. It is very inspiring to see the students so invested in this mural!
At Ka Lama Iki, all students, in preparation for their May Day performance, spend the new year learning the Hawaiian language and celebrating creation through song and hula. In many ways, they are encouraged to form a deeper appreciation for the 'āina, or land.
HMA Ka Lama Iki hopes that the lessons learned and community service shared as a result of participation in this mural contest will inspire students to encourage family and community members to get involved by visiting local beaches and collecting these harmful pieces of debris. God shares with us that, with love and care, anything can transform into something beautiful. As stewards of God's creation, it is our kuleana, or responsibility, to make sure Hawaii's animals and beaches are healthy and protected.
____________________
By Sarah Traczyk