It was a rollercoaster ride with an exhilarating ending that strengthened team bonds and proved a valuable learning experience. On April 22, La Sierra University Enactus placed third in the nation for their innovative education outreach and high-tech agriculture projects during the Enactus USA Exposition in New York.
Enactus, a global nonprofit based in Springfield, Mo., encourages students at universities and colleges around the world to use entrepreneurial business principles in developing sustainable community impact projects that transform lives. The students give annual multimedia presentations in regional, national, and world cup Enactus events. Business executives serve as judges and rank the teams on project impact and innovation and on presentation quality.
Semi-final and final four rounds of this year's national exposition were held April 21 and 22 at Long Island University Post in New York, where the top 12 teams from around the United States competed. Opening rounds were held online in March. The team from Brigham Young University-Hawaii won the nationals and will represent the United States in October at the Enactus World Cup 2022 in San Juan, Puerto Rico.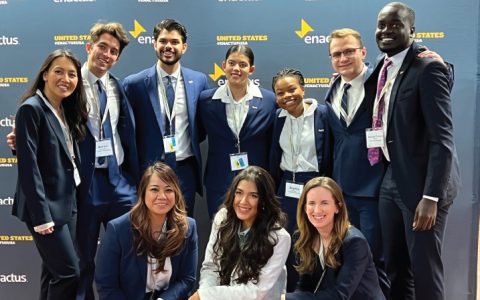 La Sierra University Enactus's presentation focused on two projects, which involved nearly 2,000 hours of strategizing and activities: the ongoing eLibrary, which involves thousands of digital textbooks, videos, and other materials micro-compressed onto flash drives for use by vulnerable populations; and the new Freight2Table shipping container-based hydroponics agriculture project, which began in March 2021 and which, along with STEM educational opportunities, provides a weekly yield of 990 heads of lettuce grown with highly efficient water utilization.
"It's hard to know how large of an impact other teams have had and how we compare," said La Sierra team president Megan Eisele. "But we continued working hard to help others, which is our goal anyway, and it has paid off."
Backing from friends and supporters has been crucial to La Sierra Enactus's success, most notably that of entrepreneurs Tom and Vi Zapara, namesakes of the university's business school where the Enactus team is based. They have believed in and financially contributed to the team for 25 years. "We are so deeply grateful for the continual support of the Zaparas, without whom our team would have much greater difficulty reaching their goals," said Zapara School of Business Dean John Thomas. "They are steadfast friends of our school and Enactus team and firm believers in the benefits of a Seventh-day Adventist education."
____________________
By Darla Martin Tucker